Epson's Latest Display Controller IC S1D13709 Supports Both Text & Graphics on Color TFT & STN LCDs
Seiko Epson Corporation ("Epson") has begun shipping samples of the S1D13709, a new display controller IC with built-in memory that is capable of easily controlling the display of both text and graphics on color TFT[1] and STN[2] LCD panels. This display controller is ideal for control panels used on factory automation equipment and office equipment such as printers and multifunction units.
STN panels are often used as control panels on factory automation systems and office equipment, but demand for color TFT panels in these applications has been growing in recent years because of their good visibility and greater powers of expression. The new S1D13709, with built-in CGROM[3], can enable such popular features as mixed text and graphics, overlays, and smooth scrolling (vertical and horizontal) on both STN and TFT LCD panels. In addition, since memory for the display is built-in, no external memory is needed. This saves space and design work for users. The software of the new S1D13709 is compatible with that of the S1D13700, Epson's previous display controller IC for monochrome STN LCD panels. This makes it easy for S1D13700 users to migrate to color TFT LCD panels.
Going forward, Epson intends to leverage its unique set of compact, energy-saving, and high-precision technologies to help enrich society by providing products and services that solve real issues for customers.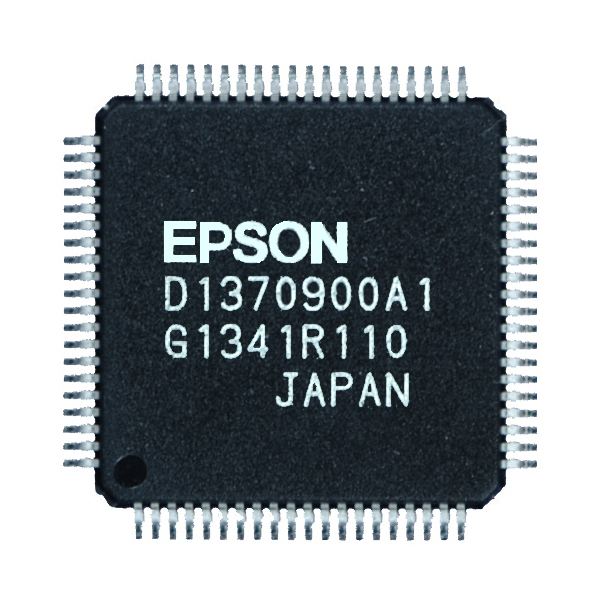 Features and specifications
Features of the new S1D13709 display controller
1. Richness of display features
    Display text, graphics, or a combination of the two.
    Smoothly scroll all or part of a display either vertically or horizontally.
    Enlarge images (TFT display panel only).
2. Compatibility with previous Epson display controller
Users of the S1D13700, Epson's previous display controller IC for monochrome STN display panels, can use the new S1D13709 with their existing software to control color TFT LCDs (some restrictions apply).
Overview of S1D13709 specification
Product model number
S1D13709
Supported resolutions

STN: 640 x 240 1 bpp, 320 x 240 2bpp, 240 x 160 4 bpp

TFT: 800 x 480 4 bpp (when image enlargement is used)

Display buffer
Built-in SRAM (32KB)
CPU interface
8-bit data bus  Direct/indirect address bus
Panel interface

4-bit monochrome STN LCD panel

Monochrome/color TFT LCD panel

Display features
Mixed text & graphics display, vertical & horizontal scrolling, image enlargement
Package

TQFP14-80-pin

(12 mm x 12 mm x 1.2 mm, 0.5 mm pitch)

Power supply voltage
3.0 V to 5.5 V
Operating temperature range
-40 to 85°C
Main applications
Control panels for office equipment (e.g., printers and multifunction units) and factory automation equipment