Epson Shipping Samples of New Memory Display Controller
Ideal for memory displays used in feature-rich digital watches and other wearable products
Munich, March 14, 2018 – Seiko Epson Corporation (TSE: 6724, "Epson") has begun shipping samples of a new memory display controller2. The new S1D13C00 controller is ideal for feature-rich digital watches and other wearable products that have a low-power memory display. Epson plans to produce 200,000 units per month when volume production begins in April 2018.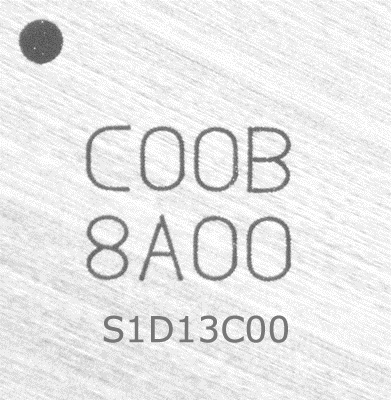 Epson is already volume-producing the S1C31D01, a microcontroller with an ARM® Cortex®-M0+ processor3 that supports memory displays. Epson believes that the S1C31D01 is the world's first4 microcontroller to have an embedded memory display controller. In contrast, the new S1D13C00 is a memory display controller that can be connected to a variety of different microcontrollers on the market. With three types of built-in host interfaces (indirect 8-bit parallel, QSPI, and SPI), the controller supports a wide variety of microcontrollers used by customers. 
In addition to the embedded memory LCD controller for graphics, the S1D13C00 provides two programmable supply voltages for powering the different panels that are supported. This feature is important because it eliminates the need for external components and interface software development, allowing manufacturers to reduce product size and saving them time and effort. The new controller also has a 6-bit RGB parallel interface that accelerates video playback.
The controller also features a new event processor that renders video without going through a host CPU, so manufacturers can expect to extend the battery life of their products. The liquid crystal controller circuitry has been modified so that images can be rapidly written at speeds of up to 30 frames per second. 
The controller chip also has an abundance of embedded peripheral circuits, among them a real-time clock/calendar (RTC), DMAC, QSPI, and sound generator.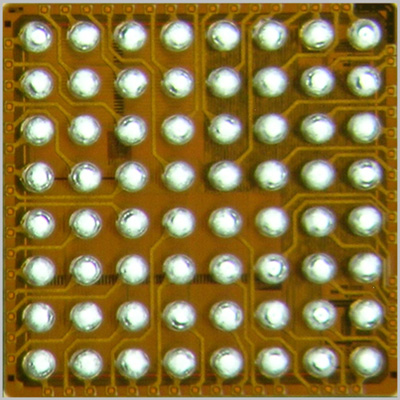 Epson is committed to helping its customers improve the performance of their products with solutions that leverage Epson's efficient, compact, and precision technologies.
(*1) The footprints of the package and chip are the same size.
2 A liquid crystal display that has a memory function. On ordinary LCDs, even still images have to be refreshed. On memory LCDs, however, once an image is drawn on the display, it can be held there without being refreshed. This helps limit power consumption and saves battery life.
3 A processor designed by U.K-based ARM Limited, the ARM® Cortex®-M0+ is ARM's most energy-efficient processor and by far the most widely used processor in the market.
4 First among general-purpose microcontrollers (per Epson research conducted at the end of January 2018)
Product specifications
Product number
S1D13C00
Host interfaces
Indirect 8-bit and serial (QSPI and SPI)
RAM
96 Kbyte
Operating voltage
Guaranteed operating range: 1.8 V – 5.5 V
Power consumption*
All stop mode: 0.4 µA (typical)
Panel interfaces
6-bit color display
SPI (3-bit color and 1-bit black-and-white) 
1/2/4/8 bpp grayscale (8-bit parallel or 3-/4-wire serial interfaces)
Graphics accelerator
0°, 90°, and 270° image rotation
Drawing functions (line, rectangle, ellipses)
Image conversion. Bitmap copying (with scaling and rotation or horizontal and vertical shearing), alpha-blending
Source image/bitmap for copying functions can be from memory-mapped external QSPI serial Flash memory device 
Voltage booster supplies for memory LCD
VMDL: 2.3 V to 3.6 V output (software selectable)
VMDH: 4.3 V to 5.0 V output (software selectable)
Serial interfaces
SPI: 1 channel / I2C: 1 channel
QSPI: 1 channel
I/O ports
10 max
Infrared remote controller
1 channel (can be used to generate EL lamp driving waveforms)
RTC
1 channel
DMAC
4 channels
Sound generator
Selectable from among 3 sound output mode options
Packages
WCSP-64 (size: 3.48 mm x 3.48 mm. Balls: 64. Ball pitch: 0.4 mm) TQFP13-64 (size: 10 mm x 10 mm. Pins: 13-64. Pin pitch: 0.5 mm)
*At typical environmental values, RTCA = On, 25 degrees Celsius
System architecture and event processor usage examples
System architecture:

Example of an automatically updated display using the event processor: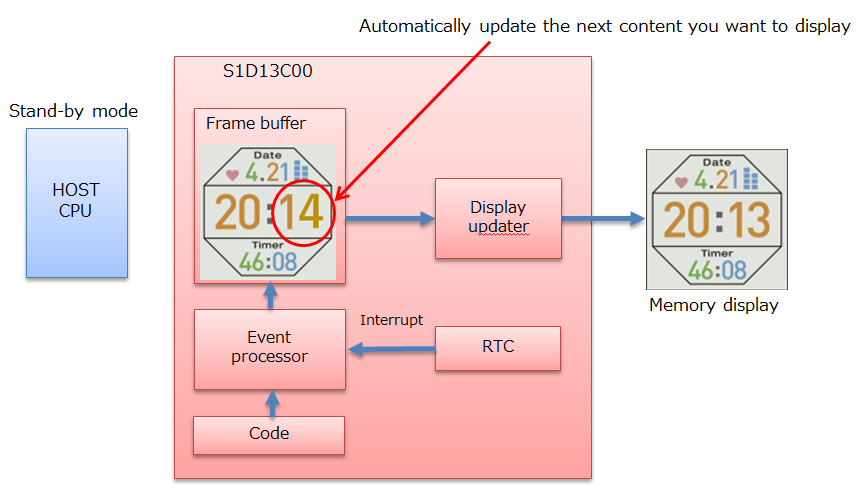 ARM and Cortex are registered trademarks of ARM Limited (or its subsidiaries) in the EU and other countries. All rights reserved.
Notes
Please see the link below for further details about these products: global.epson.com/products_and_drivers/semicon/products/display_controllers/#ac05
To receive even more information like technical data sheets, samples, EVBs or price information please contact an Ineltek office within your area or contact us at info@ineltek.com.