Epson – SG-8018 programmable oscillators
Cost-effective and with an extended temperature range
Munich, September 13, 2018 – Epson Europe Electronics GmbH ("Epson") presents the SG-8018. 
The programmable oscillators (P-SPXOs) with a supply voltage of 1.8 V, 2.5 V or 3.3 V are offered in four package sizes (7.0 x 5.0 mm2, 5.0 x 3.2 mm2, 3.2 x 2.5 mm2 or 2.5 x 2.0 mm2).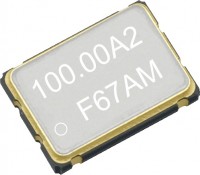 Epson's SG-8018 offers an extended temperature range from -40 °C to +105 °C, a standard SPXO stability of ±50 ppm including aging, and programmable rise/fall times.
To support rapid product development, Epson's SG-8018 oscillators can be ordered with 24-hour turnaround from distributors or you can program your own lab using Epson's SG-Writer II and blanks. Easy-to-use software can be downloaded from Epson's website.
Features
Fast-Turn Prototypes
Easy conversion to Epson fixed-frequency oscillators for production
Extended temperature range: -40 °C to +105 °C
Low power: 3.2 mA – 8.1 mA maximum
Frequency Range: 0.67 MHz – 170 MHz
Output Enable (OE) or Standby (ST)
Four Package Sizes: 7 x 5 mm2, 5 x 3.2 mm2, 3.2 x 2.5 mm2, 2.5 x 2.0 mm2
Single-Ended Output: LVCMOS