Epson releases a LCDC Shield Board for Arduino
The S5U13781R01C100 Shield TFT Board adds support for up to WQVGA TFT graphics to the Arduino Due. It is designed to provide evaluation of the S1D13781 LCD controller and enables rapid prototyping on the Arduino Due board.
It uses the Arduino Due's standard SPI interface, providing a simple hardware connection which is powered by the Arduino Due board. The S1D13781 Shield board includes two FPC connectors (40-pin and 54-pin) which can be used to connect a WQVGA or QVGA TFT panel, available separately.
The S5U13781R01C100 Shield TFT Board integrates a S1D13781 LCD controller which is a simple, multi-purpose Graphics LCD Controller designed to support RGB interface TFT panels. It includes a 384KByte embedded SRAM display buffer which allows WQVGA up to 480×272 at 24bpp. 480×272 at 16bpp (Main Layer) and 480×272 at 8bpp (PIP Layer) for two layer display is also possible. The S1D13781 is a flexible, low power, single chip solution designed to meet the demands of embedded markets and devices where total system cost and battery life are major concerns.
All on one Shield Solution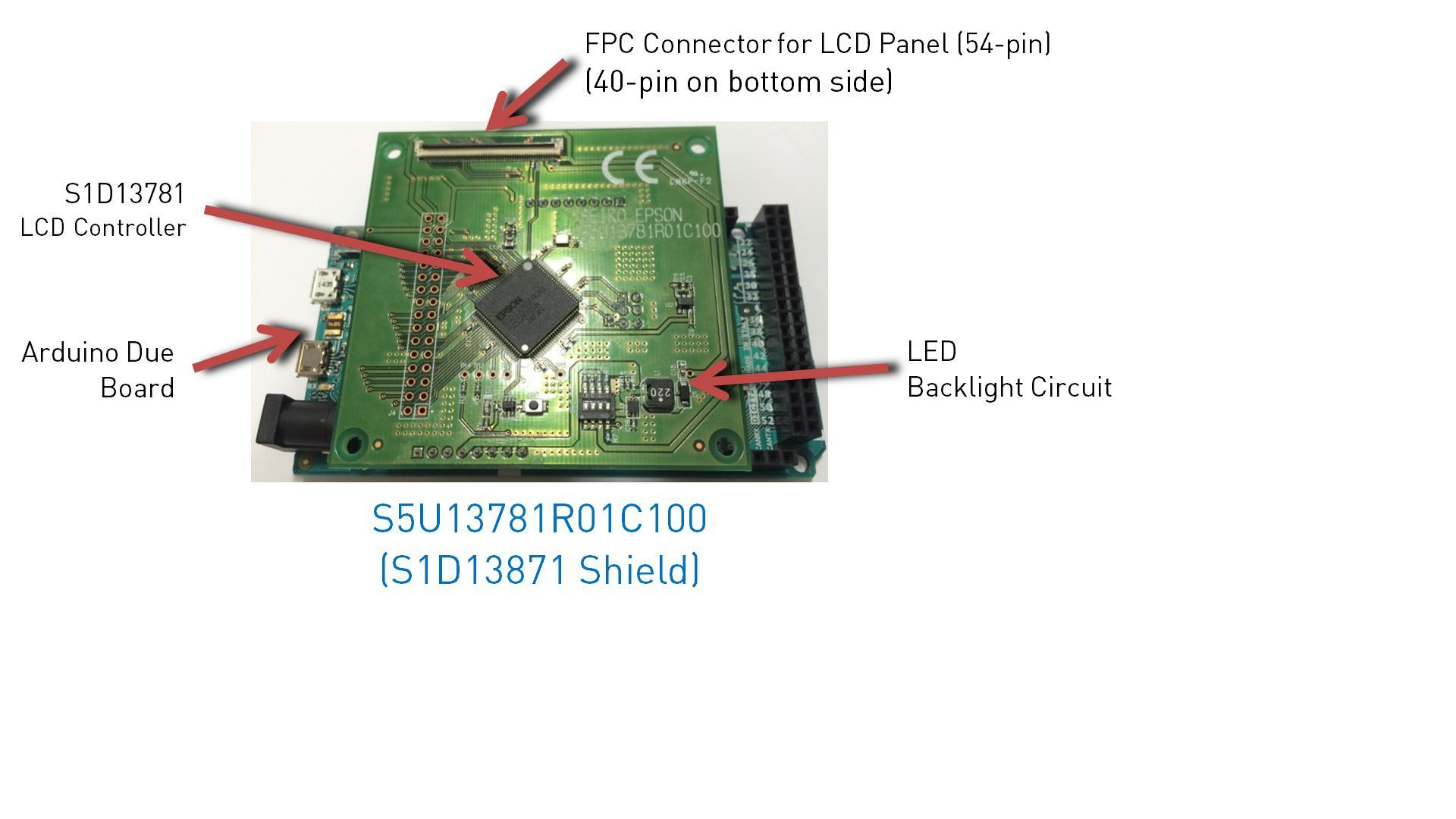 Features

Simple connection with Arduino Due using SPI
Graphics Library for use with Arduino Sketch IDE
40-pin FPC Connector for 480×272 TFT
54-pin FPC Connector for 320×240 TFT
LED Backlight Driver included on Shield board
3.3V IO

Epson LCD controller integrates

384KByte Embedded Memory
Multiple Window (Layer) support for Main and PIP
Rotation (SwivelView™) 90°, 180°, 270°
Alpha Blending, Transparency, Flashing
Note: The S1D13781 Shield TFT Board can also be used to evaluate the low cost S1D13L01 LCD Controller which shares the same features as the S1D13781 except for BitBLT functionality. Refer to the S1D13781 and S1D13L01 Hardware Specifications for a complete feature list.
Many LCDs displays are supported by Ineltek:
The S1D13781 Shield TFT board does not include a LCD display. The board has FPC connectors, CN1 and CN2, which allow direct connection of compatible WQVGA or QVGA LCD displays.
The following lists some of the compatible WQVGA (480×272) and QVGA (320×240) LCD displays supported by Ineltek:
4,3" Displays

Tianma TM043NDH02
Tianma TM043NBH02
Imagin Orient IO04310006_v2
Hantronix HDA430-3GH-1

3,5" Displays

Tianma TM035KDH03
Hantronix HDA351-LV
Win your own Epson Arduino Shield with one Display in addition:
Please send us your contact details at info@ineltek.com and automatically participate at Ineltek – Epson lottery about 5 LCDC Shield Boards for Ardunio + LCD Display (please choose your LCD display from list above and tell us in your E-Mail which one is your favorite).