Epson Develops the World's Smallest IMU
Epson has successfully developed the world's smallest* inertial measurement unit (IMU)[1].
As with all upcoming IMUs in the V series, the new M-V340 is far smaller, far lighter, and consumes far less current than Epson's current IMU, the M-G350. Epson developed a dedicated IC for the V series that enabled the company to reduce the number of parts and optimize the design of the layout to create an IMU that measures 10 x 12 x 4 mm, weighs 1 gram, and consumes just 18 mA of current, typical. In addition, equipped with QMEMS [2] gyroscopic sensors [3], the tiny yet powerful new IMU also exhibits high performance characteristics (7 deg/hr gyro bias instability [4]).
The M-V340 is small enough to be used in ultra-compact, lightweight devices to enable IMU applications in a variety of fields. In the medical and rehabilitation fields in particular, ultra-compact, lightweight devices equipped with an IMU show promise in the measurement of movement, as they can be attached to a patient to accurately measure movement without limiting motion or feeling obtrusive.
"Given the present rapid pace of social and technological change, Epson believes that the need for precision sensors that can make previously invisible information visible will only grow going forward," said Yoshiyuki Moriyama, COO of Epson's Sensing Systems Operations Division. "In response to growing and diversifying customer needs, Epson has been filling out and strengthening its lineup of IMUs."
In addition to the M-V340, Epson already introduced the high-performance M-G352 and M-G362. Epson will continue to leverage its unique technology to provide IMUs and other sensing systems that significantly contribute to our customers' products and services.
* The smallest IMU among high-performance IMUs having gyro bias instability of 10 dph or less (as of the beginning of August 2013, according to Epson's research)
Product specifications and main applications
Product number
M-V340
(new product)
M-G350
(currently in volume production)
Gyroscopic sensor
measurement range
±450 deg/sec
±300 deg/sec
Gyro bias instability
7 deg/hr
6 deg/hr
Accelerometer [5]
measurement range
±6 G
±3 G
Data output format
16 bit
Data output speed
1,000 sample per second (Max.)
Interface
SPI/UART
Dimensions
10 × 12 × 4 mm
(1/12 the size of the
M-G350)
24 × 24 × 10 mm
Weight
Approx. 1 g
(1/7 the weight of the
M-G350)
Approx. 7 g
Current consumption
18 mA @3.3 V
(40% less than the
M-G350)
30 mA @3.3 V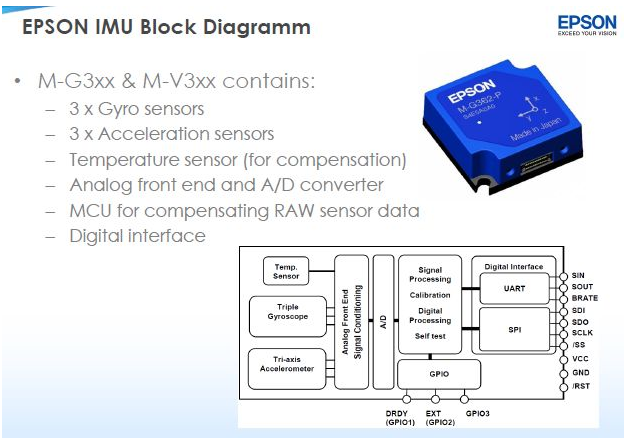 Main applications
Vibration damping of cameras, antennas and other stabilizing systems
Attitude control of unmanned aircraft and unmanned systems (e.g., unmanned aerial, underwater, and ground vehicles)
Measurement and control of vibration and a ttitude of industrial machinery and equipment
Body motion sensing in fields such as medical and rehabilitation
Please visit Epson for further details about these products.
To receive more information please contact an Ineltek office within your area.