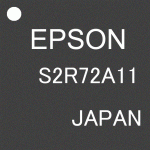 Munich, November 2, 2018 – Seiko Epson Corporation (TSE: 6724, "Epson") has begun accepting orders for the S2R72A11, a new USB resynchronization integrated circuit for automotive applications that supports USB 2.0, stabilizes communications, and improves connectivity with smartphones. Epson plans to produce 200,000 of the new chips per month.
USB ports, convenient and popular interfaces for in-vehicle systems, have become standard equipment on dashboards and consoles. However, USB connections tend to become less reliable as cable length increases. Epson first addressed this problem in 2009 with the release of the S2R72A4 series, a line of hub controllers that provide stable communications, improve the connectivity of in-vehicle USB devices, and are used in many in-vehicle systems.
The new S2R72A11, like Epson's existing products, offers robust communications performance, supports the latest smartphone functions, and provides enhanced connectivity with in-vehicle systems. Smartphones are already being connected to in-vehicle systems for people to enjoy music, but apps that allow you to directly control your smartphone on a navigation system display are also gaining popularity, making smartphone connectivity essential for car navigation systems. To provide such connectivity, however, automotive ICs are required to adapt itself to unconventional connections such as USB On-the-Go*1 and issues for establishing stable connection are cropping up in the development of automotive applications.
Epson's new IC has an integrated bus monitor that recognizes the switching of host and device terminals and automatically switches the USB communication pathway.
In addition, the new product satisfies the strict quality requirements of the automotive industry. It is compliant with AEC-Q100*2 and operates at temperatures up to 105°C. The package (SQFN5-32pin-W) is a compact 5 mm x 5 mm and occupies minimal space. A wettable flank*3 package is used to improve convenience during visual inspection of automotive equipment.
Epson is committed to helping its customers improve the performance of their products with solutions that leverage Epson's efficient, compact, and precision technologies.
*1 USB On-The-Go
USB On-The-Go (OTG) is a standardized specification for USB connections that allows a device to read data from a USB connection without requiring a PC. With OTG, it becomes possible that a host and peripheral device can exchange roles.
*2 AEC-Q100
The Automotive Electronics Council (AEC) is an industry group that creates standards for the reliability and qualification of automotive electronics. It was formed by the "Big Three" U.S. automobile manufacturers in partnership with major electronic component manufacturers. The AEC standard is a de facto global standard that has been widely adopted as a standard for automotive electronic components.
*3 Wettable flank package
A package with solder pads that have been treated to make it easier to visually confirm whether the package is properly soldered to a board.
Product Specifications
Model No.
S2R72A11
USB standard
USB 2.0
Supply voltage
3.3 V
Built-in regulator for generating internal core voltage (1.8 V) and PLL/OSC voltage (1.8 V)
Built-in charge pump for analog switch power supply
Automotive standard conformance
AEC-Q100
Operating temperature range
-40 °C to +105 °C
Other
HS transmit: low-jitter transmission waveform
Supports HS transmission current regulation
HS receive: high reception reliability
Auto USB line monitoring and control function
Package
SQFN5-32pin-W (wettable flank package with a pin pitch of 0.5 mm)
Notes
See the attachment for the product specifications.
Please see the link below for further details about this product.
https://global.epson.com/products_and_drivers/semicon/products/interface/re_synch_ic.html
Please see the link below for information about Epson's line of automotive USB hub controllers.
https://global.epson.com/products_and_drivers/semicon/products/interface/index.html