NUC029 – 5V ARM Cortex-M0 MCU Family
If you are planning to upgrade old 5V designs based on an 8-Bit microcontroller we recommend to have an eye on the new ARM® Cortex®-M0 based NUC029 series from Nuvoton®. This microcontroller family enables the possibility to use the existing 5V design with its peripherals, I/Os and auxiliary functions and upgrade the central MCU to nowadays needs and performance.
The target applications
Industrial Control
Smart Home Application
BLDC Motor
Consumer Products
were the focus of Nuvoton® preparing this NuMicro® MCU family for the market. Let us have a look on the family members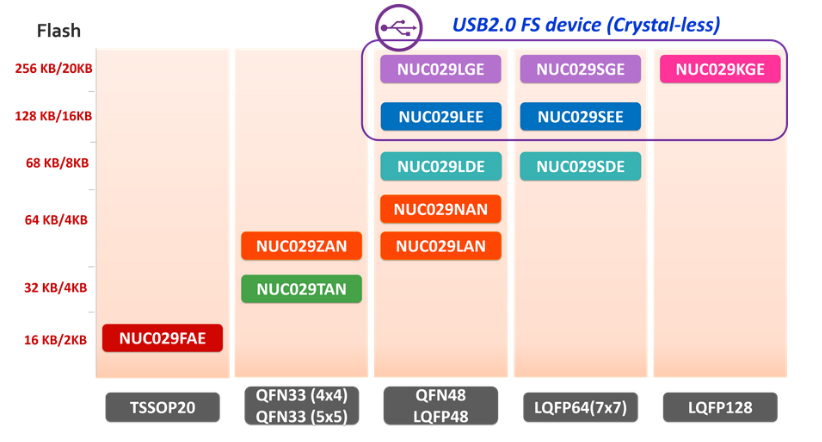 Robust immunity and strong anti-interference ability (ESD up to HBM 8 kV / EFT 4.4 kV*(depends on package)) gives more safety moving to the 32-Bit world from 8-Bit. With their wide operating voltage between 2.0V and 5.5V also common 3.3V designs can be realized.
With an operating frequency of 24MHz up to 72MHz the NUC029 has enough calculation speed for nearly every application which was former based on an 8-Bit microcontroller.
To give this short introduction a more detailed picture please see the following features overview
Arm® Cortex®-M0 @ 24 MHz ~ 72 MHz
16 KB to 256 KB
2 KB to 8KB LDROM
2 KB to 20 KB SRAM
up to 2 KB SPROM (Security Protection ROM)
1x 12Bit 1 MSPS ADC (up to 15Ch.)
lots of communication interfaces (up to: 4xUART, 2xI2C, 2xSPI/I2S, 3xLIN, 3xUSCI, 1xEBI)
USB 2.0 full speed device with on-chip PHY (crystal-less design)
20pin to 128pin packages
Operating Temperature: -40°C up to 105°C
But that is not all – For the full specification, more information and recommendations what meet your specification best get in contact with us. If you miss any feature we can offer you to look into Nuvoton's broad 5V 32Bit MCU portfolio with families Like NUC230, NUC123 and NUC131 even automotive applications can be covered with NUC131U (AEC-Q100 Grade 2) or M0A21 and M0A23 microcontrollers.