Eink – E-paper displays (AIO) with integrated display controller
As the inventor of EPD technology and market leader for e-paper displays Eink is offering a wide portfolio of display models with integrated display controllers (AIO).
---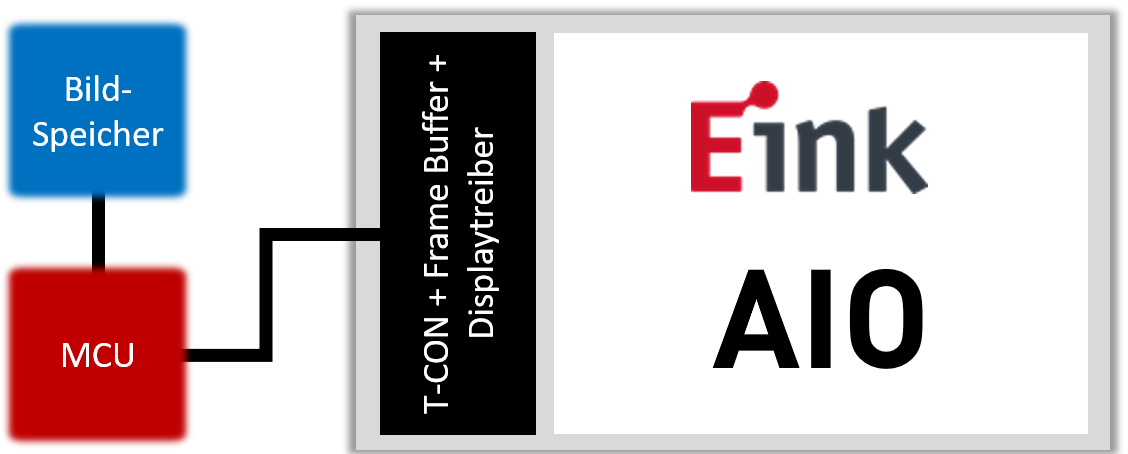 For applications in which a display is rarely switched or it is important to use high contrasts on the display with the purely reflective property and only a "small" microcontroller is available, the displays with integrated display & timing controller are ideal.
---
In this case, the frame buffer is already available – so called "all-in-one" (AIO), minimizing the computing requirements for the host controller.
The progress in Eink's AIO portfolio
With many years of experience in their own technology, Eink has developed various base materials over the years. In the field of black and white, optical parameters such as contrast and resolution have been continuously improved and switching times reduced. Initially, a color impression was created by applying color filters to black & white displays with the disadvantage that the resolution is significantly lower and thus the image impression decreases accordingly. The following color systems with real color pigments are available for AIO displays

The integrated display controller makes the use of these displays comparatively simple, as the developer does not have to worry about the exact (very complex) control of the pixels. With clever dithering algorithms, it is already possible to create displays with color gradients, for example, with the 7 colors of the Gallery Palette 4000 technology.
For more information just visit our

---
You are looking for brilliant color for your next development or have a tight schedule in your current design and are looking for an available display – contact us:
---