Nuvoton – Audio Solutions – Part 4: Audio Amplifier ICs
Nuvoton offers a variety of different audio solutions.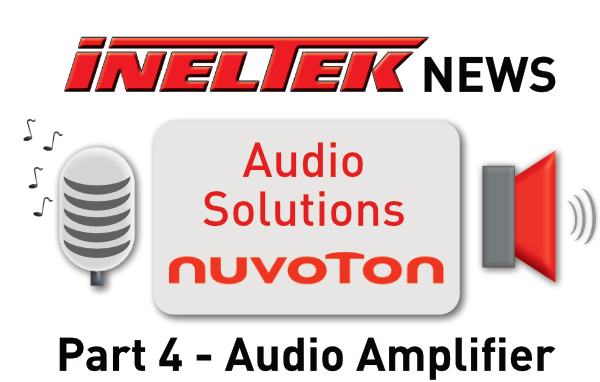 In the coming weeks, we would like to introduce you to the various products in a special series of articles on Nuvoton's audio product portfolio.
Here in the fourth part of this series we present the audio amplifier ICs for Mono Class AB / D & Stereo Class D applications where a particularly low power consumption is required.
Stereo series derivatives
The components of the stereo Class D series include the ICs NAU8223 & NAU8224.
Nuvoton's Class D audio amplifiers combine low operating current with fast response time and high EMC robustness to provide industry-leading sound quality. These stereo Class D audio amplifiers, which can drive a 4-Ω load with an output power up to 3.1 W also offer an extremely low quiescent current and fast start-up time of 3.4 ms.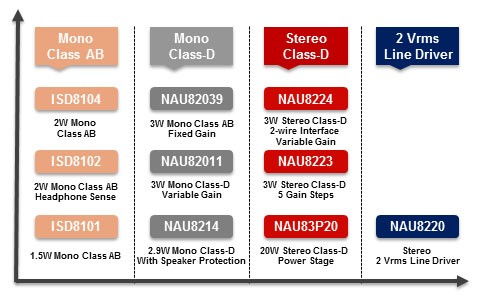 The NAU8823 has five selectable gain settings (i.e., 0 dB, 6 dB, 12 dB, 18 dB, and 24 dB) that can be controlled by a single gain pin for each channel.
NAU8224 has a highly flexible 2-wire interface with numerous convenient gain settings (32). Gain can be adjusted from 24 dB to -62 dB (plus mute) using the 2-wire interface and the GS-pins according to the NAU8223.
---
The two solutions are ideal for portable battery-powered applications, which have advanced features such as 87 dB BSRR, 91 % efficiency, ultra-low quiescent current (e.g. 2.1 mA at 3.7 V for 2 channels), and excellent EMC performance.
---
Mono series derivates
The components of the Mono Class AB & D Amplifier series includes the types ISD81xx & NAU82xx.
---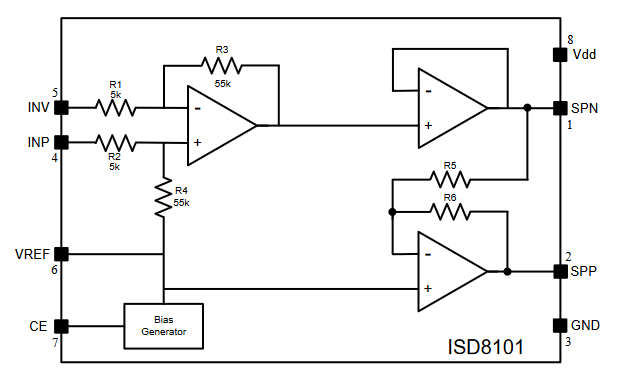 ISD810X belongs to the family of audio class AB amplifiers, which can generate a resistive load for the loudspeaker with an output power of up to 2 WRMS. ISD810X can be configured with single-ended or differential inputs.
With the internal resistors, the device achieves a gain of 20 dB. With external resistors, the device can be set to any gain lower than 20 dB. The ISD810X series is based on a hi-fi audio amplification architecture. It provides a signal-to-noise ratio (SNR) of 100 dB and a THD of < 0.1 % at 0.5 W using a 5 V supply voltage rail. ISD810X's supply voltage range of 2 to 6.8 volts allows flexible power supply using lithium-ion batteries or a combination of 2 to 4 alkaline batteries.
---
The derivatives of the Mono Class D Amplifier family,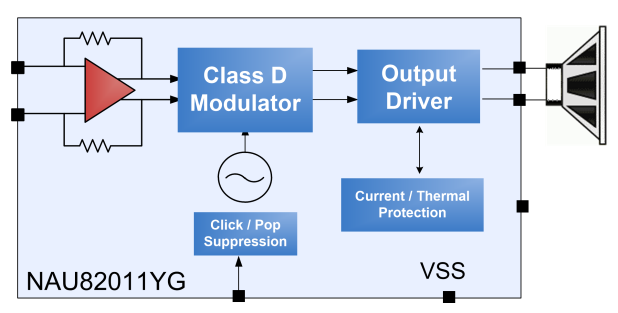 which drive a 4 Ω load with up to 3.2 W output power, also feature a chip-enable pin with ultra-low standby current and a fast 4ms start-up time.
NAU82011YG is ideal for battery-powered portable applications which features 91 % efficiency, low quiescent current (i.e. 1.25 mA at 3.6 V) and excellent EMI performance. The audio input of this device can be also configured either as single-ended or differential input mode.
---
Roadmap
Nuvoton is constantly expanding its portfolio by developing new innovative products. So also here. Especially in the Class D range, new ICs for higher power levels (up to 50 W stereo @4 Ω) will soon be available.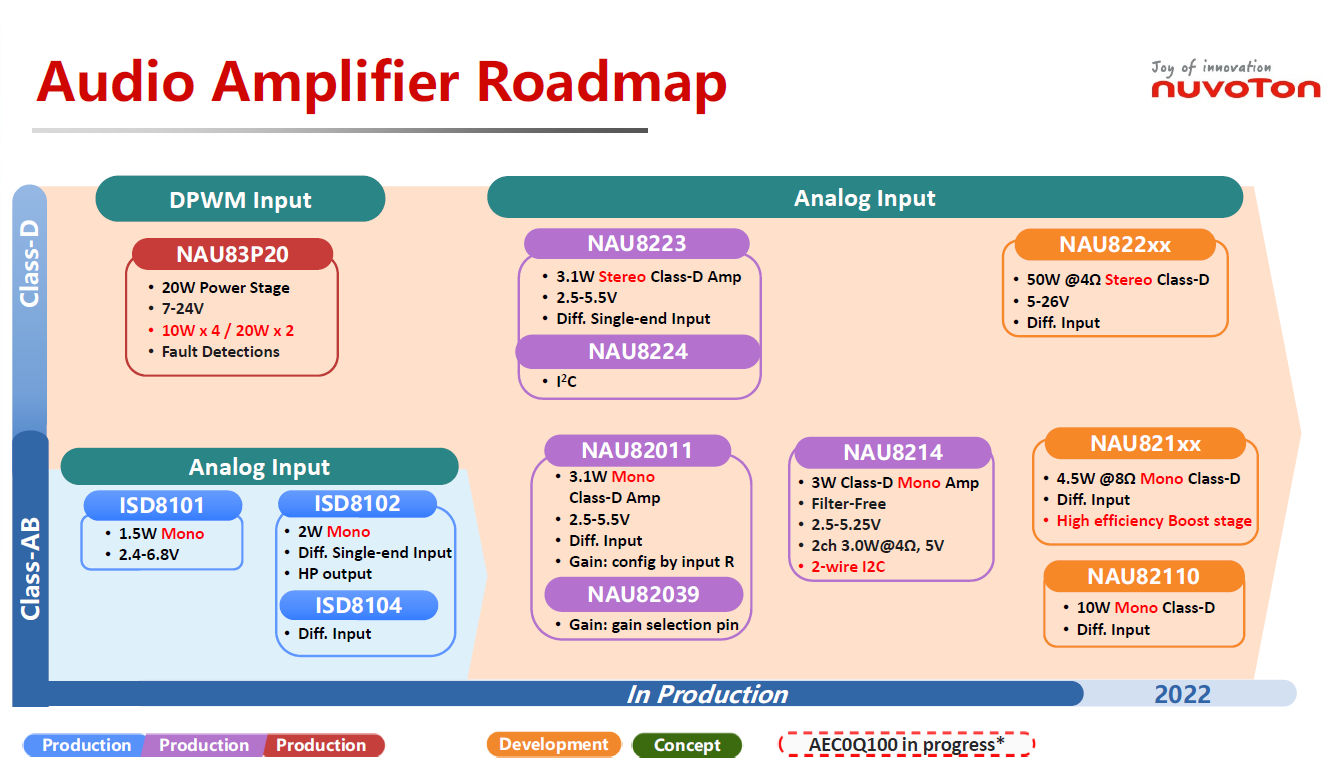 Nuvoton Audio
In addition to these amplifiers Nuvoton offers interesting products for almost any functional block of an application with audio signals. No matter if you need high quality audio ADCs, ICs for connecting digital microphones, CODECs, SoCs for integrated audio pre-processing like noise or echo cancellation, headphone amplifiers or ICs for voice recording and playback – you will almost always find something matching your application.
---
Follow our series of articles or contact us now to learn more about the various audio solutions from Nuvoton.