Nuvoton – Audio solutions – Part 1: ISD Voice ICs
Nuvoton offers a variety of different audio solutions.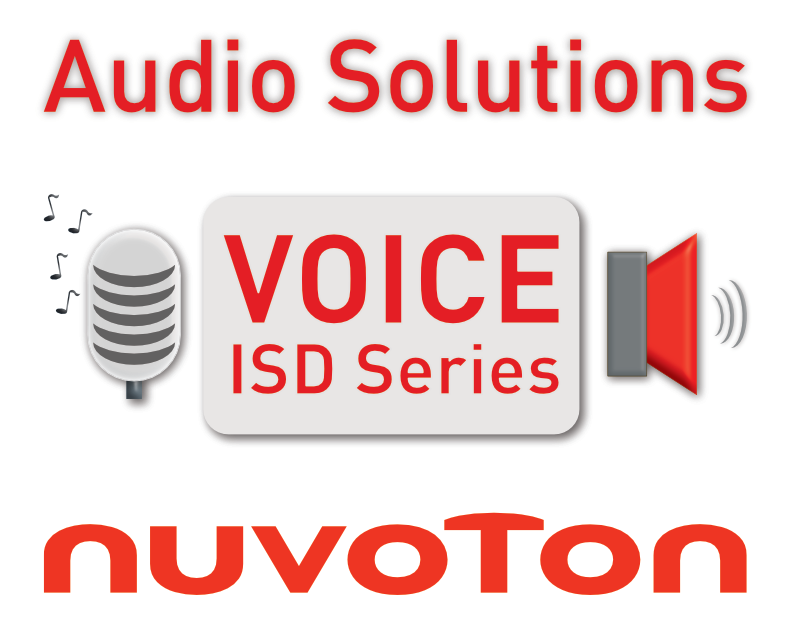 In the coming weeks, we would like to introduce you to the various products in a special series of articles on Nuvoton's audio product portfolio. Here we start with the ISD speech ICs of the NuVoice™ & PowerSpeech® Series.
---
NuVoice™ Series
The NuVoice™ Series comes with speech processing SoCs with high integration of analog and digital peripherals using high performance algorithms. They include a high-performance 32-bit Cortex™ M0 core, dedicated audio processing peripherals for playing PCM encoded data, ADC with programmable pre-amplifier, and a 13-bit DAC with dedicated amplifier including volume control for small speakers (250mW at 8Ω) – an audio "all-in-one" solution for speech.
The product family is designed as a cost-effective solution and therefore offers OTP derivatives as well as flash based ones (32kB to 72kB). An USB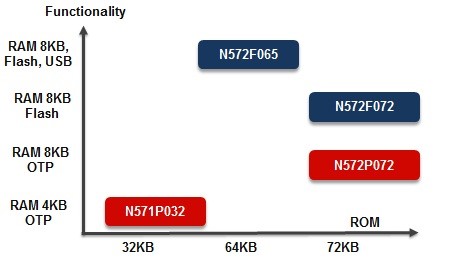 option extends the portfolio. Using an external flash, the duration of the audio solution can be extended as required.
For development Nuvoton supports Keil™ IDE and MDK from version 4.0 or higher. Corresponding development kits for a quick start are available. With the software library and the programming manual, a focused implementation is guaranteed.
---
Whether it is the generation of sound effects, speech recognition or voice recording or LongPlay applications, the NuSpeech™ family offers many possibilities to realize the basic functions of your product or to surprise the user by providing audio to give your brand a special watermark.
---
PowerSpeech® Series
---
The PowerSpeech® Series from Nuvoton is a SoC family for speech applications too.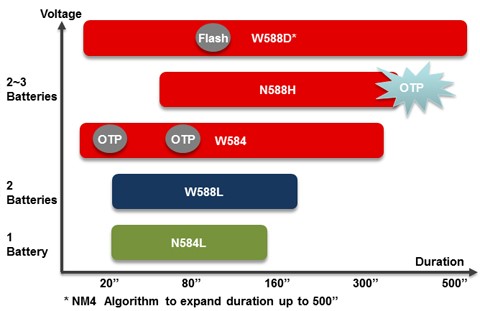 Through advanced synthesis technology, up to 3-channels can be used for speech or melody in the application. Audio duration up to 500 seconds is supported by the efficient NM4 algorithm. To realize multi-tasking applications, a 4-bit or 8-bit μC-based core is integrated.  The operating voltage range from 1.8V to 5.5V allows 1-3 cells in series as main power supply.
---
Take benefit of high quality algorithms with optimal price/performance ratio. For applications such as remote controls, excellent sound quality is achieved while the cost structure is extremely low.
Besides peripherals like H/W-PWM-I/O, high sink I/O ports, WDT and LVR, an IR carrier generator plus inputs for buttons are available. A user-friendly development environment with ICE-level debugger is provided to realize the various applications. The Ultra I/O system for easy generation of output signals, together with PowerScript™ for language and code generation, will support you in the rapid implementation of your requirements.
Nuvoton Audio
As mentioned at the beginning, in addition to these solutions specialized in voice recording and playback, Nuvoton offers interesting products for almost any functional block of an application with audio signals. No matter if you need high quality audio ADCs, ICs for connecting digital microphones, CODECs, SoCs for integrated audio pre-processing like noise or echo cancellation, headphone amplifiers or audio amplifiers up to 20W with integrated DSP – you will almost always find something matching your application.
---
Follow our series of articles or contact us now to learn more about the various audio solutions from Nuvoton.