Nuvoton – Audio Solutions – Part 3: Audio Codec ICs – Our Stereo and Mono Solutions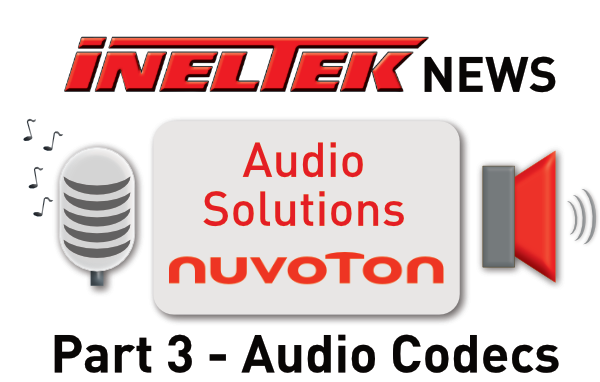 Nuvoton offers a variety of different audio solutions. In the coming weeks, we would like to introduce you to the various products in a special series of articles on Nuvoton's audio product portfolio.
Here In the third part of this series, we present the Audio Codec ICs NAU88xx for Stereo and Mono applications.
Stereo series derivatives
The components of the Stereo Codec series include the derivates NAU8820/21/22/24/25/26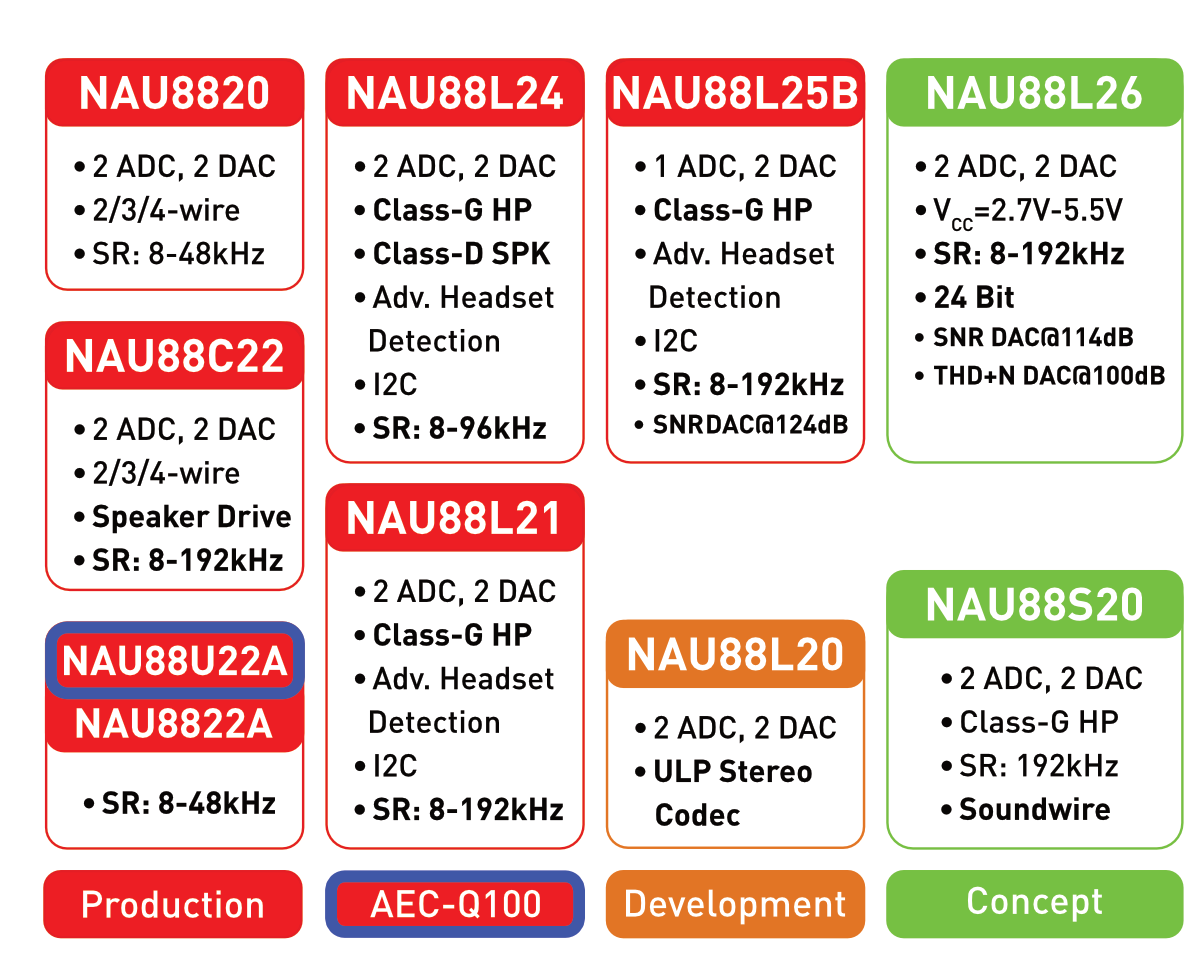 These ICs come with two 24-bit stereo ADCs and DACs, drivers for headphone and differential or stereo line level outputs. The integrated preamps for differential stereo microphones reduce drastically the need for external components. A 5-band equalizer for signal frequency shaping, Class-D audio amplifier and Class-G amplifier for headphone outputs makes this ICs ideal for mobile applications.
Automatic level control for microphone or line input via the ADC and a digital limiter function for the playback path enable high quality audio experience. Additional digital filtering options are available in the ADC path to simplify the implementation of specific application requirements such as wind noise reduction. The digital interface can operate as a master or slave.
In addition, an internal Frictional PLL is available to accurately generate any desired audio sampling rate for the codec; using a commonly available system clock of 8 MHz to 33 MHz without external parts.
The NAU88U22A is AEC-Q100 automotive qualified.
---
Application Example
To show the flexibility and features let's take a look on the NAU8820. It operates from a supply voltage of 2.5 to 3.6 V for its analog part, while the digital core can operate at just 1.65 V to save power. The two additional high-current AUX line outputs can be operated from separate supply rails for increased output power and design flexibility. It can be configured for cap-less coupled headphone drive with virtual ground if necessary. The internal register control allows flexible power saving modes through software controlled shutdown of sub-areas of the chip.
Mono series derivates
The components of the Stereo Codec series include the derivates NAU8810/11/12/14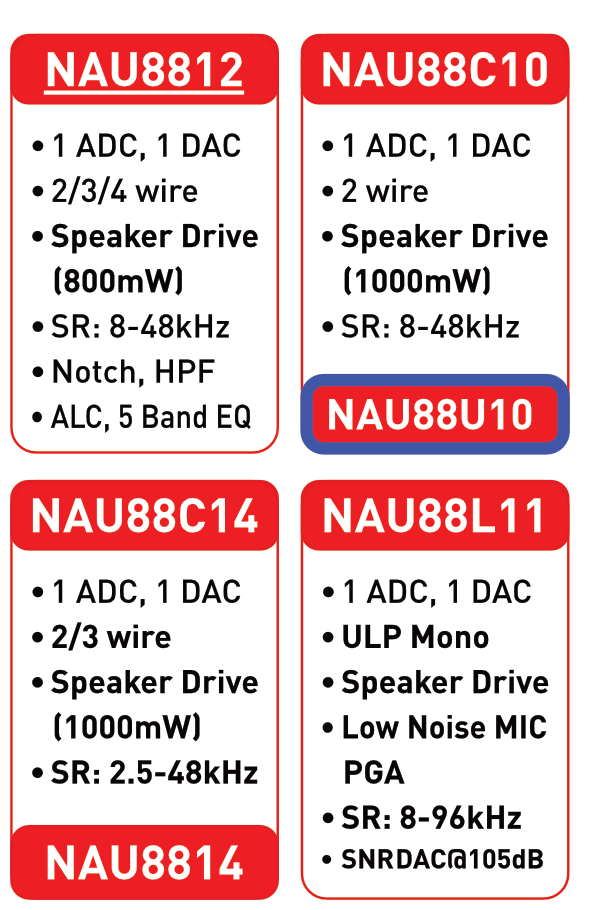 This IC family come with a 24-bit ADC and DAC. Other supported features include similar to Nuvoton's stereo lineup a 5-band equalizer, Automatic Level Control (ALC) with noise gate, PGA, a Class AB power amplifier (e.g. NAU88L11YG), standard I²S or PCM audio interface, optional PCM time slot assignment, and a full fractional-N on-chip PLL.
The members in this series feature a differential microphone input and multiple stages for variable gain control in the audio paths.  Both a mono headphone/line-level output and a high-power BTL differential speaker driver output (350mW to 1W @8Ohm) are provided. The advanced on-chip digital signal processing features include a dynamic range compressor (DRC) and a programmable biquad filter (e.g. NAU88L11YG).
The NAU88U10 is also AEC-Q100 automotive qualified.
---
Nuvoton Audio
As mentioned at the beginning, in addition to these solutions specialized in voice recording and playback, Nuvoton offers interesting products for almost any functional block of an application with audio signals. No matter if you need high quality audio ADCs, ICs for connecting digital microphones, CODECs, SoCs for integrated audio pre-processing like noise or echo cancellation, headphone amplifiers or audio amplifiers up to 20W with integrated DSP – you will almost always find something matching your application.
Follow our series of articles or contact us now to learn more about the various audio solutions from Nuvoton.