Atmel Launches 5V Cortex-M0+ MCU Family With Integrated Peripheral Touch Controller
Atmel | SMART SAM C20 and SAM C21 series MCUs are optimized for industrial automation, home appliances and other 5V applications using the 32-bit ARM Cortex-M0+ processor, and ranging from 32- to 64-pins with up to 256KB Flash and 32KB of SRAM. The devices operate at a maximum frequency of 48MHz and reach 2.46 Coremark/MHz. They are designed for simple and intuitive migration with identical peripheral modules, hex compatible code, identical linear address map, and pin-compatible migration paths between all devices in the product series. All devices include intelligent and flexible peripherals, Atmel Event System for inter-peripheral signaling, and support for capacitive touch button, slider and wheel user interfaces.
The SAM C family of devices are also pin compatible to the SAM D family of general purpose Cortex-M0+ microcontrollers.
SAM C20 device details
The overview shows Flash and SRAM combinations, package options and feature set.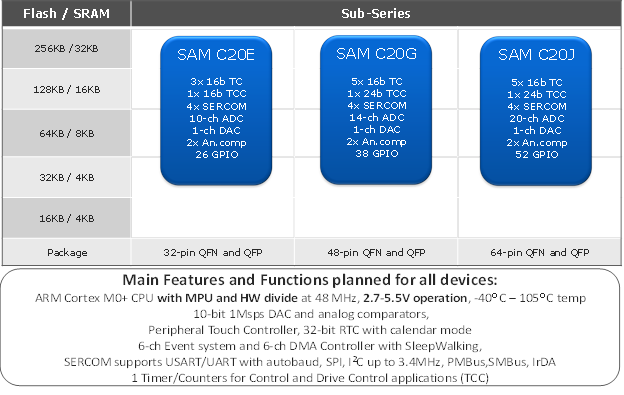 ---
 SAM C21 device details
The overview shows Flash and SRAM combinations, package options and feature set.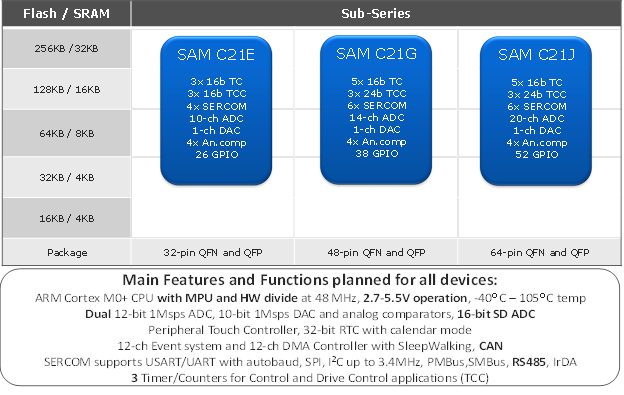 ---
Atmel Studio and Atmel Software Framework
The SAM C20 and SAM C21 are fully supported in Atmel® Studio and Atmel Software Framework.
SAM C21 Xplained Pro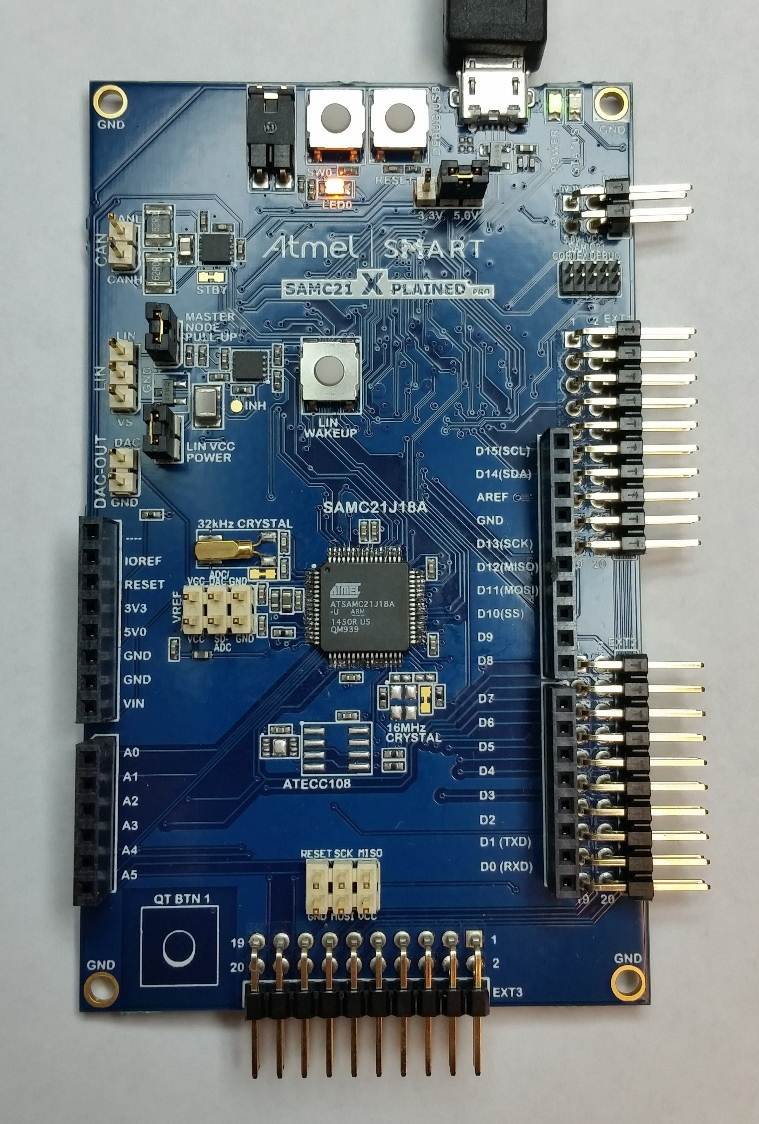 The SAM C21 Xplained Pro is available from the Ineltek webshop, http://www2.ineltek.com/shop/index.php?language=de . The SAM C21 Xplained Pro uses the 64-pin 256KB Flash SAMC21J18A-AU and features an on-board debugger/programmer, selectable 3.3V/5V operation, Arduino shield compatible, on-board LIN transceivers, on-board CAN transceivers, on-board capacitive touch button, and selectable Sigma Delta ADC reference voltage.
The order code is ATSAMC21-XPRO.
Peripheral Touch Controller
The on-board Peripheral Touch Controller (PTC) offers a highly integrated, EMC robust and easy-to-use 5V capacitive touch solution. Together with the QTouch development tools, this solution has caused many major home appliance and automotive vendors to embrace the SAM D family for their capacitive touch user interface designs. With the introduction of the SAM C series, an even more efficient implementation of the PTC is becoming available, leading the way for capacitive touch sensing technology for customers that needs 5V operating voltage.
A preliminary release of the PTC library will be made available from Atmel in July. The production version will be made available prior to the production release of the SAM C family.
IEC 60730 Class B Compliance
IEC 60730 is a safety standard for household appliances, also referred to as IEC 60335. There are three levels of certification:
Class A – not intended to be relied upon for safety
Class B – intended to prevent hazard if fault occurs
Class C – same as class B but without the use of other protective devices
Class B is most relevant to household appliance, and a class B compliant safety library will be made available from Atmel prior to releasing the SAM C family to production.
To receive more information please contact an Ineltek office within your area.
Or contact us at info@ineltek.com