Atmel Introduces the World's Most Innovative 2-pin "Self-Powered" Serial EEPROMs
Atmel will announce the world's most innovative 2-pin Single-Wire 1Kbit Serial EEPROM products. These extraordinary memory devices are a true 2-pin solution requiring only a data pin and a ground pin to operate. The Atmel® AT21CS01 and AT21CS11 serial EEPROMs are "self-powered" over a single data pin using a novel parasitic power concept, making them ideal for any application that has limited pins available.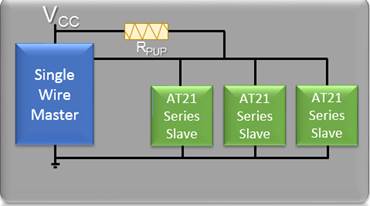 The two variants support the different voltage requirements. The AT21CS01 targets low-voltage applications operating at 1.7V – 3.6V, including IoT wearables, smart fitness and smart healthcare applications to name a few. For applications that require a higher voltage range—e.g., Li-Ion/Polymer batteries—the AT21CS11 will support a 2.7V – 4.5V operating range and is the ideal product to meet IEEE 1725 specifications for electronic identification of battery packs.
Each AT21CS01/11 product has a unique slave address, allowing up to eight devices to be connected and independently accessed by the same Single-Wire Master. This feature makes it very easy to add more memory to applications with only minimal support circuitry.
The AT21CS01/11 products offer ultra-high write endurance capabilities allowing for greater than 1 million write cycles to each and every memory location to meet the needs of today's high write endurance applications.  The AT21CS01/11 devices are logically segmented into 256-bit zones and each zone is independently able to be permanently write-protected, creating a versatile product for customers.
With a plug-and-play 64-bit unique Serial Number included in every device, these products also provide an ideal solution to implement simple product identification.  And with ESD tolerance to IEC 61000-4-2, the single data pin is capable of being directly accessed from outside the application.  Additional application examples include analog sensor calibration and storage data, ink and toner print cartridge identification, cabling requiring electronic identification, and management of after-market consumables.
Introducing the AT21CS01/11
World's Most Innovative 2-pin "Self-Powered" EEPROMs
Product Highlights

Benefits to Customers

True 2-pin Device

Single data I/O pin and one ground pin needed

Device is "self-powered" over the data pin

 

Requires only one pin from MCU/ASSP/MPU/ASIC

Smaller footprint, reduce PCB area and simplifies layout

Easy to integrate identification capability in consumables/ cables

Ultra-low Standby and Active Current

700nA typical standby current at 25°C

200µA typical write current at 25°C

80µA typical read current at 25°C

Consumes at least one-third less power in active mode than competition

 

Lowest energy consumption (increased battery life)

Enable high performance in low power applications with high-speed mode

Follows I2C Protocol

Single-wire interface with I2C protocol structure

 

Easy to migrate from existing I2C EEPROM

Less overhead and higher throughput

Capability to add up to eight devices on same bus

Highest Level of ESD rating

IEC 61000-4-2 Level 4 ESD compliant (±8kV Contact, ±15kV Air Discharge)

 Able to tolerate SI/O being exposed to outside the application

Innovative Memory Architecture

Memory organized into four 256-bit zones

 

Tamper-proof any 256-bit zone by permanently write-protecting the data

Allows customers the flexibility to organize their data into different zones and permanently lock only the desired zones

Security Register
(additional to 1Kb EEPROM)

64-bit factory programmed serial number

Includes an extra 16-bytes of user programmable bytes

 

Serial number is guaranteed unique

Use the serial number for inventory tracking /asset tags

Program vital product data in the 16-byte section and permanently protect the data if desired
Available in 3-lead SOT23, 8-lead SOIC, and 4-ball WLCSP:

To receive more information please contact an Ineltek office within your area.
Or contact us at: info@ineltek.com