Atmel Introduces Sub-1GHz RF Transceiver with Embedded AVR Microcontroller ATA8510 & ATA8515
Monolithic RF Transceiver IC for the Sub-1GHz smart RF markets, providing lowest power consumption, high sensitivity and high output power. Industrial and consumer applications include RF remote control such as garage door openers, smart metering, home automation and building security systems.
The device's superior RF functionalities (e.g., blocking capabilities, power management, and more) enable an extremely low current consumption. This permits to use smaller batteries to realize miniature designs, which is a key criteria for battery operated applications.
The RF Transceiver IC provide high sensitivity at -123dBm (0.75kbit/s, FSK, Manchester code, at 433.92MHz) and -109dBm (at 20kbit/s, ASK, Manchester code, at 433.92MHz), respectively. The high output power of -12dBm to +14.5dBm is programmable in 0.4-dB steps. Both high sensitivity and high output power allow for extended RF transmission distances.
The ATA8510 & ATA8515 combines RF functionality with a proven Atmel AVR® microcontroller core. Configuration via the EEPROM enables quick and seamless adaptation to the individual application needs. Programming is done via the SPI – even on-the-fly during operation.
The firmware is included in ROM, and the device provides additional Flash option for application-specific software needs.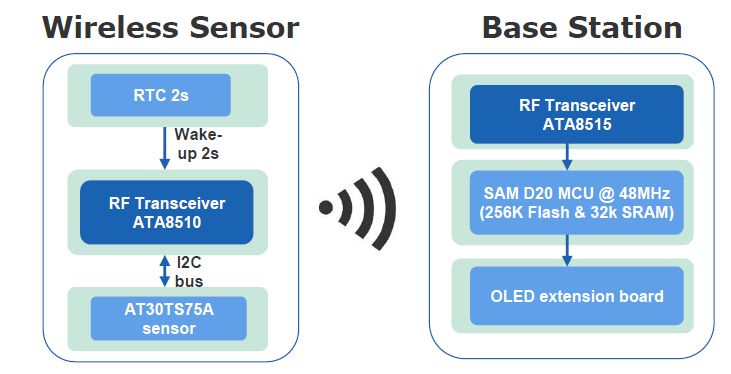 Wireless sensor board with ATA8510 (transmit)
<25μA mean current consumption for wireless sensor @0.85% duty cycle
RTC module with 2s interval pulse output to wake-up RF
AT30S75A temp sensor powered by RF transmitter
Flash application to control operation for sensor and data transmit every 2s
Base Station with ATA8515 as RF Receiver
XplainedPRO SAM D20 kit with OLED1 extension board
ATAB5782C extension board with adapter and wip antenna
SPI communication for control of RF receiver
Operation in standalone mode showing the received temp. data on OLED in °C, updated every 2s
 Key Characteristics
UHF Transceiver + integrated AVR μC with excellent RF Performance save space and ext. components in design
The ATA851x system on chip covers all frequencies (315/433/868/915MHz) with one Crystal
Integrated RF Switch
ATA8510 @ 20 KB user Flash; ATA8515 @ no user flash (+24 kB ROM firmware lib. for all versions)
Autonomous operation possible
Pin, package & software compatible with ATA821x family (Rx)
Key Features
UHF transceiver with excellent RF performance
ASK Sensitivity (Manchester) at 433.92MHz: -109dBm @ 20kBit/s IFBW=366 kHz -119dBm @ 1kBit/s IFBW=366 kHz
FSK Sensitivity (Manchester) at 433.92MHz: -108dBm @ 20kBit/s Δf=±20kHz IFBW=165 kHz -114dBm @ 5kBit/s Δf=±5kHz IFBW=165 kHz -123dBm @ 0.75kBit/s Δf=±0.75kHz IFBW=25 kHz
Best in Class blocking performances 64 dBc@IFBW=165kHz) and 48dBc@IFBW=225kHz at freq. offset of 1MHz
High image rejection: 55dB @ 315/433MHz; 50dB @ 868.3MHz/915MHz without calibration
Programmable output power: -10 to 14dBm
Extremely low current consumption : off mode: <0.6μA (+85°C)
Supply range: 1.9V – 3.6 V
Temperature range – 40°C to +85°C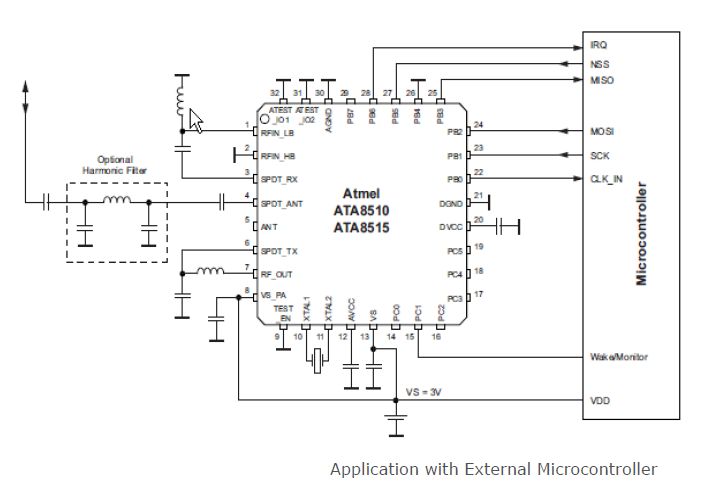 | Part Number | User Flash | Atmel System Firmware |
| --- | --- | --- |
| ATA8510 | 20kB | 24kB |
| ATA8515 |   | 24kB |
Competitive Advantages
Significantly better blocking – Critical receiver metric
Better image rejection
Dual RF input ports – two antennas, two bands (not MUX'ed)
Lower current consumption RX&TX
On board microcontroller with multiple TX/RX profiles – autonomous operation possible
EEPROM configuration – no SPI init for fast turn on time
Two parallel (simultaneous) RX demodulators per service, search for two different received modulation patterns at the same time