Atmel® Introduces New SAM G Cortex™-M4 based MCUs for Ultra Low-Power and Space-Constrained Applications; Expanding the Sensor Hub Portfolio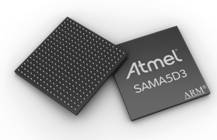 Atmel will launch a brand new family of microcontrollers, the SAM G, at the Consumer Electronic Show (CES) this week. The SAM G family targets ultra-low-power, small form factor and high-performance applications. With a Cortex-M4 CPU with FPU bundled with the low power consumption, these devices offers unrivaled efficiency in a very small package, just 3 x 3 mm WLCSP with 49 balls. With an optimized and highly-efficient set of serial peripherals, 12-bit ADC, digital audio, DMA and a good SRAM-to-flash ratio. The SAM G devices targets a broad range of low-power, space-constrained applications especially consumer sensor hubs.
Family overview
3.07 x 3.07
|   | SAM G51 | SAM G53 |
| --- | --- | --- |
| Frequency | 48MHz | 48MHz |
| Flash | 256KB | 512KB |
| SRAM | 64KB | 96KB |
| USART/UART | 1 + 2 | 2 + 2 |
| I2C Master | 2 @ 400kbps | 2 @ 400kbps |
| I2C Slave | 1 @ 3.4Mbps | 1 @ 3.4Mbps |
| SPI | 1 | 1 |
| Timer / Counter | 3 x 16-bit | 6 x 16-bit |
| 12-bit ADC | 8 | 8 |
| I2S / PDM | – | 2 |
| PLL | 1 | 1 |
| picoPowerTM | Yes | Yes |
| SleepWalking | Yes | Yes |
| GPIO | 38 | 38 |
| WLCSP size | 2.84 x 2.84 | 3.07 x 3.07 |
The SAM G family comes in two series, the SAM G51 and SAM G53. These devices are fully compatible, even down to the WLCSP package.
The SAM G family is all about low power. There are 3 main areas that the SAM G is optimized for: active, deep sleep with SRAM retention, and wake-up time. For most battery-powered applications these three figures are what affect the systems power consumption. The G family features:
Down to 100uA / MHz in active
Below 7 uA in deep sleep with SRAM retention
Down to 3 us wake-up from deep sleep to executing the first instruction in active-mode
Both the G51 and G53 embed a Cortex-M4 CPU with an FPU (floating point unit). This ensures maximum throughput. This is very important as it allows you to minimize the active power consumption and get to sleep faster in order to reduce the overall power consumption. Additionally, the devices have 16 DMA channels, which give extremely high throughput. The combination of ultra-low power consumption, fast wake-up time and high throughput is what gives the SAM G the edge in space- and power-constrained consumer applications such as sensor hubs. It wakes up quickly, has the throughput needed to reduce the amount of time spent in active mode, and then goes back to sleep with SRAM retention to conserve energy. This gives the best performance and longest battery lifetime. The SAM G family of devices is fully-functional all the way down to 1.62V, including flash reads and writes, as well as full ADC operation. This allows for a more flexible power supply scheme that will squeeze extra runtime out of a battery.
Competitive Positioning
There are many different devices that compete in the low-power segment. The STMicroelectronics STM32F401 family of devices also targets small form factor applications with high throughput with a similar type of peripheral mix as the SAM G family of devices. It has a small WLCSP package option as well. The SAM G family of devices is superior in all relevant power modes and even offers smaller packages.
| Description | ATMEL SAM G | STM32F401 |
| --- | --- | --- |
| Minimum Operating Voltage | 1.62V | 1.7V |
| Active Mode Power Consumption | 100 µA/MHz | 137 µA/MHz |
| Standby with Full SRAM retention | 7 µA | 11 µA |
| Wakeup time from sleep mode | 3 µs | 110 µs |
A practical example is a sensor hub application. Typical sensor hub applications stay in deep sleep with SRAM retention. Then they wake up, gather sensor data via an I2C master interface, calculate the sensor fusion as well as gestures and context data, and then submit the result to an application processor via an I2C slave or SPI. The number of times a second the device wakes up is known as the report rate. A higher report rate will give a better user experience for virtual reality, context and gesture recognition, and gaming applications. The SAM G is a superior product.
 
Sensor Hubs
In today's connected world, sensors are all around us. Engineers continue to design them into an increasing number of everyday products. Requirements have changed from simple monitoring to comprehensive interpretations of a device's status. This can require simultaneous analysis and fusion of data from different sensors and sensor types. Hubs take data from accelerometers, gyroscopes and magnetometers, as well as environment sensors like light level, color, temperature, pressure, and humidity. To simplify the task, Atmel has partnered with leading sensor manufacturers and sensor fusion specialists to provide a complete, easy-to-implement Sensor Hub ecosystem. The SAM G family of devices is especially designed for these types of applications. Take a look at atmel.com/SensorHubs for more information.
Tools
The SAM G53 Xplained Pro is the recommended evaluation kit for both the SAM G51 and the SAM G53. The kit features a SAMG53N19A-AU and provides you with everything you need to start designing new microcontroller-based applications in minutes.
Easy to connect — Through an embedded debugger, Xplained Pro boards connect just with a USB cable to a PC for programming and development.
Easy to develop — The boards are automatically recognized by the Atmel Studio 6 integrated development platform (IDP), so you get direct access to example projects and documentation.
Easy to extend — Hardware extension boards provide easy access to all functionality of the MCU. The Atmel Software Framework provides a large set of software drivers and components.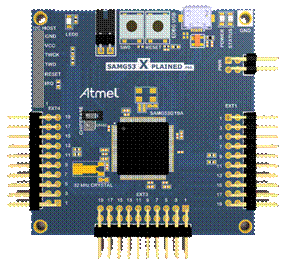 Ordering Code: ATSAMG53-XPRO
The SAM G family of devices and SAM G53 Xplained Pro are fully supported by the Atmel Software Framework and Atmel Studio as well as 3rd parties such as IAR and Keil.
Device Availability
The SAM G will be in mass production and available for orders soon. The devices will also be sampling soon as a regular device directly from the Atmel Sample Center.
| CPN | Package type |
| --- | --- |
| SAMG51G18A-UUT | 49-ball WLCSP |
| SAMG51N18A-AU | 100-pin TQFP |
| SAMG53G19A-UUT | 49-ball WLCSP |
| SAMG53N19A-AU | 100-pin TQFP |
Device details
For more information, details and datasheets please take a look at the device pages at the Atmel webpage. All devices and resources are found here: http://www.atmel.com/products/microcontrollers/arm/sam-g.aspx