Atmel Introduces Lowest Power ARM Cortex-A5 Based MPU with Leading Security Features for Industrial IoT and Wearable Applications
Atmel launched a new series of Atmel® | SMART ARM® Cortex®-A5-based microprocessors (MPUs). The new  Atmel | SMART SAMA5D2 series delivers the world's lowest power consumption of any MPUs in its class with leading security features for Industrial IoT, Payment Terminals and Wearable applications.
SAMA5D2 Key Benefits
Expanding the Atmel | SMART SAMA5 family, the SAMA5D2 series delivers just the right price-to-performance ratio for applications requiring an entry-level MPU and extended industrial temperature range (-40 to 105°C ambient temperature). The new series also provides a great migration path for designers using Atmel ARM926™-based MPUs looking for higher performance and an upgraded peripheral set.
Here are some of the new features:
DDR controller supporting (LP)DDR3/DDR3L memories
QSPI Flash interface with eXecution in Place (XiP) support and on-the-fly decryption
Ultra-small 8×8 package with low profile to address space constrained applications
New 50µA backup mode with DDR in self-refresh and low-power retention mode with ultra-fast 10µs wake-up
High-security grade features to support PCI certified applications
Rich audio subsystem with new audio class D amplifier and PDM microphone input
USB HSIC inter-chip interface
Target Applications and End Products
Small HMI / Control Panel (white goods, alarm systems, etc.)
IoT / Secure Gateways
POS Terminals and Imaging
Wearables / Battery-operated Systems
SAMA5D2 Series Product Details
Featuring an ARM NEON™ engine, the new Atmel | SMART SAMA5D2 series delivers 500MHz and 166MHz of system clocking. The memory system includes a configurable 16- or 32-bit DDR interface controller supporting 16/32-bit DDR2/3/3L, LPDDR/2/3, 16-bit external bus interface (EBI), QSPI Flash interface, ROM with secure and non-secure boot solution, 128kB of SRAM plus 128kB of SRAM configurable as L2Cache or SRAM extension.
The user interface system for the SAMA5D2 devices includes a 24-bit TFT LCD controller, 12-bit Image Sensor Interface with 96MHz pixel clock supporting Raw Bayer, an audio subsystem with fractional PLL, multiple I2S and SSC/TDM channels, a class D amplifier and digital microphone support.
The robust security system in the new SAMA5D2 MPUs includes ARM TrustZone® technology, along with secure boot, hardware encryption/decryption engine, RSA/ECC, on-the-fly decryption of encrypted code, tamper resistance, memory scrambling, independent watchdog, temperature, voltage and frequency monitoring and a unique ID in each device. The SAMA5D2 series consists of seven devices with three different packages: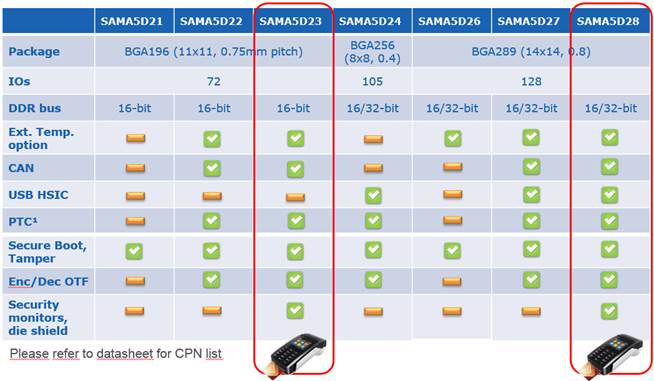 SAMA5D2 Software and Development Tool Support
To support the new series of SAMA5D2 MPUs, Atmel has developed a free Linux® distribution available on www.Linux4sam.com and published in the mainline kernel. For non-operating system (OS) users, Atmel delivers more than 40 peripheral drivers in C. Atmel collaborates with a global network of partners—including IAR, ARM, Free Electrons, Active Semi, Micron, ISSI, Winbond, Segger, Lauterbach, FreeRTOS, Express Logic and NuttX—that deliver development tools, PMIC, memories and software solutions.
Comparison between SAMA5D2, SAMA5D3 and SAMA5D4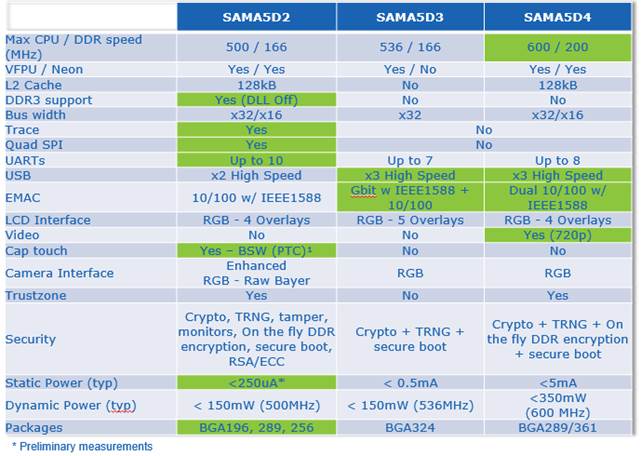 To receive more information please contact an Ineltek office within your area.
Or contact us at info@ineltek.com