Atmel Extends Smart Energy Roadmap with a New Metering AFE Product
Atmel releases a new industry-leading single-phase metering IC with best-in-class metrology as well as new customer-valued features.
A porting product to eventually replace legacy products with enhanced features.
Atmel announced the ATM90E26, a low-cost metering Analog Front End (AFE) IC that extends the features of the Atmel Smart Energy platform and enriches energy metering portfolio. It is designed specifically for smart grid communications, electricity metering systems, as well as energy measurement applications. The Atmel Smart Energy platform includes several System-on-Chip (SoC) devices built around a unique dual-core ARM® Cortex® M4-based architecture. The platform includes the SAM4C with advanced security, in addition to metrology-enabled versions for single- and poly-phase metering (SAM4CMx) and Power-Line Communications (PLC) enabled solution (SAM4CPx).
The new ATM90E26 is pin-to-pin compatible with the IDT 90E22/23/24/25 devices, while at the same time features UART support and improved power measurement resolution.
The Atmel unique and highly-flexible Smart Energy platform addresses an OEM's system partitioning, BOM, and time-to-market requirements with the widest range of integration and performance optimization options available in the market today.
By providing the discrete metrology AFE ATM90E26 as well as various MCU/MPU, and PLC/wireless solutions, the Smart Energy Platform provides customers with many options and levels of integration to address their smart metering designs. For example, the ATM90E26 can be bundled with the SAM4CPx for a complete smart metering architecture.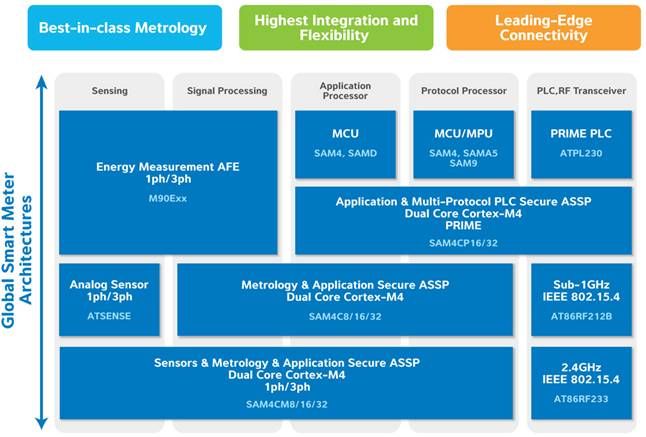 Key features of the ATM90E26 include:
Dynamic range of 5000:1 with 0.1% kWh accuracy and 0.2% kvarh accuracy.
Temperature coefficient of reference voltage 15ppm/ºC (typ.).
Single-point calibration for active energy, no need for calibration on reactive energy.
Up to 24x PGA to support shunt sensing in L line current channel.
Programmable startup and no-load power threshold.
Measures Vrms, Irms, P(Q/S), frequency, power factor and phase angle. Enhanced resolution for RMS and mean power.
Measurement accuracy better than 0.5%.
Other features include:
Configurable high-pass filter (HPF) in each ADC channel.
On-chip parameter diagnosis function and programmable interrupt output to reduce complexity and increase robustness of the meter.
Standard 4-wire or simplified 3-wire SPI interface, or a UART interface.
Dedicated voltage zero-crossing output pin (ZX); voltage sag detection.
Software reset available.
3.3V single power supply; 5V compatible for digital input.
Development Tools
The following evaluation kit is available. Please contact info@ineltek.com for your development platform needs.
ATM90E2x single-phase energy metering demo board is used for the demo and testing of ATM90E2x chips. It can sample single-phase voltage and current, meter active and reactive energy and output active and reactive energy pulses accordingly, as well as measure parameters such as voltage, current, and power.
The AFE Control Board – SAM4C communicates with and controls the AFE board, providing easy access to evaluate the energy metering chips.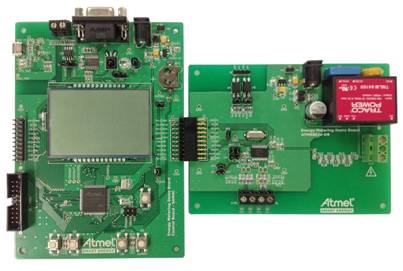 Ordering Information
ATM90E2X-DB