Atmel Expands ARM Cortex-M0+ based Family with Three New Product Series
At Embedded World in Nuremberg, Atmel introduced the SAM D10, SAM D11 and SAM D21 series of embedded Flash microcontrollers (MCU), expanding the Atmel® ARM® Cortex®-M0+ based SAM D family from the 15 SAM D20 devices shipping in volume now to a total of 39 devices. With this new range of lower-end ARM Cortex based devices Atmel will have a complete MCU offering, including the best 8-bit products available as well as a Cortex-M0+ family that sets a new benchmark for flexibility, functionality, compatibility and ease of use.
In addition to new pinout and memory options, the three new series introduce additional functionality on top of the SAM D20 series unique Event System, SERCOM module, and Peripheral Touch Controller. Among the added functionality is Full Speed USB 2.0 device and embedded host, DMA, I2S, Timers/Counters for Control applications, increased I2C speed with support for SMBus and PMBus, UART with autobaud and IrDA support, and Micro Trace Buffer for easy debugging. The USB device can run from the internal RC Oscillator, simplifying design and reducing external circuitry. All SAM D devices are code- and pin-compatible, making it easy to migrate both up and down the family.
The SAM D21 series will be available in 32-, 48-, and 64-pin QFN and TQFP packages and will range from 32KB to 256KB of Flash. The SAM D21 series devices are pin-compatible with the SAM D20, while adding all the new features listed above.
The SAM D11 series will be available in 14- and 20-pin SOIC and 24-pin QFN packages and will be available with 8KB and 16KB of Flash. Both memory options will feature 4KB of SRAM. The SAM D11 series includes all the features listed above except the USB embedded host. The SAM 10 series is identical to the SAM D11 series, but does not feature a USB device.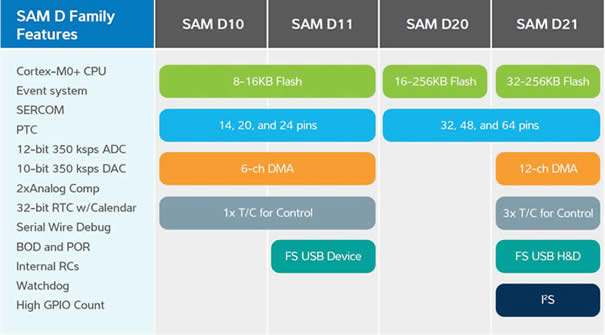 Atmel SAM D – A complete family of easy-to-use ARM Cortex-M0+ based MCUs
The three new SAM D series extend the Atmel ARM Cortex based MCU portfolio—closing the gap between the Atmel megaAVR® and AVR® XMEGA® and the SAM3 and SAM4 products—and expanding Atmel's addressable market. SAM D family features include:
High performance

ARM Cortex-M0+ processor
48MHz operation
2.14 CoreMark/MHz
Single Cycle IO Access
4-8 channel Event System
4-8 channel DMA

Robust peripheral set

Up to 6 SERCOM modules configurable as UART/USART, SPI or I2C

I2C up to 3.4MHz
IrDA and autobaud support on UART

12Mbps USB 2.0 device and embedded host
2 channel I2S with 96MHz fractional PLL for audio streaming
Up to 8 16-bit Timer/Counters
Up to 3 16-bit Timers/Counters optimized for control applications
Peripheral Touch Controller that supports up to 256 channels and supports buttons, sliders, wheels, and proximity
32-bit Real Time Clock (RTC) and Calendar with leap year correction
12-bit 350ksps ADC, 10-bit 350 ksps DAC, and analog comparators

Low power

<70µA/MHz
Options between internal and external oscillators and on-the-fly clock switching
Atmel SleepWalking

Free software tools from Atmel, including Atmel Studio and Atmel Software Framework

Micro Trace Buffer
Serial Wire Debug
Xplained Pro Boards
SAM D Target Applications and End Products
Board controllers
Human/Machine interfaces
Wireless applications
Games/Toys
White goods
Set-top boxes
Motor control
Lighting
Sensor interfaces
Medical
Electric tools
Appliances/Small electronics
Computer infrastructure, fan control, optical transceivers
Features
 
32-pinSAM D21E
48-pinSAM D21G
64-pinSAM D21J
14-pinSAM D10C
SAM D11C
20-pin
SAM D10DSAM D11D
24-pin
SAM D10DSAM D11D
Flash
32-256KB
32-256KB
32-256KB
8-16KB
8-16KB
8-16KB
SRAM
4-16KB
4-32KB
4-32KB
4KB
4KB
4KB
Event System
12-ch
12-ch
12-ch
4-ch
4-ch
4-ch
DMA
8-ch
8-ch
8-ch
 
 
 
SERCOM (I2C, USART,SPI)
4
6
6
2
3
3
I2S and FPLL
2-ch
2-ch
2-ch
–
–
–
FS USB embedded host
Yes
Yes
Yes
–
–
–
FS USB device
Yes
Yes
Yes
SAM D11
SAM D11
SAM D11
Timer/Counter
6
6
8
2
3
3
Timer/Counter for control
3
3
3
1
1
1
12-bit 350ksps ADC
6-ch
12-ch
16-ch
6-ch
8-ch
8-ch
10-bit 350ksps DAC
1-ch
1-ch
1-ch
1-ch
1-ch
1-ch
GPIO
26
38
54
12
18
22
Capacitive touch channels
Up to 48
Up to 144
Up to 256
Up to 12
Up to 42
Up to 72
Product Availability
The largest memory density for all pin-outs and packages of the SAM D21 devices will be open for sampling Feb 26th. The SAM D21 will start shipping to mass production in May.
SAM D10 and SAM D11 samples will be available towards the end of Q2. The SAM D10 and SAM D11 will start shipping to mass production in October.
All products available now are -40-85°C.  105°C versions will be introduced towards the end of 2014.
The SAM D21 Xplained Pro is available now. The Xplained Pro boards include an embedded debugger and programmer and have a wide range of compatible extensions. If you prefer to use a standalone programmer debugger, the Atmel SAM-ICE™ product fully supports the SAM D family. SAM D products are fully supported by Atmel Studio and Atmel Software Framework.
How to Read SAM D Part Numbers