An E-Bike Solution based on SIMCom's Modules
The market for shared bikes continues to grow as the public acceptance of this green shared two-wheeled means of transportation. Thanks to the continuous development of the Internet of Things and AI, shared e-bikes were born for 3-10km short and medium trips. Compared with shared bikes, shared e-bikes are faster, but have more safety risks. Accompanied by the upgrading of Internet of Things, shared e-bike business has made intelligent upgrades and integrated innovations to its hardware technology and service system, and ushered in another boom.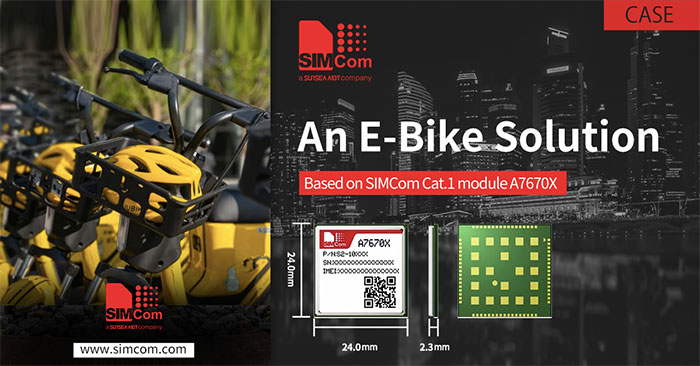 According to wireless communication modules in e-bikes, dynamic position monitoring, battery management can be achieved. CAT. 1 can be a good choice for e-bikes, which can be seamlessly connected to existing LTE networks without requiring software or hardware upgrades to base stations, so the cost of network coverage is low. In terms of chip cost, after system optimization, the degree of integration is higher, the hardware architecture of modules is simpler, and the cost of peripheral hardware is lower. Compared with NB-IoT, CAT.1 has a peak upload rate of 5Mbit/s and a peak downward rate of 10Mbit/s. It is better in terms of rate, latency and mobility, so it's more used for real-time and mobile transmission that requires certain bandwidth, and very suitable for the application scenario of shared e-bikes.
As early as in 2016, SIMCom developed the SIM7500 series of CAT.1 modules. The SIM7500 series is available in a number of regional versions and market segments around the world, with millions of shipments in many industries, focusing on industrial gateways, trackers, industrial meters and public network intercom applications. In 2020, SIMCom launched the more cost-effective A7600C1 and A7670 CAT.1 series, which can help customers quickly upgrade from 2G/3G to 4G, while meeting diverse cost requirements in application segments of the product market. For the precise positioning, battery management and background operation management required by shared e-bikes, SIMCom CAT.1 modules can provide reliable support.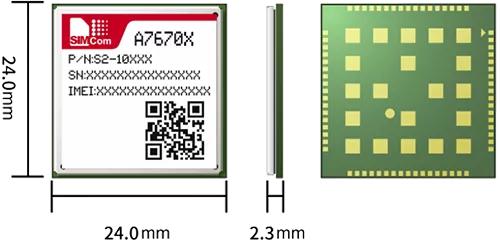 SIMCom A7670X LTE CAT.1 module supports LTE-TDD/LTE-FDD/GSM/GPRS/EDGE. It adopts LGA and are compatible with the SIM7000 / SIM7070 (NB/CAT.M modules) and SIM800A/SIM800F (2G modules), enabling a smooth transition from 2G/NB/CAT.M products to LTE CAT 1 products, effectively helping customers reduce development costs. The A7670X module integrates major industrial standard interfaces with strong scalability, including UART, USB, I2C, GPIO and other interfaces. It's suitable for remote information processing, monitoring equipment, POS, shared products, etc. In the field of shared e-bikes, A7670X is also promising.
1. Vehicle management by code scanning
With the help of Cat.1 module A7670X, after the user scans the QR code, the e-bike can carry out data transmission through the module, complete communication with the background server, which will issue the unlocking instruction to unlock the e-bike successfully.
2. Battery management for shared e-bikes
Real-time battery status can be transmitted through the module A7670X. E-bike maintenance staff can monitor battery status of the e-bike at any time. The system will automatically remind you to change the battery, reducing the risks caused by battery aging and other unsafe factors.
3. Fixed point return, solving the problem of illegal parking
In order to facilitate public mobility, shared e-bikes must be parked in an orderly way. Therefore, e-bike operators set electronic fence parking points for shared e-bikes in the background system, and users need to park at the designated parking point. E-bikes are equipped with GPS. The position information can be transmitted via the A7670X module. Parking outside the electronic fence will be charged a certain fee to cover the additional scheduling cost, which can solve the problem of illegal parking to a large extent.
4. Optimizing the supply of e-bikes
According to the feedback information collected by the module, shared e-bike operators can prioritize the areas to supply e-bikes based on the numerical values, updating the supply plan daily by numerical matching, so that resources can be allocated efficiently.