Active-Semi's ACT512 ActiveQR™Quasi-Resonant PWM Controller
Active-Semi offers state-of-the-art secondary side regulator products for applications such as AC/DC Adapters, Power Supplies, and AC Line Powered LED Lamps. The ACT512 Quasi-Resonant PWM Controller can work in CCM (Continuous Current Mode) and DCM (Discontinuous Current Mode) to meet different types of applications. The simplified Power Application Circuit with ACT512 is shown below in Figure 1.
Figure 1: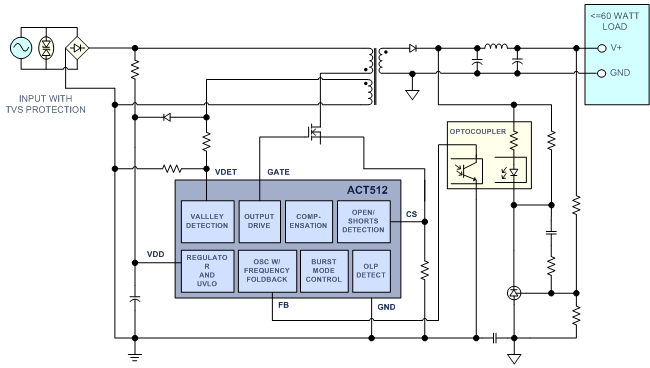 The  ACT512  is  a  high  performance  peak  current mode PWM controller. ACT512 applies ActiveQR™ and  frequency  foldback  technique  to  reduce  EMI and improve efficiency. ACT512's maximum design switching  frequency  is  set  at  75kHz.  Very  low standby  power,  good  dynamic  response  and accurate  voltage  regulation  is  achieved  with  an opto-coupler  and the secondary side control circuit. The  idle  mode  operation  enables  low  standby power  of  100mW  with  small  output  voltage  ripple. By  applying  frequency  foldback  and ActiveQR™ technology, ACT512 increases the average System efficiency  compared  to  conventional  solutions  and exceeds  the  latest  ES2.0  efficiency  standard  with good margin.
Key Features:
CCM and Quasi-Resonant Operation
Adjustable up to 75kHz Switching Frequency
OCP/OLP Protection
Integrated Patented Frequency Foldback Technique
Integrated Patented Line Compensation
Built-in Soft-Start Circuit
Line Under-Voltage, Thermal, Output Over-voltage, Output Short Protections
Current Sense Resistor Short Protection
Transformer Winding Short Protection
100mW Standby Power
Complies with Global Energy Efficiency and CEC Average Efficiency Standards
Tiny SOT23-6 Packages
Typical Applications:
AC/DC Adaptors/Chargers for Cell Phones, Cordless Phone, PDAs, E-books
Adaptors for Portable Media Player, DSCs, Set-top boxes, DVD players, records
Linear Adapter Replacements
Functional Block Diagram: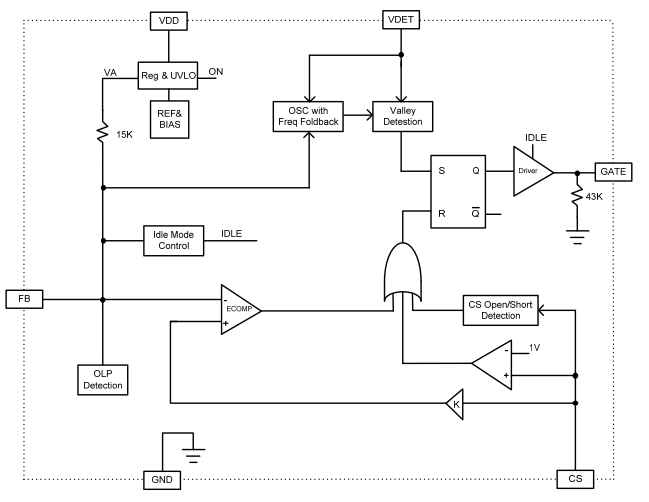 ACT512 is a high performance peak current mode low-voltage PWM controller IC. The controller includes the most advance features that are required in the adaptor applications up to 60 Watt. Unique fast startup, frequency foldback, QR switching technique, accurate peak current line compensation, idle mode, short winding protection, OCP (Over Current Protection), OTP (Over Temperature Protection), OVP (Over Voltage Protection) and UVLO (Undervoltage-lockout) are included in  the controller.
To receive even more information like technical data sheets or price information please contact an Ineltek office within your area or contact us at info@ineltek.com.