Active-Semi Releases the ACT4751, a Single IC Power Solution for USB-C™ PD 3.0 and QC 4.0 Applications
Active-Semi continues the support for highly integrated USB Power Delivery (PD) power solutions with an 80W main channel plus two auxiliary supplies providing complete, self-contained power solutions for USB PD and QC 4.0.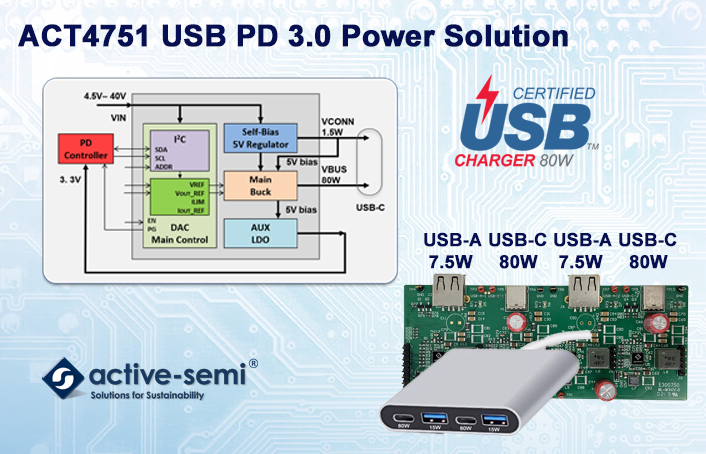 Dallas, Texas, USA – Mar 19th, 2019 – The ACT4751 is a 4.5 to 40V input, high efficiency synchronous step-down DC-DC converter that supplies two additional output channels to support USB PD controllers like the Cypress CCG3PA and active USB-C™ cable VCONN power requirements. The ACT4751 is fully integrated and controls the two integrated 50mOhm MOSFETs to achieve the highest efficiency and enabling extremely compact designs. The ACT4751 employs a multiple patent pending proprietary control algorithm and is programmable via the I2C interface. The output voltage can be set in steps of 12.5mV from 3 to 24V and the 4A output current can be adjusted with a 256-step resolution. In addition, the ACT4751 also integrates self-protection with Thermal Shutdown, Under- and Overvoltage Protection and Over Current Protection with Hiccup/latch off mode.
"Four of our ACT4751s have been demonstrated at the USB workshop in a four port USB charging hub reference design. This total 175W power charger is USB-PD 3.0 certified by the USB-IF. The reference design supports two 80W USB-C PD channels and two 7.5W USB-A channels on a single board", states David Briggs VP and General Manager of Power Solutions at Active-Semi. "This reference design and many others are available on our Web page."
The ACT4751 is available in a small 32 pin 5x5mm QFN package.
For more info, contact an Ineltek office within your area or contact us at info@ineltek.com.