3PEAK – TPA658x – 5V RRIO 10MHz Op Amp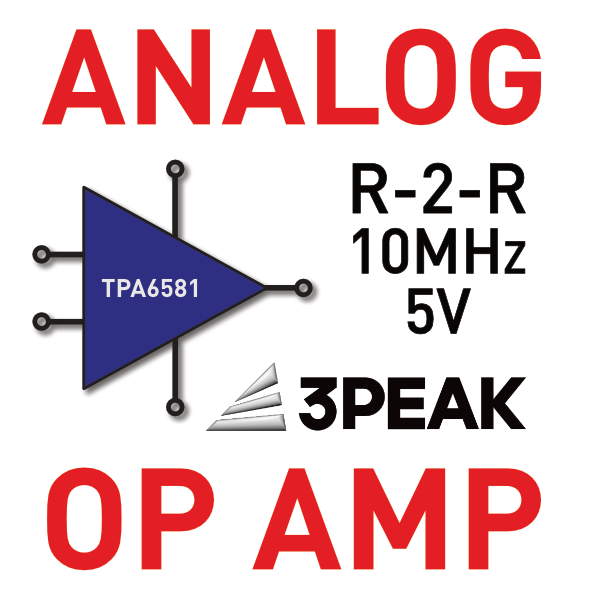 3PEAK's TPA658x series consists of single, dual and quad CMOS rail-to-rail I/O (RRIO) operational amplifiers. Low offset and power consumption, as well as stable high frequency response, are their characteristic features.
They are based on 3PEAK's proprietary and patented design technologies to achieve 10MHz bandwidth and 8V/µs slew rate. Low distortion with a current consumption of only 1.2mA per amplifier makes them ideal for a wide range of applications.
These versatile amplifiers are very well suited for applications in audio, motor control and many other industrial applications.
TPA658x Features
Supply Voltage: 2.7V..5.5V
Offset Voltage: ±2mV max.
Bandwidth: 10MHz
Slew Rate: 8V/µs
Quiescent Current: 1.2mA
Low 1/f Noise: 10nV/√Hz @ 1kHz
PSRR: 120dB typ.
CMRR: 80dB typ.
Rail-to-Rail I/O
No significant output glitches when power on and off
Operating Temperature: -40°C – 125°C
In addition to the TPA658x series, 3PEAK has a variety of other operational amplifiers in its portfolio. Talk to us about 3PEAK's operational amplifier solutions.
---