3PEAK – Operational Amplifiers with wide supply voltage range (HV OPA)
In addition to the zero-drift and low-noise operational amplifiers already presented in our newsletter, 3PEAK offers operational amplifiers with supply voltages up to 40V, referred to as HV operational amplifiers in the following. These also include amplifiers of the categories zero-drift and low-noise, as well as "general-purpose" amplifiers.
---
Thus, the 3PEAK portfolio includes operational amplifiers for various applications where higher supply voltages play an important role. E.G.
---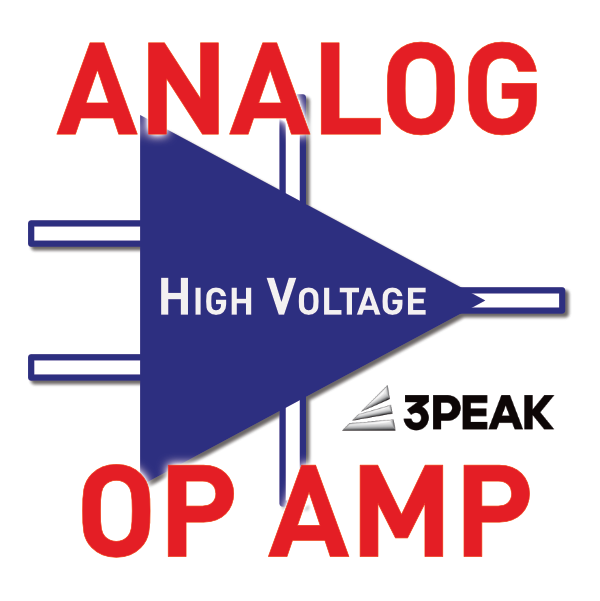 Industrial controls
Motor controls
Sensor interfaces
Instrumentation applications
And more
Highlights of the HV Operational Amplifier Portfolio
Supply Voltage: 4,5V…40V bzw. ±2,25V…±20V
Input Offset: ±15µV
Input Offset Drift: 0,05µV/°C
Input Noise: 0,1µVpp (@0,1Hz…10Hz)
Input Noise Density: 6nV/√Hz
EMIRR: 90dB @ 1GHz
Bandwidth: 12MHz
Supply Voltage: 4,5V…40V bzw. ±2,25V…±20V
Input Offset: ±30µV
Input Offset Drift: 0,01µV/°C
Input Noise: 0,1µVpp (@0,1Hz…10Hz)
Input Noise Density: 8nV/√Hz
EMIRR: 85dB @ 1GHz
Bandwith: 6MHz
Complete 3PEAK HV OPA Portfolio
---
| | | | | | | | | | |
| --- | --- | --- | --- | --- | --- | --- | --- | --- | --- |
| Part Number | Product Grade | CH | VDDmax(V) | GBWP(MHz) | Slew Rate(V/μs) | eN@1kHz ( nV/√Hz ) | VOS(max)(mV) | VOS TC(µV/°C) | Package |
| TPA2682 | Industrial | 2 | 36 | 20 | 10 | 10 | 3 | 2 | SOP8,MSOP8 |
| TPA2681 | Industrial | 1 | 36 | 20 | 10 | 10 | 3 | 2 | SOT23-5 |
| TPA2644 | Industrial | 4 | 36 | 1,5 | 0,5 | 50 | 2 | 2 | SOP14,TSSOP14 |
| TPA2642 | Industrial | 2 | 36 | 1,5 | 0,5 | 50 | 2 | 2 | SOP8,MSOP8 |
| TPA2641 | Industrial | 1 | 36 | 1,5 | 0,5 | 50 | 2 | 2 | SOT23-5 |
| TPA1882 | Industrial, Automotive | 2 | 40 | 12 | 10 | 6 | 0,02 | 0,05 | SOP8,MSOP8 |
| TPA1881 | Industrial | 1 | 40 | 12 | 10 | 6 | 0,02 | 0,05 | SOT23-5,SOP8 |
| TPA1864 | Industrial | 2 | 40 | 6 | 4 | 10 | 0,03 | 0,05 | SOP14,TSSOP14 |
| TPA1862 | Industrial | 2 | 40 | 6 | 4 | 10 | 0,03 | 0,05 | SOP8,MSOP8 |
| TPA1861 | Industrial | 1 | 40 | 6 | 4 | 10 | 0,03 | 0,05 | SOT23-5,SOP8 |
| TP27 | Industrial | 1 | 36 | 5 | 4 | 10 | 0,05 | 0,05 | SOP8 |
| TP2584 | Industrial, Commercial | 4 | 36 | 10 | 8 | 35 | 3 | 2 | SOP14,TSSOP14 |
| TP2582 | Industrial, Commercial | 2 | 36 | 10 | 8 | 35 | 3 | 2 | SOP8,MSOP8 |
| TP2581 | Industrial | 1 | 36 | 10 | 8 | 35 | 3 | 2 | SOT23-5 |
| TP2264 | Industrial | 4 | 36 | 3,5 | 13 | 28 | 2 | 2 | SOP14,TSSOP14 |
| TP2262 | Industrial | 2 | 36 | 3,5 | 13 | 28 | 2 | 2 | SOP8,MSOP8 |
| TP2261 | Industrial | 1 | 36 | 3,5 | 13 | 28 | 2 | 2 | SOT23-5,SOP8 |
| TP17 | Industrial | 1 | 36 | 7 | 20 | 25 | 0,1 | 1 | SOP8 |
| TP1284 | Industrial | 4 | 36 | 7 | 20 | 25 | 0,1 | 1 | SOP14,TSSOP14 |
| TP1282 | Industrial | 2 | 36 | 7 | 20 | 25 | 0,1 | 1 | SOP8,MSOP8 |
| TP1281 | Industrial | 1 | 36 | 7 | 20 | 25 | 0,1 | 1 | SOT23-5,SOP8 |
| TP1242 | Industrial | 2 | 36 | 1 | 0,7 | 45 | 0,25 | 1 | SOP8,MSOP8 |
| TP1241 | Industrial | 1 | 36 | 1 | 0,7 | 45 | 0,25 | 1 | SOT23-5 |
| TP07A | Industrial | 1 | 36 | 1 | 0,7 | 25 | 0,15 | 1 | SOP8 |
| LM358A | Industrial, Commercial | 2 | 36 | 0,9 | 0,5 | 70 | 3 | 7 | SOP8,MSOP8,TSSOP8 |
| LM324A | Industrial, Commercial | 4 | 36 | 0,9 | 0,5 | 70 | 3 | 7 | SOP14,TSSOP14 |
| LM321A | Industrial | 1 | 36 | 0,9 | 0,5 | 70 | 3 | 7 | SOT23-5 |
| LM2904A | Industrial | 2 | 36 | 0,9 | 0,5 | 70 | 3 | 7 | SOP8,MSOP8 |
| LM2902A | Industrial | 4 | 36 | 0,9 | 0,5 | 70 | 3 | 7 | SOP14,TSSOP14 |
---
You need more information? Our team will be happy to advise you on the amplifier portfolio of 3PEAK or support you in the search for alternative components for your design
---