Redpine Launches Industry-Leading Dual-Mode Bluetooth® 5 Secure MCU Solution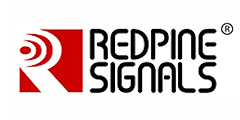 Uniquely combines dual-mode Bluetooth® 5 with high-performance processing, advanced security, and low-power for advanced IoT applications
Delivers 2-3x higher processor performance and 3-4x more battery life
Provides the industry's highest-output power of 20 dBm and lowest-power Bluetooth music streaming
San Jose, California, Aug 28, 2018 –  Redpine Signals, Inc. today launched its industry-leading dual-mode Bluetooth 5 and 802.15.4 Wireless Secure MCU (WiSeMCU™) solution – RS13100 – with an integrated 180 MHz ARM® Cortex®-M4F MCU for customer applications. Redpine has been and continues to be an innovative provider of multi-protocol wireless solutions with Wi-Fi, dual-mode Bluetooth and 802.15.4, and is now leveraging its expertise and experience to launch a leading-edge dual-mode Bluetooth solution for the latest IoT audio, data and control applications.
"Dual-mode Bluetooth 5 is the technology of choice for a growing number of advanced IoT applications that require music streaming, voice recognition, and connection to smart phones and other IoT devices," said Tim Vehling, president of Redpine Signals." Existing solutions in the market are either under-powered or lack support for critical Bluetooth functions, forcing designers to compromise on their designs.  The RS13100 not only features long-range dual-mode Bluetooth 5 and BLE mesh support, but also includes a high-performance processor, class-leading security, low-power operation, and advanced peripherals that meet the requirements of advanced IoT applications."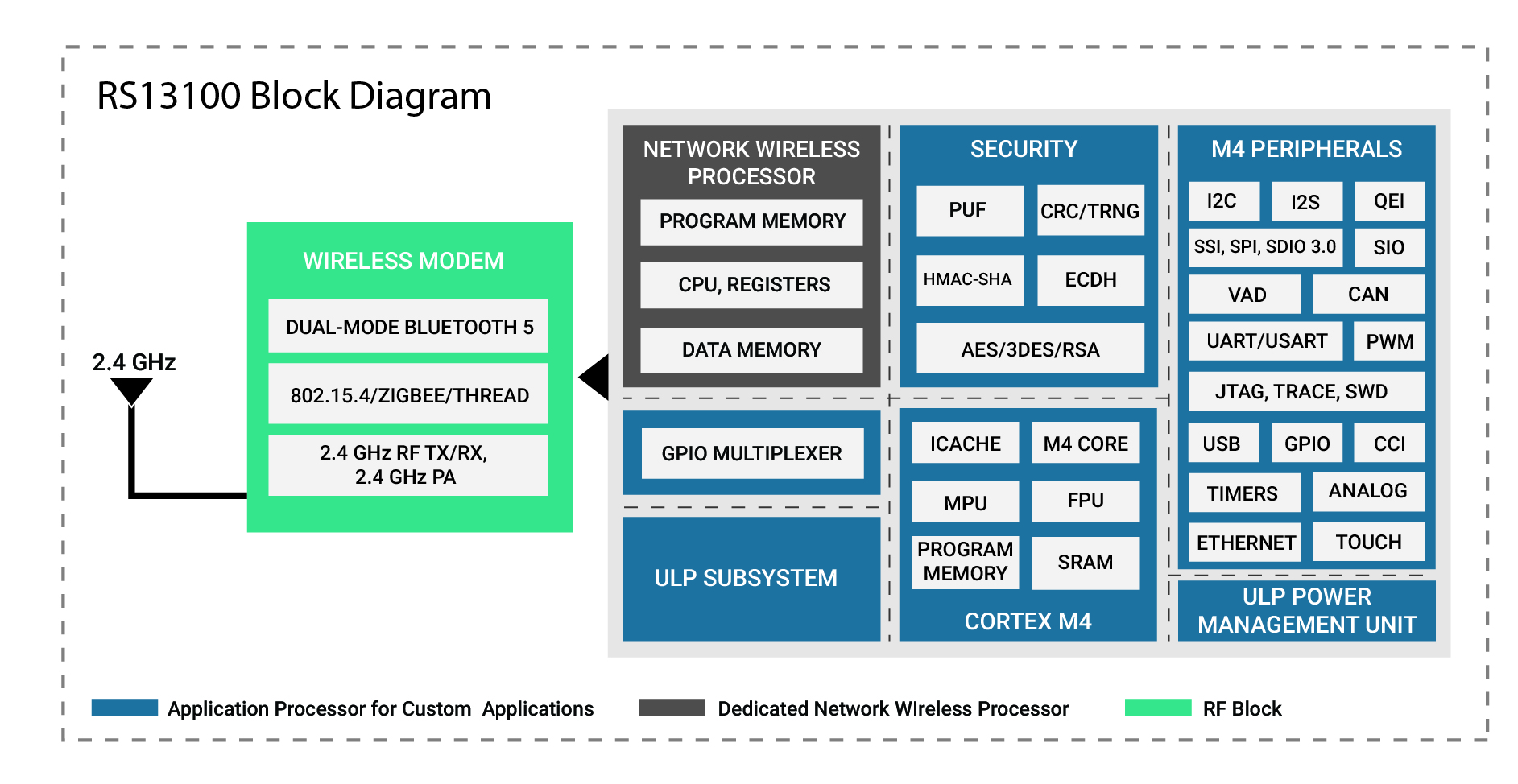 The RS13100's integrated ARM® Cortex®-M4F application processor is capable of running up to 180 MHz and includes a DSP co-processor ideal for accelerating compute-intensive applications such as audio and AI, providing 2-3x better performance than competitors. It has a unique combination of ultra-low power and high-performance operating modes that provide as low as 19 uA/MHz power which is the lowest in the industry. The RS13100 also supports a rich set of digital and analog peripherals including VAD (Voice Activation Detection), CAN, Ethernet, eMMC/SD Card, ADC, DAC and USB OTG.
Bluetooth Low Energy 5 and 802.15.4 integrated in the RS13100 have the capability to provide up to 20 dBm output power and -104 dBm receiver sensitivity with an internal power amplifier, making it the highest-output power solution in the industry. In addition, dual-mode Bluetooth 5 capability enables designers to provide simultaneous audio and high data throughput capabilities along with connectivity to multiple BLE and 802.15.4 devices. The integrated 802.15.4 provides ZigBee or Thread protocol support for connectivity to other home automation and sensor nodes. The RS13100 also has a unique low power operating mode for the integrated Bluetooth A2DP which provides the lowest power music streaming in the industry.
The RS13100 is based on a trusted execution environment (TEE) architecture with a separate security processor, and includes suite-B Crypto HW accelerators, secure boot, secure firmware upgrade, secure XIP and secure peripherals. Its high-security levels are ideal for applications such as mobile point-of-sale terminals, smart locks, medical devices and secure voice-based ordering.
The RS13100 features a patent-pending 'big-little' architecture at every level including MCU, Bluetooth 5 as well as 802.15.4 which provides optimized transitions between high-performance and low-power operating modes. These ultra-low power capabilities enable battery-operated devices such as smart locks, fitness bands, industrial control units, sensors and location tags to have 3-4x the battery life compared with other solutions. The RS13100 also includes an "always-on" sensor-hub with hardware accelerators for voice-activity detection (VAD), sensor data collection and capacitive touch.
Redpine Signals offers the RS13100 in both package and module form-factors, including the industry's smallest certified module with dimensions of 4.63 mm x 7.90 mm with integrated dual-mode BT 5, 802.15.4 and high-end Cortex-M4F.
The RS13100 is sampling now with volume production starting in Q4, 2018.
To receive even more information like technical data sheets, samples, EVBs or price information please contact an Ineltek office within your area or contact us at info@ineltek.com.