Nuvoton – Next MPU Generation: MA35D1 Family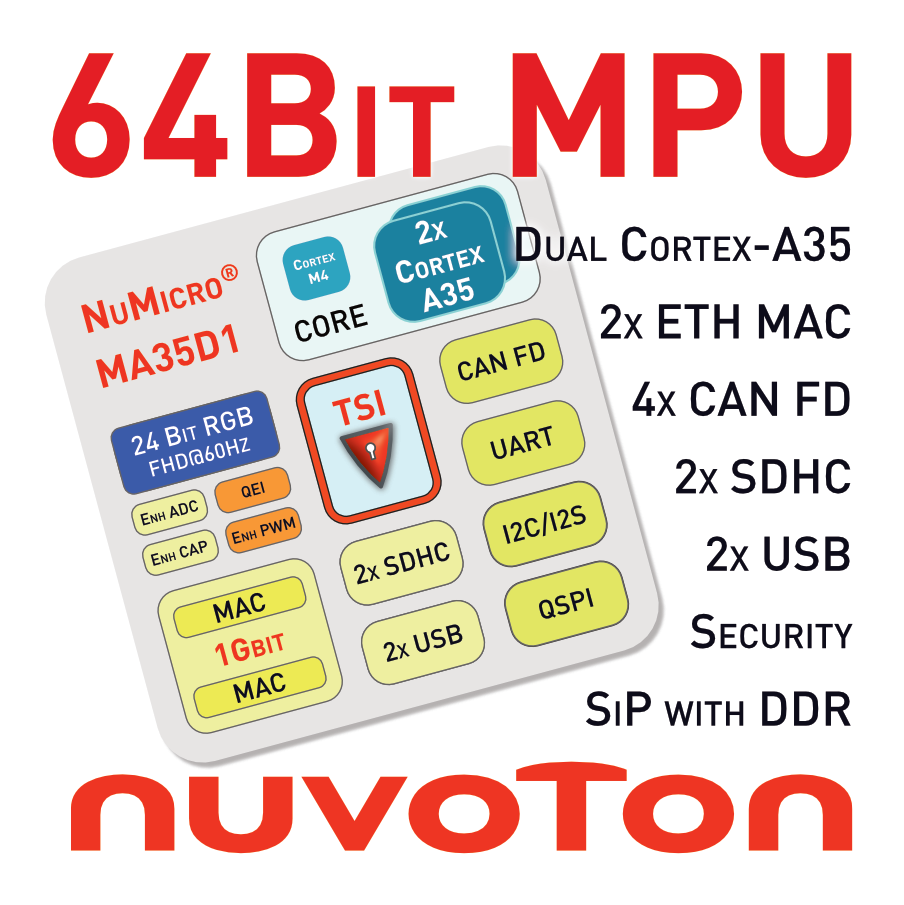 With the MA35D1 family, Nuvoton expands its MPU portfolio with a new product generation and performance levels.
As usual from Nuvoton, there will also be processors as SiP with integrated DDR RAM.
These powerful 64-bit MPUs are presented to you in more detail here!
---
MA35D1 High-Performance Edge IIoT Series
All derivatives of the MA35D1 product family are based on two cores in Cortex-A35 (ARM v8-A) architecture. Nuvoton will offer these 64-bit dual-core processors with a clock speed of up to 1 GHz.
These two main cores are supported by a separate Cortex-M4 core for real-time tasks. Therefore, these powerful processors are suitable for applications from the following areas:
Gateways in IoT applications
AI (artificial intelligence) or ML (machine learning) tasks
HMI applications in industry or medical technology
Industrial controls
Charging systems for EV
Intelligent solutions for SmartHome
Smart energy distribution solutions
Nuvoton introduce the MA35D1 Familie in this short Video
Line-Up & Features
Nuvoton starts with 4 products at a clock speed of 800MHz. In the overview below, the MA35D16A087C, MA35D16A887C, MA35D16F787C and the MA35D16F987C are mapped to their different package types (LQFP216 & BGA312, BGA364) and DDR RAM memory sizes (in megabytes). The integration of up to 512 megabytes of RAM significantly reduces the required PCB space and simplifies the design.
---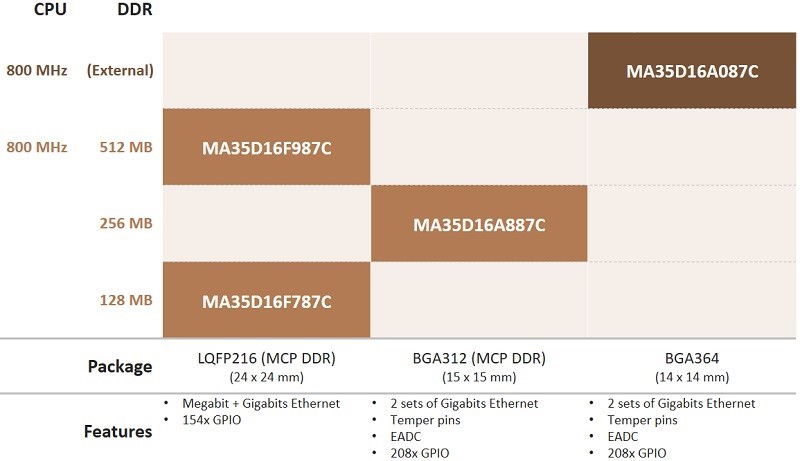 These MPUs have 128kByte internal boot ROM and support secure boot from USB, SD/eMMC, NAND and SPI Flash.
Security is becoming more and more important. Nuvoton has therefore implemented the Trusted Secure Island (TSI), an isolated secure hardware area. This meets the requirements of today's increasingly networked world as well as the IEC 62443 requirements of the industry. The TrustZone, secure boot and tamper detection are executed on this "secure island". In addition, the crypto accelerators for algorithms such as AES, SHA, ECC, RSA, SM2/3/4 and a TRNG are integrated here. A special key memory and an OTP memory area are also provided.
---
To ensure that the MPUs of the M35D1 family can be perfectly integrated, developers can choose from a very large number of interfaces and peripherals:
up to two 1Gbit Ethernet MACs
1x USB host & 1x USB host/device
Serial interfaces (17 UARTs, 4x CAN FD, 2x QSPI, 6 I2C, 4x SPI/I2S)
2x SDHC Controller
18 PWM and 4 quadrature encoders for motor control
up to 208 GPIOs
up to 8 channels at 12-bit ADC
2x camera interface
24-bit RGB interface (FullHD@60Hz)
2D graphics accelerator
264 & JPEG decoder
EcoSystem
Linux development platforms are supported: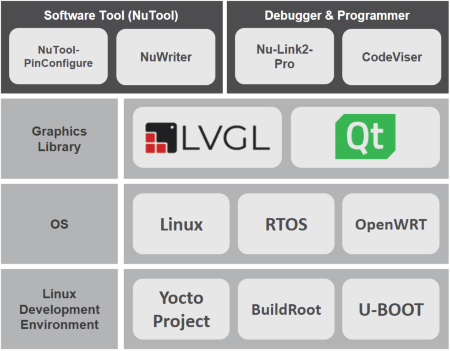 Yocto, BuildRoot as well as U-Boot. In addition, Nuvoton offers an RTOS environment. As for other Nuvoton products, software support can be found on OpenNuvoton (@GitHub).
In the domain of HMI applications, Nuvoton has already gained many years of experience with their ARM9 based products and will provide support for the new products in this sector as well – besides common Qt, libraries for graphics rendering in LVGL will be offered.
Initially 2 different evaluation platforms will be available – the NuMake-HMI-MA35D1-S1 with display and the NuMake-IoT-MA35D1-A1 with focus on applications with Ethernet connectivity like gateways.
---
We would be happy to provide you more detailed information about this new MPU family. We can also offer a wide variety of compatible components for your processor board development from our portfolio. Call us or send us your request here: