3PEAK –Transceiver with integrated isolation for CAN and RS485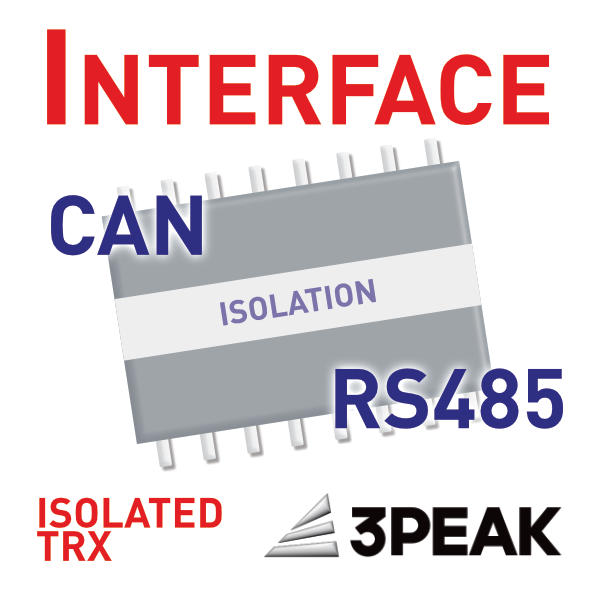 Our new partner 3PEAK is a supplier for anything related to the signal chain like amplifiers, conversion (ADCs and DACs), mixed-signal components or communication ICs. Here we take a look at news in at their communication portfolio.
Up to now transceivers for different common interfaces like RS232, RS485, RS422 and CAN were offered. In addition, also digital isolator ICs are available.
---
Now 3PEAK combines these two product groups into isolated transceivers starting with CAN and RS485.
Isolated CAN Transceivers
---
The new TPT710xx series are isolated CAN transceiver which meets the ISO11898 High-speed CAN (Controller Area Network) physical layer standard. The ICs are designed to be used in CAN FD networks up to 5 Mbps, and to enhance timing margin and higher data rates in long and high-loading networks.
As the design, the device features cross-wire, overvoltage and loss of ground protection from −42 V to +42 V, overtemperature shutdown and a −30 V to +30V common-mode range.
VCCA is the power supply input for RXD and TXD I/O pins which support 2.25V to 5.5V wide range. The 2nd power supply VCCB of the CAN BUS side support 4.5V to 5.5V range.
The integrated high-performance digital isolators in these ICs provide 5000 VRMS (WSOP16 packages) or 3750 VRMS (SOP16 package) isolation ratings according to UL 1577. These devices are also to be certified by VDE, UL, CSA, and CQC.
TPT710xx family is available in SOP8 and WSOP16 package, and is characterized in the operating temperature range of −40°C to +125°C.
---
Overview about TPT710xx series
---
In addition to the spec above the following list gives an overview about more features of this isolated CAN transceivers
Meet ISO11898 Standard
Support CAN FD and data rates up to 5 Mbps
Typical Loop Delay: 110 ns
5 V power supply, 3.0 V ~ 5.5 V IO interface
Receiver Common Mode Input Voltage: ±30 V
Bus Fault Protection: ±42 V
±100 kV/μs typ. CMTI
Junction Temperatures from −40°C to 150°C
SOP and Wide-SOIC (WSOP8, WSOP16)
BUS pin ESD Protection:

±15 kV Human-Body Model
±1.5 kV Charged-Device Model

Safety-Related Certifications:

TUV Certification according to EN 60950-1 and EN 61010-1
CQC Certification per GB4943.1-2011
Isolated RS485 Transceivers
---
3PEAKs starts with 2 products for isolated RS485 communication. The TPT7487 is a ±15 kV IEC61000 ESD protected isolated RS485 transceiver that meet the RS-485 and RS-422 standards for Half Duplex communication with an operating voltage range of 3.0 V to 5.5 V. The TPT7488 features an isolated Full Duplex RS485 communication.  Both parts are rated for an operating temperature range of -40°C to +125°C in and WSOP-16 package.
The TPT748x features a fail-safe receiver, which takes care that the output of the receiver to be logic high when the differential input (bus pin A/B) of the receiver is open, short or idle.
On the transmitter side this family deliver exceptional differential output voltages into the RS-485 required 54 Ω load. The 500kbps device has very low bus currents. They present a true "1/8 unit load" to the RS-485 bus. This allows up to 256 transceivers on the network without using repeaters.
---
Key Features of the TPT748x family
In addition to above mentioned features this isolated RS485 transceivers have the following additional specification
Exceeds requirements of EIA-485 standard
Hot Plug Circuitry – Tx and Rx Outputs Remain Three-State During Power-up/Power-down
Supply voltage: 3.0 V ~ 5.5 V
Data Rate: 500 kbps isolated RS485
Full Fail-safe Receiver (Open, Short, Terminated)
10 kV Surge Capability
±150 kV/μs CMTI
Latch-Up performance exceeds 500 mA
Bus-Pin Protection:

±12 kV IEC61000-4-2 Contact Discharge
±15 kV IEC61000-4-2 Air Discharge

Safety-Related Certifications:

TUV Certification according to EN 60950-1 and EN 61010-1
CQC Certification per GB4943.1-2011
Summary and other news at 3PEAK
---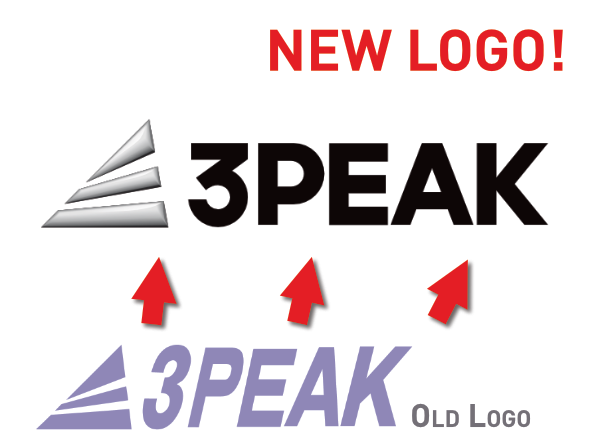 With this new part family 3PEAK extend their portfolio of transceivers for common used industrial and automotive interfaces. The new products simplify the work of engineers to realize safe communication inside devices with different voltage domains.
3PEAK has a very active roadmap so we are excited what news we can bring to you in the next months.
---
3PEAK has recently changed their brand logo. So there might be some transition phase until the new brand is fully established. Due to this update their English website is offline at the moment. Don't worry just get in contact with us about more details and products which are currently harder to find as in the past.
---
Just give us a call or contact us using the following web form for more information on the isolated transceivers or other analog, mixed-signal, converter or interface products