EPSON – S1D15K01 Hybrid LCD Driver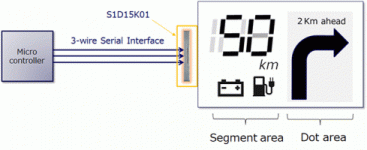 The amount of information that needs to be shown on instrumental cluster displays is increasing as motorcycles gain additional features and functions. On the other hand, the space available for displays is limited and information needs to be displayed efficiently. This need has led to an increase in the use of hybrid-type liquid crystal displays with an integrated segment display for a speed gauge and warning lights and a dot-matrix display for simple navigation – the S1D15K01 is Epson's answer to this!
---
Classical Solutions
However, conventional hybrid LCDs either used two types of driver ICs, one for the segment liquid crystal and the other for the dot matrix liquid crystal, or they used some of the drive pins of the IC for driving the dot matrix liquid crystal to drive the segment liquid crystal. This caused several issues, including display problems and contrast differences between the segment area and the dot matrix area, multiple lines in input interfaces, and higher module costs.
Advantages of the S1D15K01
The S1D15K01 is a hybrid liquid crystal driver that can be directly connected to a microcontroller and can display image data transferred from the microcontroller on the hybrid display. In addition, the S1D15K01 helps to eliminate display problems, realize high-contrast, and reduce module costs, since the separate circuits for the segment display and the dot matrix display are integrated on a single chip.
This driver satisfies the strict quality requirements for automotive products. It is compliant with AEC-Q100 and operates at temperatures up to 105 ℃.
---
Product Features of S1D15K01
Capable of driving hybrid liquid crystal with a single chip

Segment (Seg. x Com.): 120 outputs x 4 outputs
dot matrix: 160px x 80px

Built-in temperature sensor circuit
internal oscillator
Operating voltage: 3.0V bis 5.5V
Package: Au Bumped Chip
You are working on applications with hybrid LCD? Contact us for more information on the S1D15K01 hybrid LCD driver from EPSON.