Nuvoton – Power Switch Series NCT352x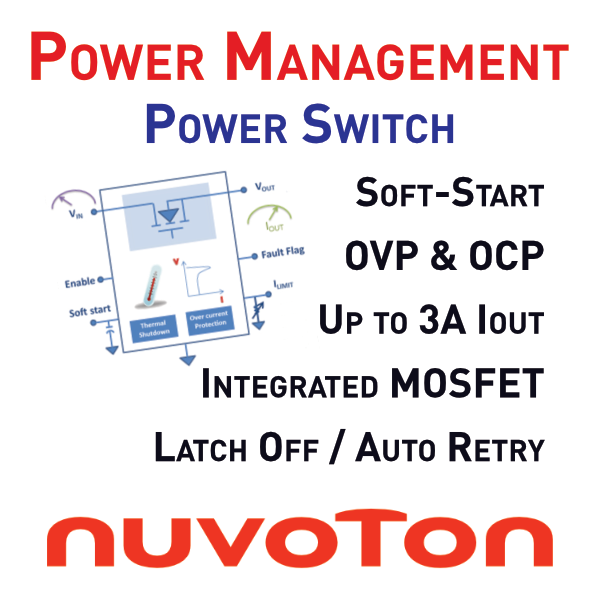 The Power Switch Series NCT352x consists of 5 different parts of high-side power switches. All of these parts are suitable for 3V and 5V systems. They incorporate a 70mΩ or a 80mΩ N-channel MOSFET and provide up to 2.5A or 2.0A output current respectively.
These power switches are designed for high-side load switching applications like protection switches or hot plug devices.
Features and Differences of Power Switch Series NCT352x
There are two versions of the NCT3527, the NCT3527U and the NCT3527U-A. Difference is the current limit function.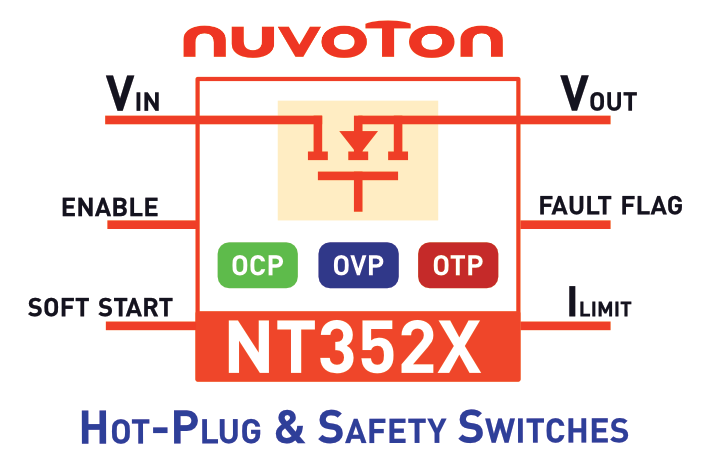 The output current is limited when the output load reaches the current-limit threshold and a guaranteed deglitching time of 3-ms ensures that the transient voltage settles down.
If after this blanking time the load current is greater than the current limit, the NCT3527U enters a latch-off state and the NCT3527U-A enters an auto-retry state.
In latch-off state, the switch is turned off and FLAG# is issued to the host. The switch can be turned on again by cycling the power. In auto-retry state, the switch would be turned off for 24ms then turn-on again.
NCT3521
80mΩ High-Side MOSFET
Integrated soft-start function (typically 1.9ms interval; adjustable for NCT3521U-2)
Turn-On Rise Time Vout:1.9ms typ.
Operating Range: 2.7V…5.5V
Quiescent current: 70µA
Shutdown current: 1µA
Under Voltage Lockout
Over Current Protection
Thermal-Shutdown Protection
Packages:

NCT3521U: SOT23-5
NCT3521U-A: TSOT23-5
NCT3521U-2: SOT23-6
NCT3527
70mΩ High-Side MOSFET
Integrated soft-start function
Operating Range: 3.0V…5.5V
Quiescent current: 150µA
Shutdown current: 45µA
Under Voltage Lockout
Adjustable Current Limit
Thermal-Shutdown Protection
Reverse Current Flow Blocking
Reverse Voltage Protection
Adjustable Output Discharge Function
Package:
For further information about Nuvoton's power switch series NCT352x contact us by phone or send us a short request in the following form