Micro Crystal's new full integrated temperature compensated RTC module RV-3032-C7 now in mass production
RV-3032-C7  is a high performance temperature compensated real-time clock module with I²C interface which offers the world's best time accuracy across industrial temperature range at ultra-low current consumption at the size of a common clock crystal (3.2mm x 1.5mm).
This RTC module is ideal for applications requiring always-on timekeeping functions, with compliance to stringent clock accuracy over time, wide temperature range, and long battery life. It has been designed with smart metering and other similar industrial or consumer applications, such as wearables and IoT, in mind.
Thanks to its extremely low power consumption and power management features, including wide supply voltage range, automatic backup switch, versatile charge pump, and programmable trickle charger, this device can be coupled with a small sized, low capacity, rechargeable battery, or a low cost coin cell power unit. This reduces the overall dimensions and the manufacturing cost of the end product while optimizing the life of the battery.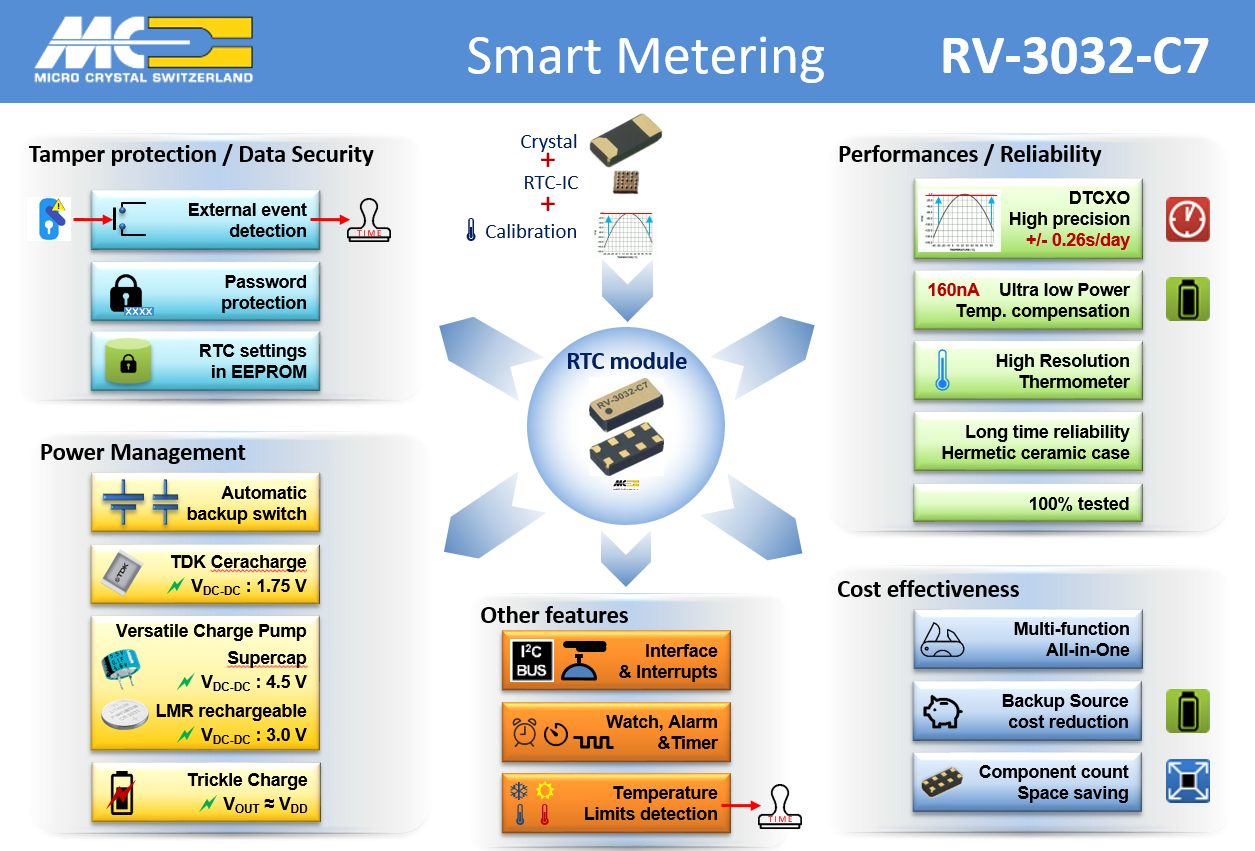 Looking on the key features of the RV-3032-C7 in details you discover its leading edge performance:
| | |
| --- | --- |
| High Time-Accuracy | +/-3ppm (-40°C to +85°C) |
| Ultra-Low Power Consumption | 160nA @ 3V & 25°C |
| Wide VDD range | 5.5V down to 1.2V, with voltage drop detection at Vmin |
| Power Management | automatic Backup Switchover & Trickle Charger with Chargepump (VBACK ≥ VDD) |
| Temperature Monitoring | 12-bit Temperature Sensor with typ. +/-1°C accuracy, timestamped and progr. temperature window detection |
| Time & Frquency Function | Crystal Mode (32.768kHz/1024Hz/64Hz/1Hz) & High-Frequency Clock Mode (8192Hz up to 52MHz) |
| Memory Size | 16 Bytes of User RAM & 32 Bytes of User EEPROM |
If you need more information, samples for your next project or a comparision with the other high performance RTC products from Micro Crystal get in touch with our experts: