FMD – Serial EEPROMs, available alternatives!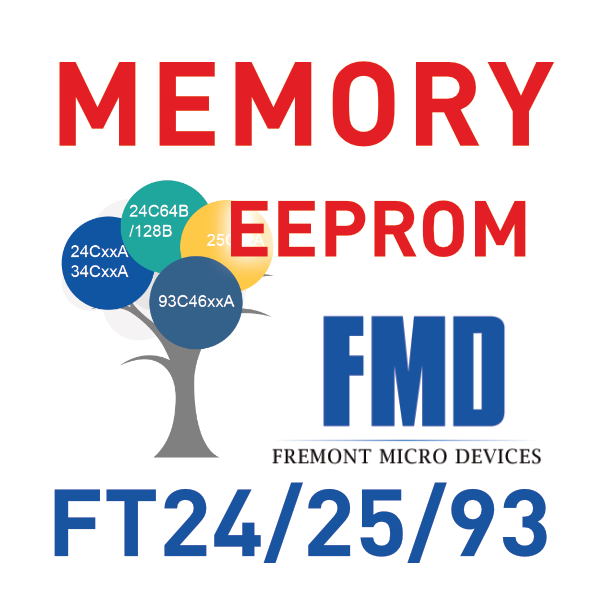 The supply situation for electronic components is still far from being optimal. Productions are on hold because a few components are missing. Serial EEPROMs are one of these. If this is the case for you, we recommend to have a look at the products of FMD (Fremont Micro Devices).
Our long-term partner FMD was founded in Hong Kong in 2004 and is now represented at 4 different locations in China. FMD offers serial EEPROMs since 2005.
FMD Serial EEPROM Portfolio
Fremont Micro Devices offers EEPROMs with the most common interfaces:
FT24Cxxx

with I2C interface / FT34xxx (with SPD function) (up to 1MHz)

FT25Cxxx

with SPI interface (up to 20MHz)

FT93Cxxx

with 3-Wire interface (up to 2MHz)
FT24Cxxx are available with memory densities from 2kb to 1Mb. SPD functionality is covered at 4kb and 8kb, 3-Wire derivatives are represented from 1k to 4k, and the FT25Cxxx between 8kb and 64kb.
The range of supply voltage is typically starting at 1.8V up to high 5.5V – a few products offer 1.7V as the lower Vcc limit.
All common package types like DIP8, SOP8, TSSOP8, MSOP8, WSOP8, DFN8 as well as SOT23-5 and TSOT23-5 are available. For space saving designs there are additional WLCSP derivatives.
Serial EEPROMs – maybe not an innovation – but still indispensable in many designs. Talk to our team or send us your inquiry about EEPROMs using the following form. We will be happy to advise you on the FMD portfolio in detail.