ESP32-C3 – The new RISC-V Combo WiFi + BT
The ESP32-C3 is the new RISC-V combo WiFi+BT secure module by Espressif.
Security is now required in the IoT, but many applications are simple and they don't need dual core MCUs. The previous ESP32 was already a security-focused device and this trend has been reinforced with the ESP32-S2 WiFi-only module, but so far no single-core combo modules were available from Espressif.
The ESP32-C3 fills the gap between the widely successful but unsecure ESP8266 and the high-end dual core ESP32. This new module is aimed at simple and secure IoT applications where cost is a main driver. The open RISC-V architecture and the BLE5 with long-range and coded PHY support makes the ESP32-C3 one of the most promising combo modules on the market.
The ESP32-C3 is available as a certified module with PCB antenna – ESP32-C3-MINI-1 and ESP32-C3-WROOM – and evaluation boards are available for both modules.
Are you thinking about an IoT project? Contact us: Our FAE team is always ready to support and help you select the best solutions.
Features
WiFi (IEEE 802.11 b/g/n-compliant)
BLE 5 (mesh, Long range, PHY w/ 2Mbps support)
32 bit RISC-V

Single core, up to 160MHz

Security

Flash encryption
Secure boot
Hardware cryptographic accelerators

Wide set of peripherals

12 bit SAR ADC, temperature sensor
I2C, SPI, UART, TWAI, I2S
PWM 6 channel
DMA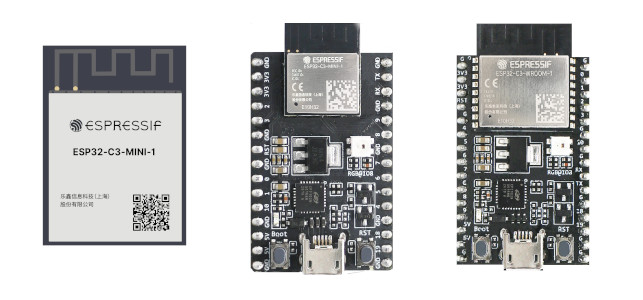 Applications
General IoT applications

Home automation, voice controlled
Sensors
Thermostats

Bluetooth/WiFi medical equipment

Baby monitor, Health monitor

Wearable

Smart watch, fitness trackers

Smart agriculture
Benefits
Combo WiFi+BLE5 with long range and mesh support
Extremely competitive price
Wide open source resources and documentation
Tags: connectivity, IoT, smart home, WiFi, Bluetooth