Microcontroller
Microchip 8-bit AVR Microcontroller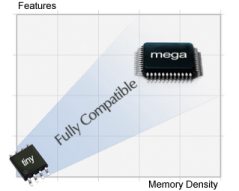 Among Microchips 8-bit AVR parts following product series are included: tinyAVR, megaAVR und xmegaAVR untergliedert. All types featured with FLASH, EEPROM and SRAM. The AVR architecture was significantly optimized. With versatile peripherals like internal calibrated RC-oscillator, USART, SPI, I2C, PWM, Watchdog, AD-converter etc many single-chip solutions are possible.
---
Microchip ARM Solutions
Microchip® | SMART™ now offers Flash- based ARM® products with following cores:
Cortex M0+
Cortex M3
Cortex M4
Cortex M7
Moreover, Microchip offers prior controller families with ARM7 and ARM926 core.
---
Microchip 8051 MCU
While other suppliers have exited this market, Microchip committed to extending their roadmap for their proven 8051 MCUs, providing Flash memory ranging from 2KB to 64KB. Microchips popular AT89LP family delivers the latest in 8051 technology. Its members provide binary-code level compatibility for 80C51-based applications, along with pin-to-pin compatibility to competitive devices . The AT89LP devices dramatically boost performance by a factor of 6 to 12 times—up to 30MIPS. Along with modern features and peripherals, you also get low power consumption for your low-voltage and battery-powered applications.
---
Microchip 32-bit AVR Microcontroller
The 32-bit AVR® UC3 microcontroller takes efficiency to a new level, going beyond high performance and low power consumption: