APM32 Microcontrollers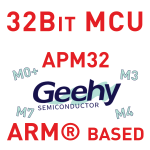 The APM32 Microcontrollers by Geehy are based on Cortex-M0+, Cortex-M3 and Cortex-M4 (with FPU) cores. For applications requiring high performance, Cortex-M7 based controllers are under development.
APM32 is a high quality domestic 32-bit general purpose MCU featuring low power consumption, high performance, high integration and quick migration. With excellent system performance, rich co-processing function and flexible users experience, it helps users to shorten product design time, reduce development cost and optimize product performance. At present, it can be widely applied in industrial control, medical equipment, automobile electronic, smart home and other fields.
The APM32 family was introduced in 2019 and is a fast growing product group. The current roadmap you can find here.
Get in contact with the Ineltek team by phone or sent us an mail request. We guide you to do the right choice from APM32 Microcontrollers by Geehy for your next electronic design.