WiFi Low Power Solutions – Modules and SoCs from Dialog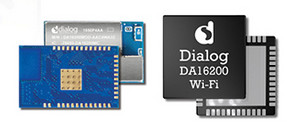 Dialog Semiconductor is a leading provider of battery and power management, Wi-Fi®, Bluetooth® low energy (BLE) and Industrial edge computing solutions, today announced that its DA16200 SoC has scored 815 on the EEMBC IoTMark™-Wi-Fi benchmark. The DA16200's achievement solidifies Dialog's position as a leader in the ultra-low-power Wi-Fi networking SoC market. The rise of IoT products, including connected door locks, thermostats and security video cameras, that require "always on" connectivity with a continuous Wi-Fi connection has challenged engineers to develop solutions that don't compromise battery life.
Unlike competing Wi-Fi SoCs, the DA16200 is specifically optimized to support such battery-powered IoT devices.
The DA16200's VirtualZero technology enables such a low level of power consumption that even continuously connected devices can typically achieve at least a year of battery life. In fact, three to five years of battery life is common.
Dialog's score of 815 is equivalent to about 815 days of battery life
for an IoT sensor running on two AA batteries.
The EEMBC IoTMark™-Wi-Fi is a benchmark that examines the energy efficiency of Wi-Fi devices that are expected to have months, or more, of battery-life and typical IoT messaging demands.
Dialog's solution is at least 50% better than the closest competitor
Unlike other methods of assessment which use simple datasheet electrical characteristics to provide power numbers for each individual hardware blocks, the IoTMark™-Wi-Fi uses a comprehensive assessment of the entire platform in a real-world scenario.
This approach is an industry first for Wi-Fi, and ensures that the score is a valid measure of a platform's energy efficiency in real-world use cases.
These low power advantages are now available for all types of projects using modules or having the need for a full integrated SoC design.
Dialog DA16200 modules:
Fast time to market
Easy integration
1 component solution
Dialog DA16200 SoC:
Cost optimization for high volume projects
Meet custom space constraints
---
Both solutions come directly from dialog -from one supplier- so all Tools and Software Support come from one hand. By this reliability for your later projects is safe.
In addition, Dialog targets industrial application with long product life time
All Low Power Wi Fi products on Dialog Longevity program
Minimum 10 Year product life guaranteed
For more details on the DA16200MOD module see following more detailed specification
DA16200 SoC, 4MB flash memory
Choice between chip antenna or a connector for an external antenna
Single power supply voltage (3.3V) operation
RTC for Power Management, wake-up control
40MHz crystal for master clock and 32.768KHz for RTC clock
GPIO, J-TAG, UART
37 pin LGA module (13.8mm x 22.1mm x 3.3mm)
Certified b/g/n and WPA, WPA2, WPA3
Certifications: FCC, IC, CE, Telec, Korea, SRRC, Wi Fi