WLAN Chipsets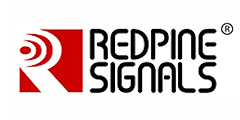 Lite-Fi® RS9110
Redpine's Lite-Fi® family of ultra-low power Wi-Fi® processors provides unprecedented power profiles for 802.11n. The RS9110 is Redpine's third generation low power product addressing the mobile and portable markets
The RS9110 uses advanced system-level power management techniques and reduces the power BoM significantly. The RS9110 is packaged in FLGA.
Key Features
Ultra low power 802.11abgn 1x1 MAC/BB processor with STBC support for VoWiFi enabled mobile handsets, consumer electronics and PNDs
Extensive, patented low-power techniques to minimize power consumption
Full throughput SDIO v1.2/2.0, SPI and EBI host interfaces
Zero host overhead architecture with proprietary processor core
Advanced 802.11e-based QoS support, including WMM and WMM-PS
Bluetooth co-existence support
Available in FLGA package
---
M2MCombo™ RS9113 Family
M2MCombo RS9113 is Redpine Signals' ultra-low-power, single spatial stream, dual-band 802.11n + BT4.0 + ZigBee® Convergence SoC. M2MCombo RS9113 is Redpine Signals' ultra-low-power, single spatial stream, dual-band 802.11n + BT4.0 + ZigBee® Convergence SoC.
M2MCombo leverages and improves upon Redpine's proven low power innovations from Lite-Fi® products and provides BT4.0 and ZigBee® convergence solution for integration into mobile and M2M communication devices.
With its embedded four-threaded processor and on-chip ROM and RAM, this chipset enables integration into zero host load applications with capability to run Wi-Fi security supplicant and TCP/IP on-chip thus setting a new benchmark for the "internet-of-things" market. With advanced ultra-low-power PMU, integrated analog peripherals and support for a variety of digital peripherals – RS9113 enables very low-cost implementations for wireless embedded and M2M applications.
---
SmartCombo™ RS9117 Family
The SmartCombo™ 9117 family is the industry's first 802.11a/b/g/n/ac, dual mode Bluetooth 4.0 and Zigbee converged SoC .The RS9117 family of chips provides very high throughputs along with ultra-low power and world's best in class receiver sensitivity for all the protocols. The SoC along with Redpine's own 2.4/5 GHz RF and PA is a very high throughput chipset solution for Mobile Networking markets.
---
Maxi-Fi® BEAM450™
The Maxi-Fi BEAM450 is the industry's first 802.11n solution to support "Software configurable simultaneous dual-band".
Among others, this high-performance MIMO chipset solution includes simultaneous software configuration on both frequency bands (2.4/5GHz) during operation.
Another key feature is the data rate up to 450 Mbps. USB 2.0, PCIe and PCI.
TKIP, WPA2, WPS, WPSE WAPI cover all relevant security standards. The supply voltage is available in 1.2V and 3.3V.
---
NetCombo™ RS9333 Family
NetCombo™ RS9333 is the industry's first simultaneous dual-band 5GHz multiple input multiple output (MIMO) 802.11ac + BT4.0, 802.11n chipset.
---