Microcontrollers And Microprocessors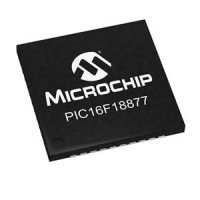 8-bit PIC® and AVR® MCUs
Combined Strength
The PIC and AVR MCU brands represent two dominant architectures in the embedded design universe. With a combined 45 years' experience developing commercially available and cost-effective 8-bit MCUs, Microchip is the supplier of choice for many due to its strong legacy and history of innovation in 8-bit.
Historical milestones in 8-bit PIC and AVR MCU development
Our customers have a passion for making the things that we interact with every day smarter, more efficient, and accessible to everyone. This passion guides us to develop products and tools that make it easier for them to solve their design problems and adapt to future needs. Our current lineup of PIC and AVR MCUs is the pinnacle of innovation in the 8-bit embedded space and incorporates the latest technologies to enhance system performance while reducing power consumption and development time.
Continued Leadership
Microchip's portfolio of 8-bit PIC and AVR MCUs is not only the industry's largest; the more than 1,200 MCUs offer class-leading flexibility and performance in areas of utmost importance to modern embedded designers. Key elements include:
Core Independent Peripherals

Increase system performance while reducing time-to-market

Low Power Performance

picoPower® & XLP technologies

Industry-leading Robustness

Best-in-class EMI/EMC performance

Easy Development

Graphical configuration of complex systems
---
16-bit PIC® MCU Family Overview
PIC24 MCUs and dsPIC® DSCs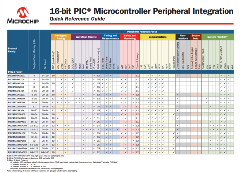 Microchip's 16-bit, PIC24 MCUs and dsPIC® Digital Signal Controllers deliver more performance, low power consumption, flexible peripherals, and a complete development ecosystem of software and hardware tools to speed your development.  With specialized peripherals for motor control, digital power conversion, low power security and advanced analog integration, the 16-bit family offers a good balance between low cost, low power and high performance. The broad product line includes everything from eXtreme Low Power microcontrollers to high performance digital signal controllers.  To learn more download our 16-bit embedded control solutions brochure.
---
32-bit PIC® Microcontroller
Microchip's 32-bit portfolio with the MIPS (microAptiv™, M4K®, and M-class) and ARM®(Cortex® M0+, M4, M7) cores offer high performance microcontrollers, and all the tools needed to develop your embedded projects.

With MPLAB® Harmony software framework, Advanced Software Framework (ASF)* and low cost development tools, 32-bit MCUs shorten your time to market and allow your designs to scale
Leading Performance
---
32-bit Microprocessors
As you push the boundaries of performance and power, you want your underlying design technology to be easy to use and secure. Microchip 32-bit microprocessors offer that balance in a rich set of peripherals and user interfaces. They deliver high-performance, market-leading low power, and advanced security for cost-sensitive industrial and consumer applications. The devices come with free Linux and third-party tools and software.