An alternative I2C LCD driver approach with Dialog Semiconductor's versatile GreenPAK™ ICs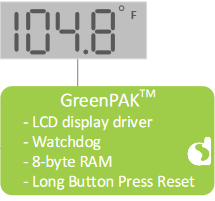 Designing a simple LED segment display isn't that hard. But in current times, every IC is harder to get. Reducing the need for specific ICs can help in designing such a solution and reduce the time-to-market, even in today's situation!
Liquid Crystal Displays (LCD) are widely used for commercial and industrial applications because of their good visual properties, low cost and, low power consumption. These properties make the LCD the standard solution for battery-operated devices, like portable instruments, water or heat meters, calculators, watches, radios, etc.
However, to properly control what the LCD shows, the LCD's electronic driver must generate appropriate voltage waveforms to LCD pins. The waveforms should be AC (alternate current) in nature because DC (direct current) voltages will permanently damage the display. The appropriate driver would generate and source these signals to LCD at a minimum of power consumption.
---
The GreenPAK™ ICs are configurable mixed-signal devices which inlude different function blocks (logic, I2C, oscillators, delay blocks, ADCs, GPIOs, …) depending on the derivate. More information on these ICs in general you will find later in this article.
Two types of LC displays exist, the static, with only one backplane and one pin for individual segment control and the multiplexed, with multiple backplanes and multiple segments connected for each pin.
---
Multiplex LCD Driver
---
According to the application note AN-CM-276, the SLG4AD43237V is a pre-defined application solution integrating 4 major functions for devices using low-cost 4-common x 8-segment multiplexed LCDs:
---
Dialog Semiconductor's GreenPAK™ based I2C controlled LCD driver benefits are
Lower cost than conventional LCD drivers
Very short lead times, even now (around 14 weeks)
The smallest LCD controller from other vendors are often for min. 32 x 4 displays designed and come in bigger packages like QFN44
Enables use of MCUs with very few GPIOs and/or can be used to expand solutions with MCU having an integrated LCD driver
Watchdog starts with 2s time interval which can be reconfigured through I2C
Watchdog counter reset through I2C or GPIO
---
But thats not everything, if more segments are required
---
The maximum possible matrix right now is 6-common x 12-segment display using SLG46880/81
Voltage supervisor functions can be added
Button press sequences for multi-level reset functions
---
Static LCD Driver
---
In contrast to the multiplexed solution SLG4AD43237V mentioned at the beginning, the design of a static LCD driver using the GreenPAK™ device SLG46537V is presented below (AN-CM-256). The realized LCD driver drives up to 15 LCD segments, requiring only a few microamps of current from the power supply and providing an I2C interface for control.
---
A block diagram that illustrates the GreenPAK™ design. The basic blocks of the design are the I2C interface, the output segment driver, the internal oscillator, and the backplane clock source selector to apply also an external display clock source.
---
---
Contact us for more details on how GreenPAK™ ICs can be used to drive LCDs as well as the wide range of applications for this flexibly configurable IC family!
---