Linear and Amplifier Solutions from Microchip
Zero-Drift Operational Amplifiers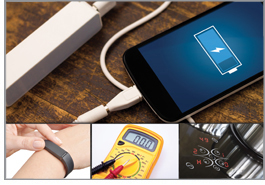 Enhance your system's performance by using Microchip's MCP6VXX, Zero-Drift Operational Amplifiers (Op Amps) that provide high precision signal conditioning over time and temperature. This family of precision Op Amps are available from 80 kHz up to 10 MHz of Gain-Bandwidth Product, have low input offset voltage (as low as 2uV) and no 1/f noise. Combine these performance benefits with small packaging optimises system performance in a wide variety of applications for the Consumer, Industrial, Medical, and Automotive applications.
Benefits
Self-Correcting architecture minimises the errors due to input offset resulting in low offset drift over time and temperature
Low leakage current and low offset voltages minimises error in the input signal and accurate measurements
Low power consumption helps save power and extend battery life
Superior common mode rejection and power supply rejection enhances system performance
Automotive Qualified processes ensures robustness and high reliability
Applications
Instrumentation (Industrial, Automotive and Medical) e.g: Gas Sensing, ph-meters, patient monitoring systems etc.
Sensor conditioning e.g. Temperature measurement, Humidity sensing, Gas Sensing, Wheatstone Bridges, etc.
Portable and Battery Powered Devices
Industrial Applications
Automotive Applications
Reference Designs
The MCP6V01 Thermocouple Auto-Zeroed Reference Design demonstrates how to use a difference amplifier system to measure electromotive force (EMF) voltage at the cold junction of thermocouple in order to accurately measure temperature at the hot junction.
MCP6N11 and MCP6V2x Wheatstone Bridge Reference Design demonstrates the performance of Microchip's MCP6N11 Instrumentation Amplifier (INA) and a traditional three op amp INA using Microchip's MCP6V26 and MCP6V27 Zero-Drift Op Amps. The input signal comes from an RTD temperature sensor in a Wheatstone bridge.
To receive even more information like technical data sheets or price information please contact an Ineltek office within your area or contact us at info@ineltek.com.