ST – ST25R3916 – The NFC Allrounder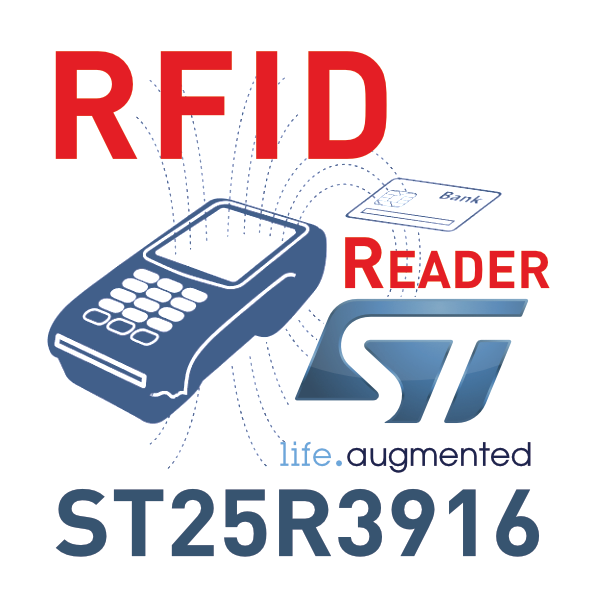 The ST25R3916 is the successor of the proven NFC reader chip ST25R3911B.
Whether stationary access control/time recording via NFC transponder or smartphone, mobile application in logistics, ticketing system, POS or wireless firmware update in the production process, whether as reader/writer or in peer-to-peer operation – the ST25R3916 is the IC of choice!
Thanks to automatic antenna tuning (AAT), it adapts optimally to the environment (metal frame, reinforced concrete wall…). This eliminates the need for time-consuming adjustments depending on the installation situation or performance losses in mobile applications.
Dynamic Power Output (DPO) for field strength adjustment, Active Wave Shaping (AWS), Noise Reduction (NSR), Automatic Gain Control (AGC) and Squelch minimise interference radiation, optimise sensitivity and minimise power consumption drastically. The inductive (card detection) and especially the capacitive wake-up function also helps here. So the reader only needs a few microamperes in standby and is only woken up when someone is approaching.
Other features at a glance
Features
NFC-A/B/F/V
Low level mode for MIFARE Classic® or customer specific implementation
EMVCo 3.0 compatible
Active and passive low power operation as NFC target
Adjustable ASK modulation depth
AM/PM and I/Q demodulator with baseband channel summation or automatic channel selection
Optional 2-antenna operation
Measurement of antenna signal amplitude and phase, RSSI
Integrated voltage regulator
Interfaces
512-byte FIFO
SPI up to 10 Mbit/s
I2C (up to 400 kbit/s in Fast-mode, 1 Mbit/s in Fast-mode Plus, 3.4 Mbit/s in High-speed mode)
---
Operating conditions
Vcc 2.6 to 5.5 V at -40 °C to +105 °C
I/O communication from 1.65 to 5.5 V
Crystal 27.12 MHz (fast start-up)
The numerous improvements such as higher receive sensitivity, improved noise suppression, improved output stage, more interfaces, larger FIFO, EMD suppression in hardware and much more caused a change of the chip layout so that the devices are no longer fully pin-compatible. The Application Note AN 5309 deals with the differences compared to the previous version ST25R3911B and gives tips for switching to the new device.
A version with a reduced functionality, called ST25R3917, is available for very cost-sensitive applications.
---
For more information, samples and tools please contact your INELTEK team.