SmartBond™ DA14531 – The world's smallest and lowest power Bluetooth 5.1 System-on-Chip
The DA14531 aka SmartBond TINY™ is the Bluetooth® low energy solution to power the next 1 billion IoT devices
S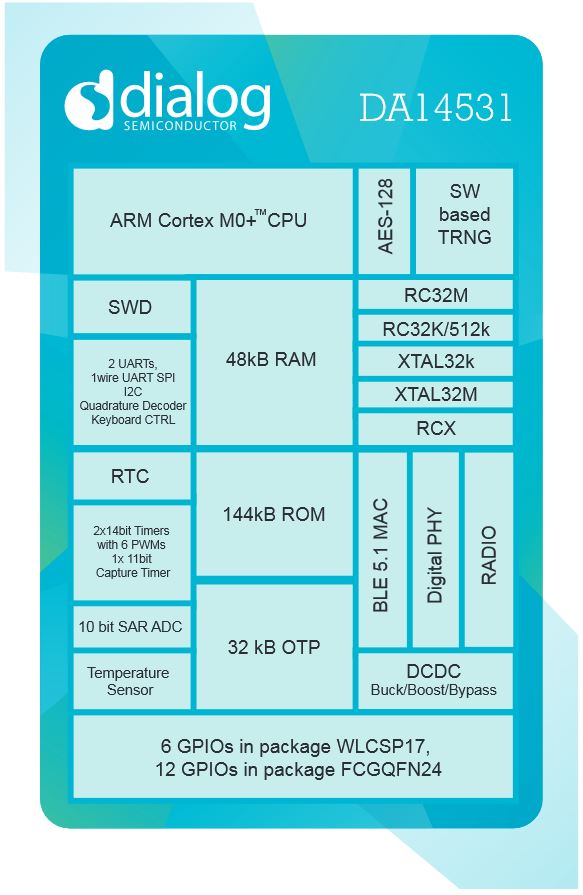 martBond TINY™, the world's smallest and lowest power Bluetooth 5.1 System-on-Chip, brings down the cost of adding Bluetooth low energy in any system to $0.50 in high volumes. This awesome combination takes mobile connectivity to places previously out of reach, triggering a wave of a billion IoT devices, all with SmartBond TINY™ at the heart.
The low system cost is achieved through the high level of integration in SmartBond TINY™: a complete Bluetooth low energy system can be achieved with the addition of 6 tiny external passives, a crystal and power source. And to lower the barrier of entry, SmartBond TINY™ will also be available in an easy-to-use tiny module incorporating all the needed components, making the addition of Bluetooth low energy to any application a simple drop-in.
Record low hibernation and active power consumption ensure long operating and shelf life with even the tiniest, disposable batteries. Based on a powerful 32-bit arm Cortex M0+ with integrated memories and a complete set of analog and digital peripherals, SmartBondTINY™ is extremely power efficient, delivering a record score of 18300 on the latest EEMBC benchmark for IoT connectivity, IoTMarkTM.
Available in a tiny 2.0 x 1.7 mm package, the DA14531 is half the size of its predecessor, or any offering from other leading manufacturers. And it is complemented by a flexible SDK supporting major compilers such as Keil and GCC out of the box.
Benefits
Future proof, compliant with Bluetooth 5.1 (core)
Optimized for disposable products in connected health, connected consumer

Designed to work with disposable, even printed batteries
Works well with smallest capacity batteries, <<30mAh
Supports multiple years of shelf life
Inrush current can be limited for disposable batteries with high internal resistance
Package design allows for low cost manufacturing with smallest possible footprint

Only requiring a single 32MHz crystal
In bypass mode no DC-DC inductor required
No boost converter required when working with 1.5V batteries
Production Line Tool for accelerated production ramp up, resulting in faster time to market and shortest production test time per device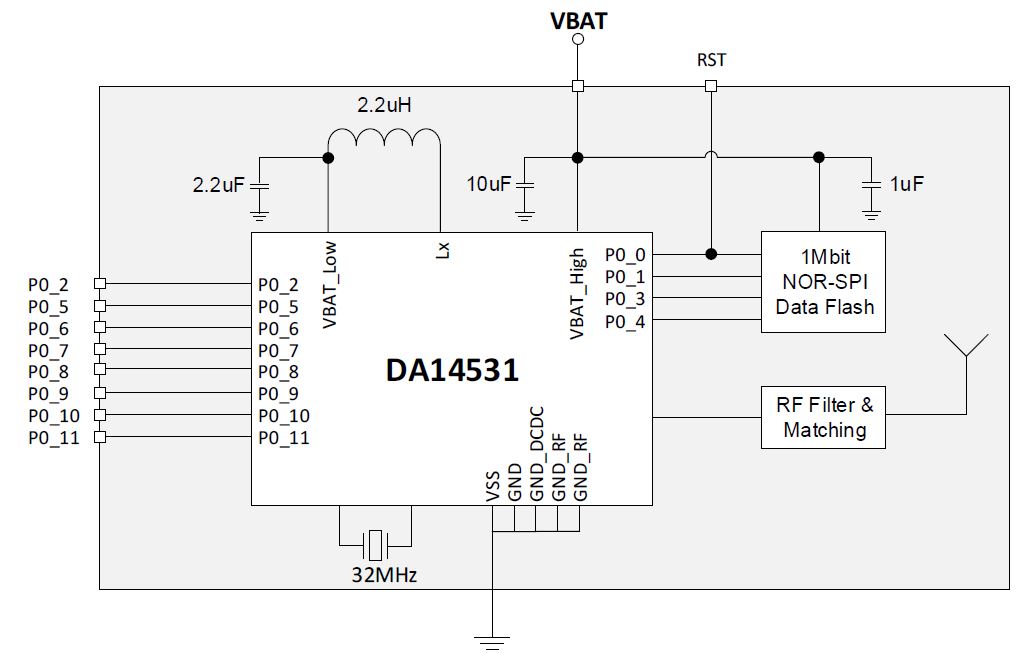 Applications
Connected consumer: Beacons, Smart labels, Remote controls, Proximity tags, Connected watches, Stylus pens, Mouse, Toys, Low power sensors, Bluetooth LE add on "BLE pipe" to existing applications
Connected health: Connected injectors, Inhalers, Glucose monitors, Smart patches, Blood pressure meters, Thermometers
Automotive: Tire Pressure Monitoring Systems and low power wireless sensors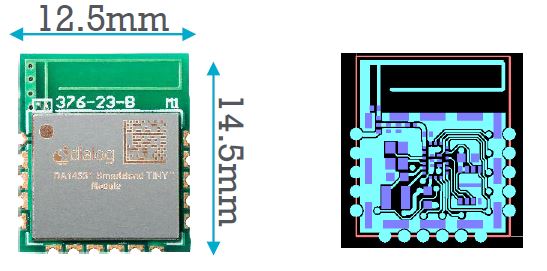 DA14531 SmartBond Module
We make it simple! Configurable Hardware & BLE with simple AT Commands, no software dev..
AT Command control of
Hardware interfaces
BLE link control
Local and BLE Remote controlled device
AT commands examples
Sleep mode management
Management of bonding database of connected devices
BLE Connection management (interval, data rate etc.)
Binary mode for data transfer
Central and peripheral support
Software Update Over The Air Support
Security management (secure connections)
Configuration and control SPI and UART interfaces
Mobile APP support to control devices from smartphone