Microchip`s single-pair Ethernet PHY LAN8770 Offers the Industry's Leading Ultra-low TC10-compliant Sleep Current and is Functional Safety Ready
Single-pair Ethernet PHY Offers the Industry's Leading Ultra-low TC10-compliant Sleep Current and is Functional Safety Ready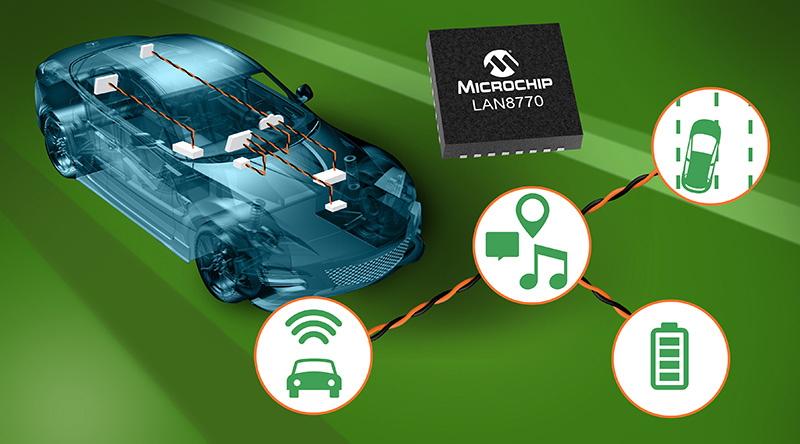 Microchip Technology Inc. a leader in automotive Ethernet, today announced the LAN8770, an OPEN Alliance TC10 sleep standard Ethernet physical layer transceiver (PHY) with the industry's lowest sleep current—less than 15 µA—which is around four times lower than other available devices.
The LAN8770 is a compact, cost-effective, single-port 100BASE-T1 Ethernet PHY compliant with the IEEE 802.3bw-2015 specification and available in a 5 x 5 mm or 6 x 6 mm wettable-flanks QFN package. The small package is ideal for space-constrained applications such as the infotainment head unit, telematics modules or Advanced Driver Assistance Systems (ADAS). It provides 100 Mbps transmit and receive capability over a single Unshielded Twisted Pair (UTP), exceeds automotive electromagnetic interference requirements and is Grade 1 (-40°C to +125°C) automotive AEC-Q100 qualified. In addition, the LAN8770 is Microchip Functional Safety Ready; it is specifically designed to simplify customers' end-product ISO26262 safety certification with the support of specialized hardware safety features, Failure Modes, Effects, and Diagnostic Analysis (FMEDA) and safety manual.
The LAN8770M and LAN8770R support communication with an Ethernet MAC via standard MII/RMII and MII/RMII/RGMII interfaces, respectively. An optional 125 MHz or 50 MHz reference clock output is also provided for RGMII and RMII applications, often enabling elimination of an external reference clock.
Additional Features
Supports MII/RMII/RGMII interface with SMI management for rapid register access
OPEN Alliance TC10 support
FlexPWR® technology power management
Extended cable reach
Small footprint 32-pin VQFN (5 x 5 mm) and 36-pin VQFN (6 x 6 mm) with wettable flanks
Grade 1 Automotive (-40°C to +125°C) qualified
Fully integrated transmission line filtering
MII/RMII/RGMII drive strength adjust
125MHz RGMII clock slew rate adjust
Ultra low-power sleep mode (typical 12uA)
Microchip Functional Safety Ready
Microchip's LAN8770 EtherGREEN™ energy efficiency technology provides low-power operation along with ultra-low-power sleep and wake-up modes. Power efficiency is further enhanced with optional integrated linear regulator and Microchip's flexPWR® technology for variable xMII and input/output supply voltages, providing flexible design options and more opportunities to save power.
Parametrics
| | |
| --- | --- |
| Name | Value |
| Description | 100Base-T1 PHY Transceiver with TC10 support |
| Ethernet Bandwidth | 10/100Mbps T1 |
| LEDs | 1 |
| # of Ethernet Ports | 1 |
| Interface | MII/RMII/RGMII |
| Temp. Range Min. (°C) | -40 |
| Temp. Range Max. (°C) | 125 |
| Automotive | Yes |
| Copper Support | Yes |
| Supply Voltage (V) | 3.3 |
| Internal Regular | Yes |
| MAC I/O Voltage | 1.8/2.5/3.3 |
| Cable Diagnostics | Yes |
| On-Chip Termination | Yes |