CHANDLER, Ariz., July 11, 2019 — With the rapid growth of the Internet of Things (IoT), embedded system designers must currently source, program and serialize Media Access Control (MAC) addresses from the IEEE-Registration Authority (RA) for all connected products. Only sold from the IEEE-RA in blocks ranging from 4,000 to 16 million, small-to medium-size businesses are left to pay higher costs for low-volume services. Helping eliminate the need to self-procure and manage these unique identifiers from the IEEE-RA, Microchip Technology Inc. (Nasdaq: MCHP) today introduced the SST26VF Serial Quad I/O™ (SQI™) 3V Flash family— the industry's first NOR Flash devices to offer integrated MAC address options. Pre-programmed with EUI-48™ and EUI-64™ addresses, the devices do not have a minimum order requirement, providing cost-effective, plug-and-play storage solutions for connected applications that use Ethernet, Bluetooth®, Wi-Fi®, IEEE 802.15.4 and FireWire®.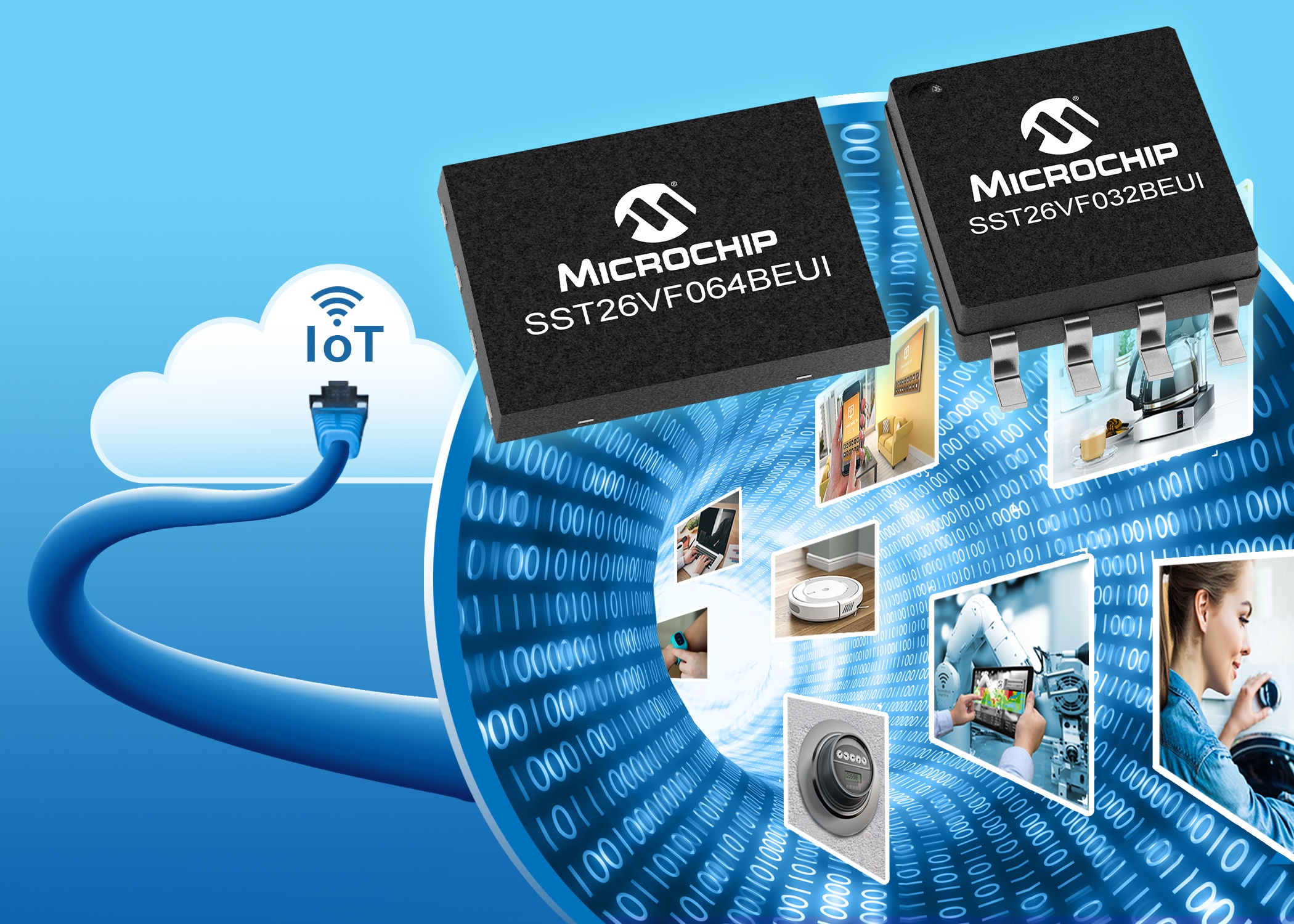 Both the EUI-48 and EUI-64 node addresses consist of an Organizational Unique Identifier (OUI) and an Extension Identifier (EI). While the OUI is purchased from the IEEE by individual companies, the EI is assigned and managed through each company by building a unique EI into every product, thereby ensuring a globally unique Extended Unique Identifier (EUI) node address for every device used or shipped. Microchip's pre-programmed SST26VF family of devices are flexible MAC address chips that come with uniquely pre-programmed EUI-48 addresses and compatible EUI-64 addresses — helping designers save time and costs while accelerating time to market for low-to mid-sized volume production. MAC address options are available at Flash densities of 16 megabit (Mb), 32Mb and 64Mb.
The SST26VF064BEUI, SST26VF032BEUI and SST26VF016BEUI devices feature a six-wire, 4-bit I/O interface, allowing for low-power and high-performance operation in a low pin-count package. Available in 8-pin SOIC and 8-contact WSON packages, the devices occupy less board space and lower overall system costs. They feature rich SQI flash, with flexible write-protected functionality to ensure code cannot be inadvertently over-written or erased. Integrated with Microchip's proprietary SuperFlash® technology, the family offers high endurance, low operating currents and low power draw, making these devices ideally suited for industrial and consumer cloud-connected applications, such as smart hubs for homes, smart home appliances, building control equipment, factory automation, security and surveillance equipment.
 "Following the success of Microchip's pre-programmed MAC address and unique ID EEPROMs, we are now expanding the embedded product option into our SuperFlash® memory product line," said Randy Drwinga, vice president of Microchip's memory products division. "Combined with our broad lineup of microcontrollers, wired and wireless offerings and pre-programming services, the SST26VF family offers a complete turnkey solution for today's IoT designers."
For more info, contact an Ineltek office within your area or contact us at info@ineltek.com.