Wireless Connectivity
Microchip Wireless – Leader in Low Power Embedded Wireless Solutions
Microchip offers a broad portfolio of wireless solutions which are cost effective and very easy to implement. Depending on your application requirements, you can choose the product that fits your needs from our various transmitters, receivers, transceivers and agency certified modules for IEEE 802.15.4/ZigBee®, Bluetooth®, ISM Band Sub-GHz and IEEE 802.11 Wi-Fi®.
Embedded Wireless
Personal Area Networks are networks where multiple devices interconnect to communicate with each other which helps improve the efficiency, safety, security, reliability and convenience of the system.
Microchip offers the MiWi™ Development Environment which is Microchip's proprietary wireless solution and also certified ZigBee ® protocol stacks.
For Low Power Wide Area Networks, the LoRaWAN™ protocol stack is available onboard Microchip's LoRa ® module. The LoRaWAN protocol easily connects to LoRa gateways, and up to network servers, providing seamless interoperability among Smart devices and further enabling the Internet of Things.
---
Security and Authentication
In today's vast interconnected world, the need to provide greater security within a customer's product or system is quickly becoming a standard requirement. To stay one step ahead of the criminal element and prevent theft of software/hardware intellectual property and data or communications services, customers today are designing their products with an eye on providing more complex systems.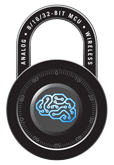 Markets such as automotive, medical, consumer, wireless and commercial systems have implemented a variety of approaches to providing security. Microchip brings together both cryptographic and non-cryptographic pieces to build a total solution. Remember, nothing is 100% secure, system designers must implement multiple techniques to make their system as difficult as possible to break.
---
Embedded Wi-Fi

®
Microchip has a broad portfolio of ultra-low power 802.11 solutions that are suitable for embedded applications. These fully-certified surface mount Wi‐Fi modules allow designers to quickly and seamlessly add internet connectivity to their applications. The modules' small form factor, rich features and ultra-low power make them perfect for mobile wireless applications such as asset monitoring, sensors, and portable battery operated devices.
---
Bluetooth

®
Microchip delivers the industry's broadest range of Bluetooth certified solutions for your embedded design. All silicon, modules and software carry the Bluetooth.org Qualified Design Identification (QDID) to ensure compatibility of your connected solution. Module designs are offered with RF regulatory certifications or as non-certified (unshielded/antenna-less) for flexibilit

y.
Headsets, Speakers, Audio with BLE control, mPOS, Health, Fitness Wearables, Beacons, Gaming, Smart Home, Smartphone Accessories and IoT are markets enabled by Microchip Solutions.
Products
Applications
---