Wafer / KGD SPI Memory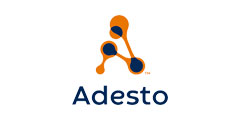 Versatile. Convenient. Cost Effective.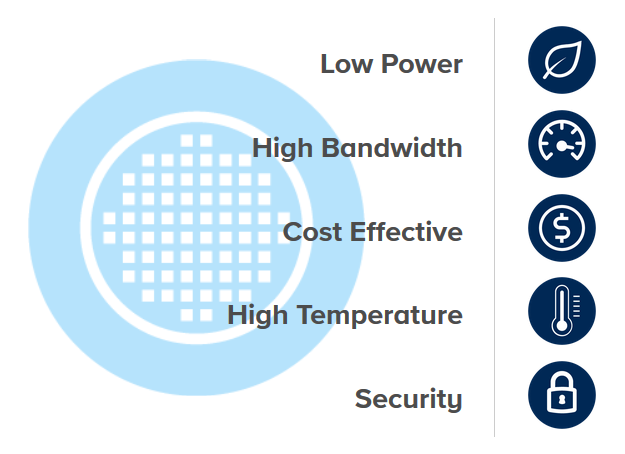 Adesto standard and high temperature die products with energy-saving features are suitable for IoT SIP solutions, motor drives, actuators, and sensors for consumer, industrial and heavy industry, even in harsh environments. Adesto's memory solutions also offer a wide range of complimentary features to bring greater benefit and value to the system.
1.8 V Wafer/Die Products
| | | | | | |
| --- | --- | --- | --- | --- | --- |
| DENSITY | PRODUCT | SPEED | VCC RANGE | INTERFACE | STATUS |
| 128 Mbit | AT25SL128A-DWF | 104 MHz | 1.7V - 2.0V | SPI, Dual Quad I/O, QPI | Production |
| 32 Mbit | AT25SL321-DWF | 104 MHz | 1.7V - 2.0V | SPI, Dual Quad I/O, QPI | Production |
| 64 Mbit | AT25SL641-DWF | 104 MHz | 1.7V - 2.0V | SPI, Dual Quad I/O, QPI | Production |
3.0 V Wafer/Die Products
| | | | | | |
| --- | --- | --- | --- | --- | --- |
| DENSITY | PRODUCT | SPEED | VCC RANGE | INTERFACE | STATUS |
| 16 Mbit | AT25SF161-DWF | 104 MHz | 2.3V - 3.6V | SPI, Dual / Quad I/O | Production |
| 16 Mbit | AT45DB161E-DWF | 85 MHz | 2.3V - 3.6V | SPI | Production |
| 32 Mbit | AT25SF321-DWF | 104 MHz | 2.5V - 3.6V | SPI, Dual / Quad I/O | Production |
| 32 Mbit | AT45DB321E-DWF | 85 MHz | 2.3V - 3.6V | SPI | Production |
| 4 Mbit | AT25SF041-DWF | 104 MHz | 2.5V - 3.6V | SPI, Dual / Quad I/O | Production |
| 8 Mbit | AT25SF081-DWF | 104 MHz | 2.5V - 3.6V | SPI, Dual / Quad I/O | Production |
Wide VCC Wafer/Die Products
| | | | | | |
| --- | --- | --- | --- | --- | --- |
| DENSITY | PRODUCT | SPEED | VCC RANGE | INTERFACE | STATUS |
| 1 Mbit | AT25DF011-DWF | 104 MHz | 1.65V - 3.6V | SPI, Dual Read | Production |
| 1 Mbit | AT25DF011-DWF Hi-Temp | 104 MHz | 1.7V - 3.6V | SPI, Dual Read | Production |
| 2 Mbit | AT25DF021A-DWF | 104 MHz | 1.65V - 3.6V | SPI, Dual Read | Production |
| 2 Mbit | AT25DF021A-DWF Hi-Temp | 85 MHz | 1.7V - 3.6V | SPI, Dual Read | Production |
| 2 Mbit | AT45DB021E-DWF | 85 MHz | 1.65V - 3.6V | SPI | Production |
| 4 Mbit | AT25DF041B-DWF | 104 MHz | 1.65V - 3.6V | SPI, Dual Read | Production |
| 4 Mbit | AT25DF041B-DWF High Temp | 85 MHz | 1.7V - 3.6V | SPI, Dual Read | Production |
| 4 Mbit | AT25XE041B-DWF | 85 MHz | 1.65V - 3.6V | SPI, Dual Read | Production |
| 4 Mbit | AT25XE041B-DWF Hi-Temp | 85 MHz | 1.65V - 3.6V | SPI, Dual Read | Production |
| 4 Mbit | AT45DB041E-DWF | 85 MHz | 1.65V - 3.6V | SPI | Production |
| 64 Mbit | AT45DB641E-DWF | 85 MHz | 1.7V - 3.6V | SPI | Production |
| 8 Mbit | AT45DB081E-DWF | 85 MHz | 1.7V - 3.6V | SPI | Production |