ST25 NFC / RFID Tags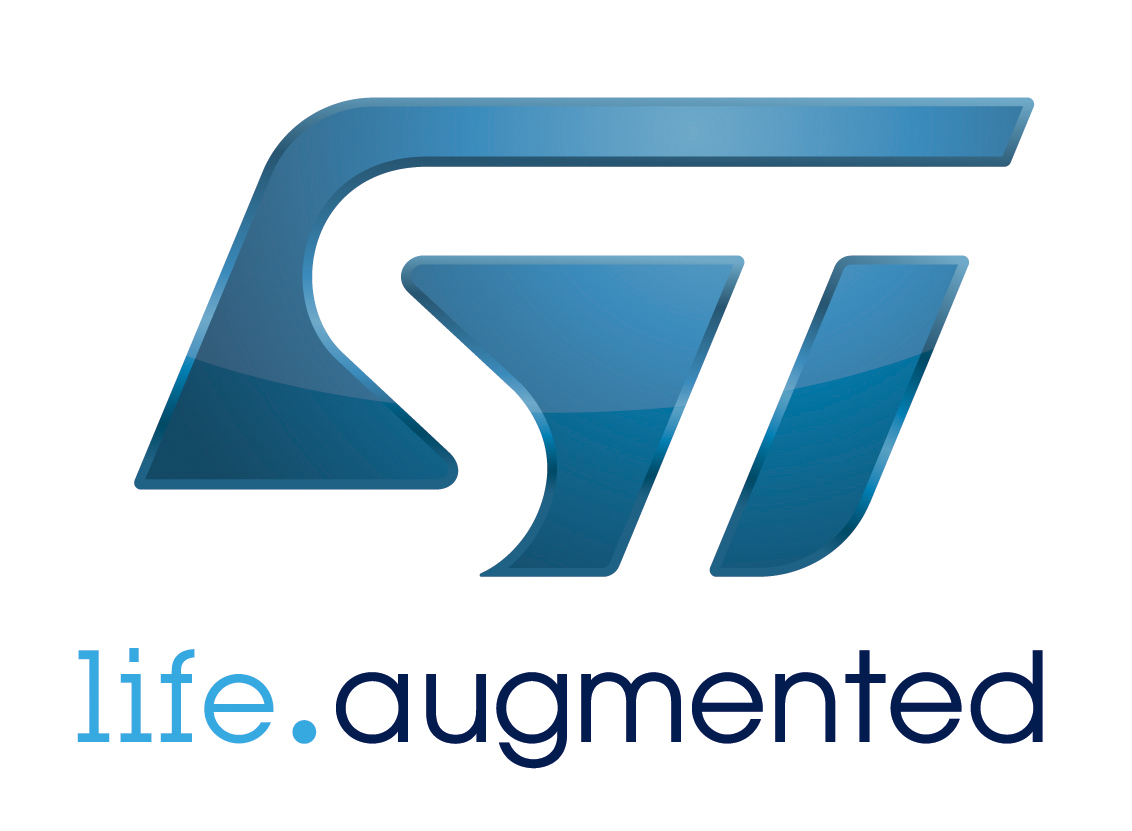 The ST25T product family offers a wide range of NFC / RFID tags with memory sizes from 512-bits to 64-Kbit. They include short-range (ISO / IEC 14443 Type A or B) and long-range (ISO / IEC 15693) products for covering the below standards and applications.
ST25TA series: ISO/IEC 14443 Type A NFC Forum Type 4 tag suited for smart posters, business cards, gaming, NFC tags and more.
ST25TB series: ISO/IEC 14443 Type B compliant enabling contactless ticketing for mass transit and transport applications.
ST25TV series: ISO/IEC 15693 NFC Forum Type 5 tag suited for product identification, anti-counterfeiting, gaming applications and more.
Standard compliant

Feature-rich

Best-In-Class memory

Eco-system

ISO14443A/B
ISO15693
NFC Forum 

13.56MHz HF interface
Up to 32-bit counter with anti-tearing
Field detect (GPO)
OTP bytes 

From 512bit to 64-Kbit
Up to 200 years data retention
1M erase-write cycles
Up to 128-bit password

Documentation
Evaluation boards
Antenna Design Tool
Associated software
ST community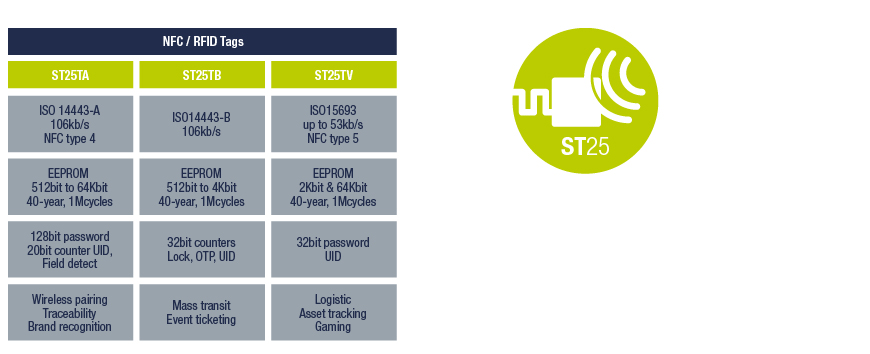 | | | | | | | |
| --- | --- | --- | --- | --- | --- | --- |
| Part Number | General Description | Contactless RF Interface | User Memory Capacity (b) | Security Features (Reader and contactless memory) | Password protection | Operating Range Distance (m) typ |
| | 13.56 MHz short-range contactless memory chip with 512-bit EEPROM and anticollision functions | ISO14443-B | 512 | Counters | 32-bit | 0.1 |
| | NFC Forum Type 4 Tag IC with  2-Kbit EEPROM | ISO14443-A | 2048 | Password protection | 128-bit | 0.1 |
| | NFC Forum Type 4 Tag IC with  2-Kbit EEPROM and general purpose digital output | ISO14443-A | 2048 | Password protection | 128-bit | 0.1 |
| | NFC Forum Type 4 Tag IC with  2-Kbit EEPROM and general purpose digital output | ISO14443-A | 2048 | Password protection | 128-bit | 0.1 |
| | NFC Forum Type 4 Tag IC with  16-Kbit EEPROM | ISO14443-A | 16384 | Password protection | 128-bit | 0.1 |
| | NFC Forum Type 4 Tag IC with  512-bit EEPROM | ISO14443-A | 512 | Password protection | 128-bit | 0.1 |
| | NFC Forum Type 4 Tag IC with  64-Kbit EEPROM | ISO14443-A | 65536 | Password protection | 128-bit | 0.1 |
| | 13.56 MHz short-range contactless memory chip with 2048-bit EEPROM and anticollision functions | ISO14443-B | 2048 | Counters | 32-bit | 0.1 |
| | 13.56 MHz short-range contactless memory chip with 4096-bit EEPROM and anticollision functions | ISO14443-B | 4096 | Counters | 32-bit | 0.1 |
| | 13.56 MHz short-range contactless memory chip with 512-bit EEPROM and anticollision fucntions | ISO14443-B | 512 | Counters | 32-bit | 0.1 |
| | 64-Kbit EEPROM tag IC at 13.56 MHz with 64-bit UID and password based on ISO/IEC 15693 and ISO/IEC 18000-3 Mode 1 | ISO15693 | 65536 | Password protection | 128-bit | 1.5 |
| LRIS64K | ISO15693 Tag IC with 64-bit UID, AFI, DSFID, anti-collision, kill function and password protection and 65536-bit | ISO15693 | 65536 | Yes | 32-bit | 1.5 |