Smart Energy/Metering

Microchip addresses the needs of the smart energy market with application-specific, as well as standard microcontroller, microprocessor, security, memory, wireless and power-line connectivity devices.
Microchip® addresses the needs of the smart energy market with application-specific, as well as standard microcontroller, microprocessor, security, memory, wireless and power-line connectivity devices. The application-specific portfolio is defined from the ground up to offer designers best-in-class feature sets and performance in various classes of equipment used in the smart grid.
Microchip Smart Metering Platform
Today's smart meter architect demands various levels of integration depending on system architecture partitioning, project timelines, and the level of flexibility needed to address various utility and geographical requirements. The Microchip platform provides a unique multi-level architecture built around the same multi-core architecture as outlined below. Various devices integrate the building blocks of the smart meter, namely, Metrology sensing (ADC), Metrology DSP, application, communication, and security processing, as well as connectivity to home area and neighborhood area networks.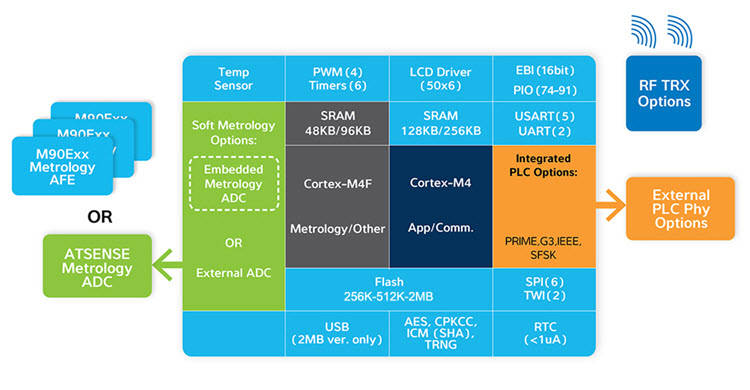 Advantages
Microchip is well-positioned to address various requirements of smart metering systems designers and engineers with a combination of discrete as well as highly-integrated system-on-chip solutions built around the same processing platforms. This will reduce time-to-market and enable unmatched level of flexibility in addressing new requirements.
Leading edge connectivity

Low power 802.15.4/4g wireless devices
Field proven, Low power PLC (PRIME)

Best-in-class Metrology

Dynamic range of up to 6000:1

Security and Encryption

Advanced security engines in system-on-chip-solutions
Microchip CryptoAuthentication™ devices offer robust security to safeguard networked metering applications

Integration & Flexibility

Flexible (SW or HW) metrology
Multi-standard Wireless and PLC solutions

Broad MCU portfolio & tool support

Large array of SAMD, SAM4 and SAMA5 solutions
Best-in-class tools from Microchip, IAR, Keil
---
Metering
Microchip's family of ICs for smart power meters feature the widest dynamic range in the industry as well as extremely high accuracy, helping to improve the performance of smart meters. The chips feature a dynamic range of 6000:1. This allows manufacturers to merge various types of meters currently available, such as 5(20)A, 10(40)A, 15(60)A and 20(80)A, into one standard model [5(100)A or 1(100)A]. Microchip® ICs will simplify the manufacturing process and reducing overall bill of materials.
Key Features
Single and poly-phase solutions up to class 0.2 accuracy.
6000:1 dynamic range improves performance and reduces OEM's overall cost of manufacturing and bill of materials.
Compliant with IEC62052-11, IEC62053-22/23, ANSI C12.1, C12.20.
Best-in-class temperature coefficient in the industry for this type of device.
---
Power Line Communication (PLC)
The smart grid implements two-way communication channels over existing power distribution networks. Modern networks might be comprised of a variety of new alternative energy sources. These sources include solar and wind power as well as new types of electric appliances, such as smart appliances and electric vehicles. In many parts of the world, narrowband power line communications (PLC) technology has proven to be a robust and cost-optimized solution in large deployments of smart meters.
Microchip® offers PLC solutions designed specifically for narrowband communications using the low-voltage electric grid. Drawing on our deep expertise in PLC modem technology and extensive collaboration with utilities and metering OEMs, we've created solutions offering an unprecedented level of integration and performance. Our solutions support various modulation schemes including G3-PLC and PRIME (PoweRline Intelligent Metering Evolution) Thanks to the communications software provided by our solution, the management of PLC networks turns into a transparent process. Users can focus on top-level applications and access the Microchip® PLC software stack via user-friendly application programming interfaces (APIs).
Key Features
Best-in-class sensitivity and high-temperature stability.
Improved analog front end (AFE) providing outstanding efficiency.
Price-competitive, high-performance solutions.
Free software stacks for PLC
---
Wireless Communications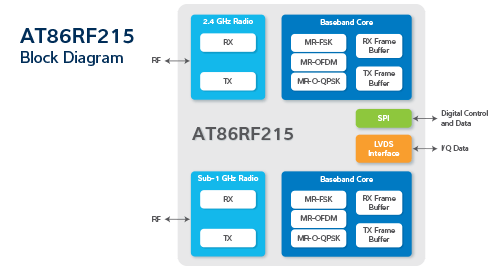 Efficient wireless applications require high-performance and power efficiency. Microchip transceivers deliver the best RF link budget with the industry's lowest power consumption.
What's more, Microchip offers the most feature-rich IEEE 802.15.4-compliant transceiver family available. Our transceivers support both regional sub-1GHz frequencies, as well as the global 2.4GHz frequency band. This enables you to develop wireless applications for customers worldwide, including emerging markets like China.
Enhanced Performance
Powerful hardware features like antenna diversity and external power amplifier support let you further boost transceiver performance to maximize network reliability and the RF range of your system. Microchip transceivers support not only IEEE 802.15.4-compliant applications, but provide on-air data rates up to 2Mbit/s for general purpose ISM applications.
To help you speed system development and prototyping, Microchip offers a variety of free software suites, various hardware evaluation and development kits, and RF Modules.
Key Products
The AT86RF212B is a low-power, low-voltage RF transceiver for the regional 700/800/900 MHz frequency bands available in Japan, China, Europe and North America. This transceiver offers an extreme 120 dB link budget (-110 dBm receiver sensitivity / 10 dBm transmit power) designed for low-cost IEEE 802.15.4, ZigBee, 6LoWPAN, and high-data-rate ISM (industrial, scientific, medical) applications.
The Microchip AT86RF233 transceiver is designed to operate in the 2.4GHz ISM band, available worldwide. The device supports the physical layer used for ZigBee Pro and ZigBee IP. With 4 dBm transmit power and receiver sensitivities down to -101 dBm, 105 dB link budget can be achieved.
The AT86RF215 is a dual-band sub-1GHz/2.4 GHz transceiver compliant to IEEE 802.15.4g-2012 and ETSI TS 102 887-1. An output power of 14 dBm and receiver sensitivities down to -123 dBm result in an outstanding link budget of up to 137 dB. The device offers a high flexibility by supporting a variety of data rates with three modulation schemes: multi-rate and multi-regional frequency shift keying (MR-FSK), orthogonal frequency division multiplexing (MR-OFDM), as well as offset quadrature phase-shift keying (MR-O-QPSK). Simultaneous operation at sub-1GHz and 2.4 GHz enables new capabilities and the right cost structure in smart metering, smart lighting, home energy gateways, and other industrial and automation equipment.