Sensor Solutions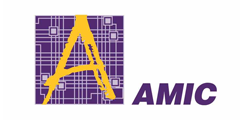 Ambient Light and Proximity Sensor
AMIC Technology Corp. announces the availability of the ASR-8600 light sensor.
Detecting ambient light, solar-UV, IR as well as full proximity functionality makes the ASR-8600 an all-in-one solution for applications requiring presence detection.
The ASR-8600 offers auto-scale-control (ASC) with exceptional dynamic range of 16-bits, up to 64K lux. Together with the built-in PS auto-trim function accurate measurements of object presence, distance and position has now become feasible.
The ASR-8600 is offered in a 6 path DFN (Dual-Flat-No-leads) package measuring 2.5mm x 2mm square.
With the built-in I2C interface controlling the ASR-8600 with micro controllers will be an
easy migration.
Key Features:
User trimming capable for overlay or environment correction
I2C digital Interface up to 400KHz with Interrupt Pin
Wait-time range from 0 to 5 seconds to save power
50/60Hz flicker noise rejection
VDD = 2.5V to 3.6V
Temperature compensation : -40°C to +85°C
Low Power consumption
Package option
- 6-pin OCDFN (2mm x 2.5mm x 0.8mm)
- All Pb-free (Lead-free) Products are RoHS2.0 Compliant
Applications:
Notebook / Monitor
Smart phone (touch screen disable and backlight control)
LCD display (backlight control)
Table PC
PDA
Presence Detection
Industrial sensor