Microcontrollers And Microprocessors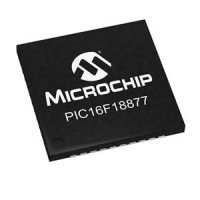 Microcontrollers, Digital Signal Controllers and Microprocessors
Effortless Embedded Control Solutions
Effortlessly meet the ever-changing requirements of modern electronics with our portfolio of scalable 8-bit, 16-bit and 32-bit microcontrollers (MCUs), Digital Signal Controllers (DSCs) and microprocessors (MPUs). Our flexible peripherals and functions make it easy to create differentiated applications that set you apart from your competition. You'll find it simple to get started by using our intuitive design environments and visual configuration tools, while our proven reference designs and professionally-tested software libraries lower your design risk.
---
8-bit PIC® and AVR® Microcontrollers
Effortless Design
PIC® and AVR® microcontrollers allow developers of all skill levels to easily bring their ideas to life. Our broad portfolio of uniquely configurable MCUs is supported by our award-winning integrated development environments with production-ready code generation tools and best-in-class rapid prototyping hardware. This complete offering of silicon, development environments and industry knowledge enables developers to easily add functionality and robustness to their designs while shortening the overall design cycle. Microchip's commitment to long-term availability of PIC and AVR MCUs ensures that customers can continue using their existing parts or easily migrate to other fully-compatible device family members to increase functionality without an extensive redesign.
8-bit PIC® Microcontrollers
Simplify your design process with the industry's most capable and easy to use 8-bit MCUs. Regardless of your design requirements, we have a product family that will meet your needs. PIC® MCUs have configurable Core Independent Peripherals that efficiently handle tasks in hardware greatly reducing reliance on interrupt service routines. Additionally, a wide range of memory and standard pinouts provide easy migration to meet changing needs.
PIC16 MCU Families
PIC18 MCU Families
---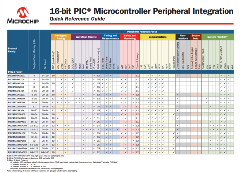 Microchip's 16-bit, PIC24 MCUs and dsPIC® Digital Signal Controllers deliver more performance, low power consumption, flexible peripherals, and a complete development ecosystem of software and hardware tools to speed your development.  With specialized peripherals for motor control, digital power conversion, low power security and advanced analog integration, the 16-bit family offers a good balance between low cost, low power and high performance. The broad product line includes everything from eXtreme Low Power microcontrollers to high performance digital signal controllers.  To learn more download our 16-bit embedded control solutions brochure.