FPGA & SoC

Whether you're designing at the board level, or system level, our unique, low power, non-volatile technology sets Microsemi's Field Programmable Gate Arrays (FPGAs) apart from traditional SRAM-based devices. With an extensive heritage of reliability, Microsemi's FPGAs and SoCs meet demands for low-power, and security in a variety of safety-critical applications. Design with Microsemi FPGA's and SoCs to meet demands for Hybrid and Electric Vehicles, 5G and IoT Communications Infrastructure, Environmentally-friendly Data Centers, Industrial Controls, Space, Commercial Aircraft, and Military applications. 
---
Antifuse FPGAs
Axcelerator® FPGAs
Nonvolatile, high-speed antifuse FPGAs
125K - 2M system gates
350 MHz system performance 
0.15 µm, CMOS antifuse process
eX FPGAs
Low-power, low-density antifuse FPGAs
3K - 12K system gates
350 MHz system performance
0.22 µm CMOS antifuse process
SX-A FPGAs
Sea-of-modules antifuse FPGAs
12K - 108K system gates
250 MHz system performance
66 MHz PCI compliant
MX FPGAs
Mixed-voltage and 5 V-only operation
3K - 54K system gates
250 MHz system performance a
Dual-port SRAM modules & multiplex I/O
---
FPGA & SoC Design Tools
Libero SoC v12.0

Libero SoC v12.0 should be used for designing with Microsemi PolarFire, RTG4, IGLOO2 and SmartFusion2 FPGA families.

Libero SoC v11.9 SP3 and earlier

Libero SoC v11.9 SP3 and earlier releases should be used for designing with Microsemi RTG4, IGLOO2, SmartFusion2, SmartFusion, IGLOO, ProASIC3, RT ProASIC3 and Fusion families.

Libero IDE

Libero IDE should be used for designing with Microsemi antifuse and legacy flash FPGAs.

Licensing

There are 5 types of licenses that can be used to design with Microsemi SoC devices, Libero Silver, Evaluation, Gold, Platinum, and Standalone licenses.

Power Estimators and Calculators

Leverage our Excel based power calculator to evaluate power for your design without running through the full design flow. SmartPower can also provide design specific power analysis for your design implementation within Libero.

IBIS Models

Generic IBIS Models are available for signal integrity simulations. Design specific files can also be exported from your design implementation in Libero.

BSDL Models

Generic BSDL Models are available for boundary scan testing. Design specific files can also be exported from your design implementation in Libero.

Other FPGA Development Components - These tools are installed with Libero

Synplify Pro

Synthesis software from Synopsys® included with Libero.

Precision RTL

Synthesis tool from Mentor Graphic® for Microsemi FPGAs providing a high performance logic synthesis environment with advanced optimization techniques, timing analysis and advanced inferencing technology

Synphony Model Compiler

Synopsys' Microsemi Edition tool that performs high-level synthesis optimizations from a Simulink® specification. Synphony Model Compiler AE automatically produces a highly optimized design, ready for RTL synthesis

Modelsim

Modelsim ME from Mentor Graphics for Simulation

Processor and SoC Design

SoftConsole

Facilitates software development for Microsemi's ARM® Cortex™–M3, Cortex-M1 and Core8051s microprocessors. SoftConsole is installed with Libero SoC

IAR Embedded Workbench

An integrated development environment from IAR Systems for compiling and debugging embedded ARM applications, including Cortex-M3 for SmartFusion, using assembly, C and C++

Keil MDK

An integrated development environment for ARM Cortex-M3 containing the ARM C/C++ compiler, µVision®4 IDE debugger, MicroLib highly optimized run-time library, Real-Time Trace for Cortex-M3 processor-based devices and RTX RTOS

Firmware Catalog

Supports SoftConsole, Keil™ and IAR Systems® embedded software IDEs, streamlining the location and generation of firmware that is compatible with IP cores used in Microsemi FPGA designs.

Embedded Ecosystem

Microsemi's SoC FPGAs leverage a broad ecosystem of compile, debug, operating systems and middleware
---
FPGA Boards, Kits, and Solutions
Microsemi provides a selection of development kits & solutions for FPGA and SoC FPGA designs that include Libero SoC design software, power, and Programming & Debug Tools to begin your next design.


---
Mi-V RISC-V Ecosystem
Open. Lowest Power. Programmable RISC-V Solutions.
The Mi-V™ RISC-V ecosystem is a continuously expanding, comprehensive suite of tools and design resources developed by Microsemi and numerous third parties to fully support RISC-V designs. The Mi-V™ ecosystem aims to increase adoption of RISC-V ISA and Microsemi's
soft CPU product family.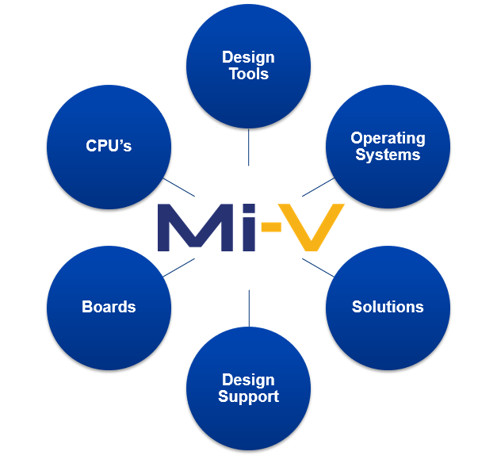 There are 6 main categories that make up the Mi-V RISC-V ecosystem:
Jumpstart your RISC-V designs with Microsemi's comprehensive suite of RISC-V Soft IP Cores. Mircosemi's RISC-V IP cores are readily available for RTG4, IGLOO2  and PolarFire FPGAs. 
Microsemi introduces the industry's first RISC-V SoC FPGA Architecture, PolarFire SoC. PolarFire SoC brings deterministic real-time performance to Linux in a coherent multi-core RISC-V CPU.
Mi-V Ecosystem consists of various design tools such as the Libero SoC FPGA Design Suite, Eclipse based IDE SoftConsole enabling quick C and C++ development, a Firmware Catalog consisting of numerous drivers, and third party platforms for development, simulation and debug.
Accelerate your time to marke
Microsemi, along with partners, supports the most popular commercial and open-source operating systems and RTOS for RISC-V implementations on FPGA. 
t with our comprehensive series of full-featured and low-cost development boards that run RISC-V Soft IP cores out of the box. 
A collection of example projects, drivers and firmware running on RISC-V implementations that can accelerate your design cycle. 
Microsemi is dedicated to provide excellent customer support ranging from online technical support to training. A collation of various support services available from Microsemi are listed here.
---
Rad-Tolerant FPGAs
Space System Managers are companion devices that can be used with any Radiation-Tolerant FPGAs

High-speed signal processing, flash-based FPGAs
300 MHz performance, up to 150,000 LEs, 5 Mbit SRAM
462 multipliers, 75 Gbit / second SERDES bandwidth
High-reliability, radiation-tolerant, antifuse-based FPGAs
Available with embedded multiply-accumulate blocks for DSP applications
Qualified to QML Class Q and QML Class V
Reprogrammable, nonvolatile, radiation-tolerant, flash-based FPGAs
For low-power space applications, requiring up to 350 MHz operation
Qualified to QML Class Q
High-reliability, radiation-tolerant antifuse-based FPGAs
Compact packaging for command and control applications
Flight heritage established on many programs

For a complete list of available space products and package offerings, read the RT FPGAs Brochure
Radiation & Reliability Data
Note: TID reports are provided for information only and do not indicate availability of product from any specific wafer lot. Please contact your local Microsemi sales office for availability information on any specific wafer lot.

Policies, Certifications & Export Compliance
Policies
DFARS 252.225-7014 Specialty Metal Requirement — The Berry Amendment As of January 29, 2008 all Microsemi semiconductor products are generally exempt from the Berry Amendment specialty metal requirements pursuant to Section 804 of the FY 2008 National Defense Authorization Act which exempts all electronic components.
Certifications
Microsemi Military and Aerospace FPGAs have achieved various certifications including AS9100, QML Class Q and QML Class V per MIL-PRF-38535. For a complete list, please refer to the ICSG (Integrated Circuits & Systems Group) certifications on the 
Corporate Quality Certifications webpage
.
For QML-qualified FPGA products, the following user guide provides the equivalent Defense Logistics Agency (DLA) part number to Microsemi's part number:
Export Compliance

The latest EAR Export Control Classification Numbers (ECCN) for the Microsemi radiation tolerant FPGA families are as follows:
| | |
| --- | --- |
| RTG4 Family, including RTG4 Development Kit | 9A515.e.1 |
| RTAX-S/SL/DSP Family | 9A515.e.1 |
| RT ProASIC3 Family | 3A001.a.1.b |
| RTSX-SU Family | 9a515.e.1 |
---
System on Chip (SoC) FPGAs
Microsemi currently offers two SoC FPGA families, both of which include ARM Cortex-M3 processors and microcontroller subsystems.   


SmartFusion2 SoC FPGA
Highest reliability, most secure, lowest power FPGA
Up to 150K LEs with 5Mbit SRAM and 4.5Mbit NVM
166 MHz ARM Cortex-M3 microprocessor with Instruction Cache
5Gbps SERDES, PCIe, XAUI / XGXS+ Native SERDES
Hard 667 mbps DDR2/3 controllers with SECDED
SmartFusion SoC FPGA
Industry's only FPGAs with hard 32-bit ARM Cortex-M3 microcontroller core
Programmable analog with analog-to-digital converter (ADC), voltage/current/temperature monitors, digital-to-analog converter (DAC), comparators, and analog compute engine (ACE)
Proven ProASIC3 FPGA fabric with up to 500K gates and 204 analog and digital I/Os
For a complete list of available flash-based products and package offerings, read the FPGA and SoC Product Catalog
---