Ethernet and PoE Solutions

Advancing "Ethernet Everywhere" In Next-Generation Networks
---
Ethernet PHYs / Transceivers for Networking Equipment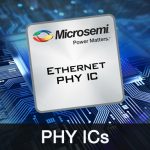 Reduce your development costs and time to market with Microsemi's Ethernet physical layer ICs (Ethernet PHYs). Our broad physical layer portfolio includes the SimpliPHY™ branded 10/100 Industrial-Grade Fast Ethernet copper PHYs, SimpliPHY and SynchroPHY™ branded Gigabit Ethernet copper and dual-media PHYs, as well as 10 Gigabit Ethernet and OTN PHYs for connecting systems via optical fiber, copper cable, or backplanes.
---
Ethernet Software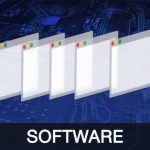 IC Software Solutions for Carrier, Enterprise & IoT Ethernet Networking
Microsemi's Enterprise and Carrier Ethernet software solutions have been deployed by 100's of companies worldwide, significantly improving their ROI. Complementing our broad IC portfolio, Microsemi's feature-rich software solutions deliver significant value with:
Rapid Time to Market: Shorten your development cycles and lower costs with easily customizable turnkey applications.
Standards-Based Comprehensive Solutions: Microsemi software meets IETF RFC, IEEE and MEF standards and has been certified at a variety of testing centers including UNH-IOL (University of New Hampshire InterOperability Lab) and EANTC (European Advanced Networking Test Center), Tier-1 Telecom Labs, Industry Interoperability Events and Plug fests.
Mature, Flexible, and Fully Supported Packages: Ensure long term product success with Microsemi's ongoing software development and maintenance programs. Our real-time support enables quick alignment of your solutions to the latest standards and industry requirements
Microsemi's
Ethernet and Power over Ethernet solutions and technologies
includes Ethernet ICs, systems, software, IP and ecosystem solutions specifically architected for Ethernet networking applications in multiple settings.
---
Ethernet Switches for Networking Equipment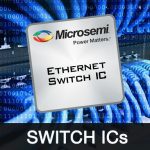 Meet your most demanding Ethernet networking needs for higher bandwidth, reliability, interoperability and scalability with Microsemi. Microsemi's Carrier Ethernet switch engines and Enterprise Ethernet switches are used worldwide in networking equipment such as:
Carrier: Mobile base stations, cell site routers and gateways, IP Edge routers, microwave mobile backhaul systems, Carrier Ethernet switch/routers, aggregation switches and routers, and packet optical transport systems for telecommunications service providers delivering voice, video, data and video communications services to business, residential and mobile customers;
Enterprise: Managed Enterprise switches, stackable Enterprise switches, security appliances, and gaming consoles for networks ranging from large Enterprises, data center switching, small-medium enterprise (SME), small-medium business (SMB), and small office/home office (SOHO) for voice, data and video communications, as well as cloud access and cloud services;
Internet of Things: Industrial Ethernet switches for industrial process control, smart grid energy distribution, transportation, and automotive applications.
---
Gigabit Parallel-to-Serial MII Converters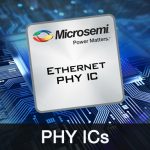 Media converter
Optional IEEE1588 clock and timestamping
MAX24287
1Gbps Parallel-to-Serial MII Converter

Bidirectional Wire-Speed Ethernet Interface Conversion
Can Interface Directly to SFP Modules and SGMII PHY and Switch ICs
Serial Interface Configurable as 1000BASE-X or SGMII Revision 1.8 (4-, 6-, or 8-Pin)
Parallel Interface Configurable as GMII, RGMII, TBI, RTBI, or 10/100 MII

MAX24288
IEEE 1588 Clock and Packet Timestamper and 1Gbps Parallel-to-Serial MII Converter

Complete Hardware Support for IEEE 1588
Ordinary, Boundary, and Transparent Clocks
Flexible Block for Any 1588 Architecture
1588 Clock Hardware
1588 Timestamping Hardware
Parallel-to-Serial MII Conversion
---
PoE PD IC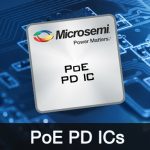 Microsemi has the broadest Power over Ethernet (PoE) product line in the industry, including PoE PD IC's, PoE PSE IC's, Midspans and Test Equipment. The PD chip product line includes PD chips with and without integrated PWM controllers, which can be used as a compact way to convert PoE input power to one or more output voltages in a Powered Device. When an external isolated controller is employed, the customer can benefit from either a lower cost implementation, using a non Synchronous Flyback controller like the IPS18I.
---
PoE PSE IC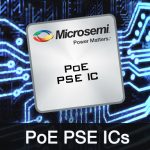 Microsemi is the pioneer of Power over Ethernet (PoE), the only supplier of PoE PD IC's, PSE IC's, Midspans / Injectors and test Equipment. Microsemi's PSE IC's product line is the broadest in the market with IC's featuring from 1 to 12 ports, and modules of up to 24 ports. Microsemi's PSE IC's can deliver up to 95W over a single Category 5 cable.
---
PoE Midspans, PoE Injectors & PoE Switches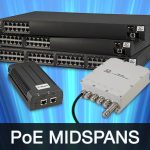 Microsemi Power Over Ethernet (PoE) switches, PoE midspans and PoE injectors offer industry leading solutions for any PoE requirement. Our PoE systems portfolio enables delivery of up to 95 W of flexible and reliable power over Ethernet to WLAN access points, VoIP phones, IP cameras, thin/zero clients and other PoE powered devices. Microsemi is an innovator and thought leader in PoE technology and systems, as well as a major source of IEEE 802.3af, IEEE 802.3at, IEEE 802.3bt and HDBaseT standards.
---
Network Synchronization ICs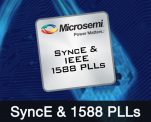 Industry's broadest timing portfolio focused on synchronization of packet networks and OTN systems.
Microsemi's network synchronization solutions have been deployed worldwide for over a quarter of a century. The portfolio includes ITU-T/IEEE standards compliant Digital Phase Locked Loops (DPLL) for Network Synchronization with performance meeting stringent 10G/40G/100G interface requirements for SyncE, IEEE1588 & OTN.
---
WinPath Network Processors
Microsemi's WinPath network processors family is purposely designed and optimized for access networks and applications. Its programmable data plane and customizable networking software allow seamless migration towards SDN.